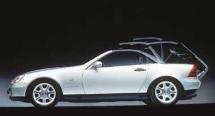 Overview:

The Mercedes Benz, new for '98, SLK, which stands for Sportlich (sporty), Leicht (light), Kompakt (compact) didn't disappoint me. Mercedes seldom does. I'm not biased; I just love what this car company does for us.
This SLK is a true four-season car with a push-button retractable hardtop that is clearly the best of the best. And under the hood is a supercharged C230 2.3-liter 4-cylinder engine that needs no improvement.
If you have a keen sense of the obvious as I like to think I do, you'll know the only competition in this cars class is the BMW Z3 and the Porsch-a Boxster. You can scratch the others listed below. I love these three equally but for different reasons. I like the top on the SLK the best. Pricewise, the Z3 is best because you don't give up much for the Savings you'll receive, and I love the styling on the Boxster the best. But I have to tell you, it would be an almost impossible decision to choose between these three cars.
You'll hear some say the engine is wrong for the SLK, but I say it's perfect for this car. And the car is so Mercedes in character you know you're in a Benz. Some sports car purists will complain about not having a manual transmission, but I much prefer the automatic and agree with Mercedes who says there\'s \"no U.S. demand\" for such a transmission. If you want a manual, buy the Z3, Boxster or two Miatas. On the other hand, the real sports car enthusiast will feel right at home with the stiff ride that is sure to disappoint many
people who will see the SLK as a classy cruiser. In any case it is a wonderful car and a 10 on my \"I don't want to give it back\" index.
The Competition:

Audi Cabriolet $34,600, BMW Z3 $29,425 – $35,900, Mazda MX-5 Miata $19,770, Mitsubishi Eclipse $15,740 – $26,660, Porsche Boxster $41,000.
Good News:

Best top in any class. No question, it's a Mercedes. Fits both Men and Women.
Bad News:

Tinsy weensy trunk. Price won't fit many budgets. Automatic Trans responds poorly when driven aggressively.
Standard Equipment:

2.3-liter 185-horsepower supercharged 4-cylinder engine, 5-speed automatic transmission. front and side airbags, two fixed roll bars, anti-lock brake system (ABS), traction control, child-seat recognition system, leather upholstery, an anti-theft system, power windows and door locks, fog lights, tinted glass and polished alloy wheels.
Gas Stats:

22 City and 30 Highway MPG.
Pricing:

MSRP is $39,700.
Your comments are welcomed. My e-mail is joe@autolove.com
Copyright © 2014 – An Automotive Love Affair.