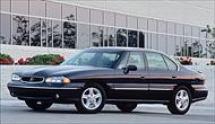 Overview:
The Pontiac Bonneville is assembled in All-American Michigan and comes to us in two trims, the SE and the SSE that adds leather trim, power seats, heated mirrors, keyless entry, a Bose AM/FM stereo with CD player, and traction control.
Right off the bat, you have to understand I have a great handicap to overcome in evaluating Pontiac cars. I was at a very impressionable age when Pontiac had the misfortune to run an ad campaign centered on an American Indian enunciating very clearly " Ugh, Pontiac heap good car". Of course us kids shortened that to mean something very different. We'd say "Ugh, Pontiac heap". It's obvious I haven't forgotten the fun we had with that ad. The unfortunate part is that the affect of repeating that play on words over and over in our youth somehow gave the impression that it could be true that Pontiac's are bad cars. Let's face it, Nazi Germany built their belief system on the knowledge that if you tell a lie often enough people will believe it. Well, there is no basis in fact that Pontiac's are "heaps", and more important, my mom owned a Pontiac, so how bad could they be, right? I wonder if people still remember that ad, especially in light of the fact that today you couldn't even use an American Indian to sell Indian beads.
Well, I also doubt there are any statistics on how many American Indians buy Pontiac automobiles, but we do know that 60% of the buyers will be male and if my math is correct, 40% will be women and other sexes. Median age is about 50, 80% are married (no sexual preferences given) and 45% are college grads.
Buyers of cars like this Bonneville are likely to be lovers of the "muscle" cars of the '50s & '60s. That should explain why the median age of buyers is 50. In any case, they won't be disappointed even with the 205 horsepower engine, but if that isn't enough "muscle" they can opt for the supercharged version providing 240 horsepower from this V6. Performance seekers get a lot for their money and dollar for dollar, this "Wide Track" stance not only makes them very noticeable and distinctive, it enhances handling greatly because of its low center of gravity.
Henry Ford knew instinctively that affordable cars would win the hearts and minds of consumers and I believe his instincts are as valid today as they were nearly a hundred years ago. That is especially true for us in California where we're just now coming out of a great depression. Some call it a recession, but for others it has been a full-on depression. In any case, price is still a prime mover for most of us. In fact, as well priced as this Bonneville is, we are seeing an explosion in the availability of incredibly inexpensive cars. A rash of small 2 and 4 door sedans from Korea, Japan and even from the U.S. are growing in number that are priced as low as $6,999. Mr. Ford was either a visionary or simply had a keen sense of the obvious…people need transportation and don't want to sell their souls to have it. Thanks to technology, carmakers have been able to provide some pretty amazing products at pretty amazing prices.
My recommendation remains, buy American, where you get the biggest bang for your buck in today's world. As time passes and the economy gets better fewer people will be as cost conscious, but by then I think you'll find even less distinction between "foreign and domestic". Cars will increasingly come to us from multi-national companies and will be even more homogeneous than they are today, if that's possible.
The competition:
Dodge Intrepid $19,685 – $22,465, Nissan Maxima $21,499 – $26,899, Chrysler Concorde $21,305, BMW 3-Series $21,390 – $41,500, Ford Taurus $18,445 – $29,000, Oldsmobile LSS $28,095, Toyota Avalon $24,408 – $28,288, Volvo S70 $26,985 – $34,010.
Good News:
J.D Powers APEAL Award. Good Pricing. Wide track styling. Good performance.
Bad News:
Low on J.D. Powers list of prob/100 cars.
Standard Equipment:
3.8 liter V6 205 horsepower V6 engine, 4-speed automatic trans., front wheel drive, power rack & pinion steering, independent suspension, dual airbags, auto air conditioning, AM/FM stereo, cruise control, power windows, door locks and mirrors; remote keyless entry, front disc and rear drum anti-lock brakes, power 6-way driver seat, leather trim and leather wrapped steering wheel with radio controls.
Gas Stats:
19 City and 28 Highway MPG.
Pricing:
MSRP is $23,820.
Your comments are welcomed. My e-mail is joe@autolove.com
Copyright © 2014 – An Automotive Love Affair.