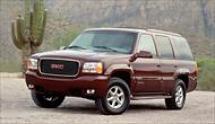 Overview:
The Yukon Denali went on sale earlier this year as a 1999 and has a unique grille and special headlights to set it apart from other Yukons. It joins a long running fad demanding a combination of car and off road vehicle.
The nice thing about the market for anything is that it is predictably unpredictable. It will go where people decide it will go. They do that by voting with dollars. Their dollars, soon to be GM's or Ford's or Japans or Germany's. Right now the craze for the SUV has brought nearly every manufacturer into the market, including the Luxury car makers. So what started out to be for "rough and ready" guys and gals driving the wind in their hair Jeep Wrangler has captured the fancy of the Rodeo Drive well healed weak and wrinkled.
These luxury versions are so far removed from the original concept that it is simply a move to capitalize on this current booming market for big, upscale sport-utility vehicles.
Somehow I just can't see a bunch of burley guys throwing fishing or hunting gear in the back and plopping their fish hook laden vested torso on my nice baige "cadillac quality" leather seats – with mud on their boots to boot. Rodeo Drive, ok, but the real world for the rest of us, forget it.
The 1999 GMC Yukon is available in three trims: SLE 2WD, SLE 4WD, and this Denali. The standard Yukon is nearly identical to the Chevrolet Tahoe, which is bigger and roomier than the top-selling, midsize Ford Explorer—but smaller than the massive Chevy/GMC Suburban. The Dodge Durango, Ford Expedition and Lincoln Navigator have all been stealing sales. Thus, we have the Denali. It spices up the Yukon line The 4-wheel-drive Denali has a $42,855 base price. That's pretty stiff, compared to the $29,919 cost of the 2-wheel-drive SLE Yukon and the $32,919 price for the SLE 4-wheel-drive Yukon.
This is the widest of the wide of the SUV's so if you're a potential Yukon owner you'll need to measure the garage to make sure it fits. Another annoyance is the two swing-out cargo doors block rear vision from the driver's seat. Loading a Yukon is a snap however. And the rear seat is easily flipped forward to allow pickup-truck-style cargo room.
For those rough spots and imaginary pot holes in and around Beverly Hills and Brentwood the Denali has a very smart college educated traction control system that automatically engages when needed.
Watch for more Denali-style vehicles from GMC, as America's love affair with big, high-style trucks continues, unless the stock market takes a big dump, then the well will dry up and Jeep Wranglers will be back in Vogue.
The Competition:
Chevrolet Tahoe $23,900 – $32,300 Dodge Durango $26,540 Ford Expedition $28,225 – $34,690 Land Rover Range Rover $56,300 – $64,500 Lexus LX 470 $54,950 Lincoln Navigator $39,310 – $42,960 Toyota Land Cruiser $45,950
Good News:
Roomy, Powerful,Clever 4-wheel-drive, posh say some. (trivia buffs – POSH stands for "Port Side Out, Starboard side Home". and yes, I know, that term should have gone down with the Titanic).
Bad News:
Pricy, Average steering, handling and ride, Awkward size, Poor on gas consumption.
Standard Equipment:
5.7-liter V8 255 horsepower engine, 4-speed automatic trans, dual airbags, an anti-lock brake system (ABS), child safety locks, daytime running lights, air conditioning, cruise control, tilt steering wheel, power door locks and windows, deep-tinted glass, intermittent windshield wipers, AM/FM stereo with cassette & 6-CD changer, leather trim, Zebrano wood accents, projector-beam fog lights,16-inch chrome aluminum wheels, remote keyless entry, 6-way power front seats, heated seats front and rear, roof mounted luggage rack, and a bunch of other luxury touches.
Gas Stats:
12 City and 16 Highway MPG.
Pricing:
MSRP is $ 42,855
Your comments are welcomed. My e-mail is joe@autolove.com
Copyright © 2014 – An Automotive Love Affair.