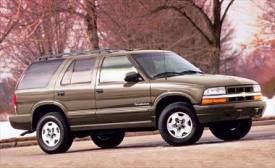 Overview:
This week we had the opportunity to go to the mountains in the Chevrolet Trail Blazer. Sequoia National Park where there are Lions, No Tigers, but lots of bears. I bumped into two but wasn't in the Trail Blazer. Boy, that will get your heart started. And if you love cars as much as I do, this version of the Blazer will help you enjoy seeing the USA in your Chevrolet.
We toted gear for three people for a week very comfortably without using the roof rack. I've tested all the competition except the Ford Explorer, but generally if you turn them upside down you'll find they're all sisters. There simply isn't enough difference in the lot to really get excited about. SUV's are so popular manufacturers don't seem to be willing to go too far out on the "difference limb".
And although Explorer may lead the pack in sales, it isn't by much and perhaps the slight increase in width and height of the Explorer over the Blazer is more important to buyers. I've owned lots of both Ford and Chevy's and have usually opted for the Chevrolet family.
Handling & Performance:
Mineral King is at the south end of the Sequoia's and was annexed not so long ago into the National Park. After leaving the main highway 198 through Visalia, you'll have to negotiate 639 turns before you reach the Silver City store and cabins or camping areas. I didn't tire a bit after the 4 hours of freeway driving to get to the turnoff from Los Angeles. The V6 delivered all the power needed to climb to 7000 feet over black top and dirt roads.    
Styling: 
Ya gotta love GM for the consistent car lineup they've maintained over the years. Chevy products just exude confidence in the area of quality and command attention as being a leader in design. Jeep, on the other hand was first on the scene as far back as WWII and the standard on which others are measured. It's always been a favorite of mine in this category.
Fit and Finish: 
Good.  
Conveniences:
I never wanted for any feature. In fact, I've got to tell you a little story. I'm driving from Silver City to Mineral King were most of the trailheads start for the most beautiful hiking in any country. So I push the On Star blue button and wa-la, "Welcome to On Star – this is Brian, how can I help you?" Whoa, says I to Brian, I'm testing this and wanted to know if it would work here in the wilderness. Brian says, "I have you traveling east on Mineral King Road in a Trail Blazer". Thanks, Brian and On Star. That is really convenient and adds comfort or peace of mind. And the On Star operators are always so damn polite. For more information, you can go to www.onstar.com.  
Cost:
If you could get it without the On Star you could save a bunch, but it appears to be standard.
Recommendation:
To me, as noted above, Jeep is the benchmark of all SUV's. Thus, I'd start there and test-drive all the competition in order of preference according to styling.  
The competition:
Dodge Durango $26,310-28,310, Ford Explorer $19,970-34,565,Honda Passport  $22,800-30,150, Jeep Grand Cherokee $26,895-34,635, Land Rover Discovery $33,350-34,150, Mitsubishi Montero Sport $20,493-28,524, Nissan Pathfinder $27,349-31,299, Toyota 4Runner $22,288-36,818.
Good News:   
Comfortable ride and great seats for the 5-hour trek to Sequoia National Park, good handling, built like a rock? Well, maybe not that good but basically quality construction, autotrac / automatic 4-wheel drive works well, nice interior.  
Bad News:   
I keep harping on the poor gas mileage and no one listens, this is narrower than the Explorer, for example, therefore seating of 5 may be less comfortable than you'd like, poor visibility typical of all SUV's.
Standard Equipment: 
4.3 liter 190 horsepower V6 engine, 4-speed auto trans., autotrac 4X4 transfer case, climate control, power steering, daytime running lights, dual air bags, 4-wheel antilock disc brakes, On Star system, stereo with CD, 18 gal fuel tank, theft deterrent system, 8-way power driver seat, keyless remote with theft alarm.
Gas Stats:
16 City and 20 Highway MPG.  
Pricing:
MSRP  $31,765.
Your comments are welcomed. My e-mail is joe@autolove.com
Your comments are welcomed. My e-mail is joe@autolove.com
Copyright © 2014 – An Automotive Love Affair.