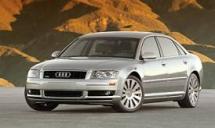 Overview:
This week I tested the 2004 Audi A8 L (for Long wheelbase) 4 door sedan Quatro AT6. The short wheelbase version is not available in the US for 2004. Although I loved the sister to this A8, the VW Phaeton, I have to give the nod to this A8. I like it better from a design standpoint but don't care for the electronics any better than the Phaeton or any German product. The Japanese electronics, specifically the Navigation systems, are far superior. They are so bad you are encouraged to use the manual.
Audi provides an alternative display on the instrument panel, I suspect because even they know lots of folks will find it difficult to use the main presentation. I tried but struggled with Audi's obvious first choice, even if it is more dangerous at worst or simply aggravating at best. It is so user-unfriendly it is literally enough to dissuade me from buying the car. Why, because it is a big part of the pleasure of driving a touring sedan. Second, it makes me wonder what other poor choices the company made in the process of building other components on the car.
What they refer to as MMI for Multi Media Interface, a fancy name and fancy presentation on a colorful visual screen what I consider functionally poor. It is dangerous because it forces you to take your eyes off the road and to add insult to injury you are prompted repeatedly to read and acknowledge the disclaimer warning on the screen. It acknowledges that by you using it while driving you are engaging in dangerous behavior behind the wheel. But if it is the primary interface, and when you push the button to say "I Accept" you are doing exactly what Audi says you shouldn't do.
Audi… just between us, you need to do something about your electronics. The system is problematic and someone's head should roll on this one. More importantly, such difficult systems detract from an otherwise wonderful automobile.
Handling & Performance:
Wonderfully responsive, fast, smooth and one of the most comfortable cars you'll ever drive. I understand a W-12 engine will be available in future models. But I felt the 8 cylinders are sufficient for the car. 0-60 mph is impressively 6.3 seconds.
Styling:
Lovely. Quiet elegance describes its presence on the road. It is as invisible as the Hummer is visible.
Fit and Finish:
Excellent. Beautiful burl wood accents.
Conveniences:
Most controls are intuitively well placed and the others you don't see are numerous and all well worthwhile, except the Navigation system. It ranks down there with nothing at all. If you decide to use the Navigation feature, be prepared to consume as much time inputting as it will take to reach your destination. Put in the country, city, street and address. That is, if you can ever figure it out at all without reading a space shuttle size manual. Ok, so I'm being a little silly but it wasn't funny to me at the time. I'm still fuming. In fact, while driving I asked daughter Jenny, who has a Nav system in her Acura TL was nearly as frustrated as I was and finally gave up too. Trust me, if you have seen the Japanese Navigation systems you'll know what I mean when you try a German made versions, which are all lousy.
The electric parking brake is easy to operate and I expect it is ok to eliminate, over time, what they used to refer to as an "Emergency Brake". I guess those manually operated brakes are no longer needed.  Come to think of it, I haven't had to use one since I drove a Model A.
Cost:
The MSRP is $68,500 and the model I tested included the a special convenience package including Electric Rear Sunshade, rear vanity mirrors, tire pressure monitoring, air conditioned front seats and power trunk open and close feature for $2,500. The Adaptive Cruise Control adds $2,100. It is one of the most useful new features and it will surely be standard equipment one day, 18" wheels $1,100 and for those cold days in California a Cold Weather Package that includes Heated front and rear seats and a ski sack and heated steering wheel.  Just goes to show you the rich and famous are expected to spend enough time driving to the ski areas such amenities are readily available.  Grand total is just over $76,000. Well priced for what you get, minus $40,000 for the lousy Nav system. Just kidding, I'm still upset.
Consumer Recommendation:
There is no question the ladies will fall in love with this car. It pampers you. I suspect it will appeal as much to them as the Jaguar has for many years. If they'd put a Japanese audio and navigation system I'd consider buying it.
The Competition:
Audi A8 $68,500, Volvo S80 $35-49,000, Jaguar XJ Series $60-75,000, Lexus LS 430 $55,375, BMW 7 Series $69-117,000, Mercedes Benz S-Class $74-123,000, Infiniti Q45 $52-62,000.
Good News:
Decent mileage for a top of the line luxury car, elegant, super comfort and great performance.
Bad News:
HORRIBLE electronics system enough to prevent me from buying one.
Standard Equipment:
4.2 liter aluminum alloy 330 hp V8 engine with 5 valves per cylinder, 6-speed automatic transmission with tiptronic shifter, all wheel drive with EDL (Electronic Differential Lock), anti lock braking system, vehicle speed sensitive power steering, ESP (electonic Stabilization Program), multi media interface with color screen, leather seating, 12 speaker Bose surround sound system, climate control, 16 way power front seats, power glass sunroof, polished walnut Birch wood inlays on dash and console and doors, cruise control, remote keyless entry, slide sunshades, trip computer, dual front air bags, front and rear side and curtain airbags, front knee air bags, (if you get in an accident it sounds like if the crash doesn't kill you, you'll be suffocated), child safety anchors and tethers, anti theft alarm system, high pressure headlight washer system, front and rear fog lights, dual power mirrors with defog feature.
Gas Stats:
17 City and 24 Highway MPG.
Pricing:
MSRP $76,070.
Your comments are welcomed. My e-mail is joe@autolove.com
Copyright © 2014 – An Automotive Love Affair.