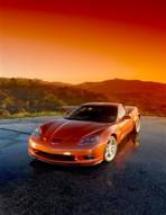 Overview:
This week we're looking at the 2006 Corvette Z06. Paul says he feels the real story for this car is the engine that "IS" the Z06. In a world where race engines cost $50-100,000 this has to be the best performance "Production" sports car anywhere in the world.
It is also the best looking Corvette ever. It attracts attention and draws a crowd wherever it is seen. But you know what; it is actually affordable. And that is apparent by the lively sales activity at dealers and I'm told it sells for well over the sticker price.  
How could you not fall in love with this car? The only concern I see is there is nowhere to drive the way it should be driven. So much for "Life, Liberty and the pursuit of happiness." A couple of exceptions might be mountain road driving and the autobahn in Germany .
I have driven Brother John's Ferrari 365 GTB and Daytona but as impressive as Ferrari is this Z is "as good as it gets", Jack.  The horsepower and torque combined with its lightweight makes it the thorough bred it is.
But then there is always the voice of reason or contrary opinion when I feel so bullish about a car. My engineer friend Merkel filled me in on some car facts. But I feel too good to listen to the facts. But listen I must. Ok, lay it on me Merkel. "Well it is a terrible engine. It develops only 72 hp per liter. Every other car worth its salt gets 100 plus hp per liter. GM refuses to drop old push rod technology while the rest of the world is moving on to better technology". Merkel points out that Honda, Toyota and other European production (non-high performance) cars get the same or better engine efficiency. Further he explains the cylinder head design – specifically the combustion chamber is flawed and won't ever allow for the best performance of the engine. Ok Merkel, will you agree it is beautifully styled? "Yes, prettier than most other Corvettes, but I liked the older designs even better."
Wow, just when I thought I'd found the perfect mate Merkel has to tell me she's flawed.
General Info:
Parts – n/a
Assembly – USA
Class:  – Sport Car
Cars: – Astro, Avalanche, Aveo, Blazer, Cavalier, Cobalt, Colorado, Corvette, Eqinox, Express,     HHR, Impala, Malibu, Monte Carlo, Silverado, SSR, Suburban, Tahoe, Trailblazer,                Uplander and Venture.
Handling & Performance:
One test drive will just blow you away. Awesome doesn't adequately describe it. It is an unbelievable driving experience. And it is rumored a higher output power plant is in our future. Like 505 horsepower isn't scary enough.
I toured the production plant where the Titanium intake valves are made for all Z's and the company also is a prime manufacturer of valves and other parts for most race car engines. Paul explained Newton 's second law, Force=Mass times Acceleration. And one gram of weight equals 200 rpm. And since race engines can operate at 10,000 rpm the use of Titanium for the intake valves can add significant force in the engines output. The Z06 engine is hand assembled in Canada using Titanium valves and other special race engine components from the world over to make it unique in the production car world.
Bruno, who has driven Formula one race cars, drove the Z and was very impressed. He lives in the south of France and travels the world often, working in the race car industry. He predicts this Z06 will be hot in Europe . But I doubt they can make enough for the US demand in the first place.
Cowboys know there are some horses that love to run. And if you have ridden a spirited horse multiply that by 505 horses in the Z06 and you get a better picture of what it's like to ride such a willing horse.
When you test drive the car slowly, it forces you to shift from 1st to 4th gear. The torque is so good you don't need to go through the gears. I found when around town I would shift from first to third to fifth without the need for lower gears.
Styling:
Most everyone I interviewed agrees this is the most beautifully designed Vette ever.
Fit and Finish:
I believe Vette devotees will say this is the best ever design and assembly of any Corvette in the brands long history that began in 1953.
Cost:
Dollar for dollar this has to be the best value of any high performance sports car.
Conveniences:
I wrestled with the need for the keyless operation feature. I felt it was more of a gimmick than a practical application. I've used it in the Cadillac XLR and most recently the Infiniti M45. But I really began to appreciate this feature driving the Corvette. I literally didn't take the key fob out of my pocket for a week. I have concluded a car key may not be needed at all in the near future. You approach the car and it unlocks, enter the cockpit and push a button on the dash and wa-la – you're off and running. When you stop and walk away from the car it locks the doors. Too coooool.
Another feature I really like is the "Heads Up" display of the tachometer and speed on the windshield. Very nice. I missed that when driving other test vehicles.
Consumer Recommendation:
Honestly I don't think I would buy one. Why you say? It is simply too fast. It is "Scary" fast. It takes on a life of its own as the most impressive machine on the highway all things considered. It is almost impossible to drive slowly. I don't take drugs but this is as natural a high you'll ever feel. But if I lived in Germany I think I'd put my name on the list to buy one.
Recognized Competition:
Corvette Z06 $44-65,000, 2005 Lotus Elise $42,990, 2005 Acura NSX $89,000, Cadillac XLR $76-97,000, Pontiac GTO $31,290, Ford Mustang $19-31,000, Dodge Viper $82-83,000, BMW M3 $49-57,000, Nissan 350Z $28-40,000, Honda S2000 $34,050, Porsche Boxster $45-55,000, Mazda RX-8 $26,435.
Good News:
Among the most memorable high performance sports cars I've driven and the only one without a "Gas Guzzler" tax because it gets such good mileage. And before you say they simply put it in 6th gear and stretch out the mileage. It doesn't work that way. The EPA test requires a prescribed testing procedure so everyone's on the same playing field.
Bad News:
Too fast for the street where the Highway Patrol is not as impressed as the driver is.
Standard Equipment:
7 liter 505 hp V8 engine, 6-speed manual trans (automatic not available), air conditioning, power windows and locks, power leather heated seats, XM radio with 6 in-dash CD player, front and side air bags, 4-wheel ABS disc brakes, traction control and Stability control.
Gas Stats:
16 City and 26 Highway MPG
Pricing:
MSRP $67,900.
Your comments are welcomed. My e-mail is joe@autolove.com
Copyright © 2014 – An Automotive Love Affair.