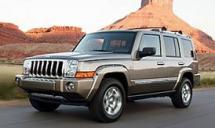 Overview:

This week we're looking at the 2006 Jeep Commander 4X4 Sport Utility Vehicle. Surely it is priced pretty well for this class vehicle but some will argue it is downright ugly. I think that's a bit harsh, especially when you consider the Element and especially the Scion xB that can be characterized as "Uggggg-leeeee".
I see the Commander as being a cross between the Hummer and the Land Rover. What do you think?
General Info:

Parts – US/Canadian 76%
Assembly – Detroit , Michigan , USA
Class: – SUV
Cars: – Commander, Liberty , Grand Cherokee and Wrangler.
Handling & Performance:

Quite good actually for a high profile vehicle without as wide a stance as the Hummer for example. I had the V8 version but one has to wonder if 25 hp makes all that much difference. Without lifting the hood I couldn't tell if it was the V6 or V8. I loaded it to the brim with 7 adults and it pulled the load without a groan.
Styling:

Boxy is a surprise to me after they had adopted nice rounded corners in recent years. It's like they're not confident and the peer pressure is great for them to conform to all the rest. No balls to allow them to lead the way and be innovative. I hate followers, don't you?
Fit and Finish:

Very good.
Cost:

Well priced at $29,000 and although the V8 Limited version with some other up's and extra's will cost over $37,000. Frankly they are not must have options anyway, in my opinion.
Conveniences:

If we're old enough to vote and more importantly old enough to drive we surely should be responsible enough to fasten our seatbelts without a constant wailing reminder bell. Let's say you're on your own property and getting in and out doing chores around the old rancho. I don't know about you but that reminder drives me wild. Give it a rest Jeep division of Daimler Chrysler.
Above I mentioned carrying 7 adults but I gotta tell you the two folks in the third row seats were pretty cramped. Those seats are ok in a pinch or for use by little people.
Consumer Recommendation:

For the money, among the competition noted here, I believe the Jeep is the winner. The reason is that even at the lower end of the price range for Jeep it is well appointed.
Recognized Competition:

Jeep Commander $28-38,000, Ford Expedition $33-45,000, (2007) Chevrolet Tahoe $33-37,000, Dodge Durango $29-38,000, (2007) GMC Yukon $34-38,000, Nissan Armada $35-43,000, Infiniti QX 56 $50-53,000, Hummer H2 $53,000, Land Rover LR3 $38-53,000, Lexus GX 470 $46,635.
Good News:

Priced well, comfy in first and second row seating, fold & tumble rear seats are great and very nice "Stadium" type seating.
Bad News:

Poor fuel economy (consider a whopping 57 hp per liter – not very good folks and that translates into poor performance), the return of square lines is a throwback and the softer lines were an improvement for Jeep.
Standard Equipment:

3.7 liter 210 hp V6 (a 235 hp V8 also available for $1,340), 5-speed auto trans, leather trim bucket seats, front and side air bags, ESP –Electronic Stability Program, 4-wheel ABS power assist disc brakes, Full-time 4 wheel drive system, traction control, remote keyless entry sentry key theft deterrent system power windows and locks, tire pressure monitor system, variable intermittent wipers, rear window wiper washer, air conditioning, 8-way power drivers and 4-way power passenger seats, second row fold and tumble seats, third row 50/50 bench, cruise control, stereo with CD player, tilt steering column, trip computer, illuminated entry, power heated fold away mirrors.
Gas Stats:

15 City and 19 Highway MPG
Pricing:

MSRP $29,290.
Your comments are welcomed. My e-mail is joe@autolove.com
Copyright © 2014 – An Automotive Love Affair.