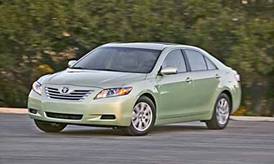 Overview:
This week we're looking at the 2006 Toyota Camry Hybrid 4-door sedan. What a delightfully different driving experience. The first thing you notice is the ultra quiet flight. But more than that, this is a beautifully crafted car irrespective of price. I'm guessing it is Toyota 's response to Prius critics that it is ugly. But because it is a Hybrid people have discounted the lack of styling. Put another way it is the antithesis of beautifully sculpted cars like Ferrari, Corvette, Nissan 350Z etc. Prius has company in the ugly department like the Scion and the Element fighting for the Ugly award.
Ugly or not friend Merkel reminds me of how Japanese car makers are kicking our American butts. Others go further and tell you they are doing the same in electronics and a host of other industries. December 7th it was Pearl Harbor and just 15 years after WWII was over, Japan bypassed the islands and launched an economic attack on the mainland. What's amazing is how the consumer has continued to embrace all Japanese car makers non-stop for over 40 years. In the first half of 2006 Japanese auto manufacturers were the only ones to make money. The big three – GM, Ford and Chrysler lost money.
The Hybrid effort of Toyota and Honda are to be applauded because with any new technology there is always some degree of risk. Rumors are the Prius drive system is costly to maintain – but it is still too early for reliable feedback. In the meantime there are options for higher fuel economy vehicles. Toyota produces a smaller newly launched Yaris (5-passenger) with conventional gas engine that get about the same fuel economy as this Hybrid. More on this next week with the Yaris review.
I tend to lean to fuel cell powered vehicles for the future. Hydrogen is promising and that is attested to in the fact that GM is putting most of their eggs in that basket. Honda is also heavy into this 21st century technology. Others are either very secretive or simply leaving development to the few presently developing this new propulsion system.
Public Service:
Well we all know there is a broad range of drivers out there on our crowded highways. Some approach being 'stupid'. And because of the seriousness of the driving experience we all have a duty to be aware of what's going on around us. Some haven't a clue and that is very dangerous.
Perhaps the most important thing to remember to avoid reactive driving (dangerous) – is that if you are not passing traffic on your right, that's the lane where you belong. It's ok for others to be going faster than you even if you are traveling at 65 mph. Consider: the driver who is traveling faster may be having a baby or other urgent reason for traveling faster than you.
Handling & Performance:
Smooth and comfortable ride. For the most part it is a normal Camry but the quiet acceleration tells you something is very different. Like the Prius you get a display on the Nav screen to show where the power is coming from – battery or engine. But make no mistake, you must have the engine because it can only be driven a very, very short distance on battery alone based on charge status and road conditions for only a mile to a mile and a half.
Toyota says you should never let the vehicle run out of gas because it isn't good for the fuel injection system.
Styling:
Toyota 's best selling Camry continues to be eye pleasing. It rivals more expensive cars like Lexus, BMW and Mercedes. Nice presentation.
Fit and Finish:
Typical Japanese carmakers high degree of attention to detail in piecing the car together.  
Cost:
Competitive, but real cost to operate over time is yet unknown since it is too soon to put dollars to maintenance concerns. I would recommend manufacturers include extended warranty of the drive system to further encourage broad consumer interest. I believe sales volume is hampered by uncertainty.  
Conveniences:
This is, of course, a combination electric drive and gas powered internal combustion engine. It is started without the need for a conventional ignition key. However it is not a convenience since you need the key fob anyway to open the doors and activate the ignition button. I found it to be touchy and confused and that was often troublesome in starting the drive system.   
Consumer Recommendation:
Honda and Toyota are the two major players in the Hybrid market, so you don't have many to test drive. Both are close in overall impressions for styling and performance.  
Recognized Competition:
Toyota Camry Hybrid $25,900, Honda Civic Hybrid $22-24,000, Honda Accord Hybrid $31-33,000 … other recognized competitors : Chevrolet Impala $20-26,000, Ford Fusion $17-22,000, Pontiac G6 $16-29,000, Nissan Altima $18-30,000, Volvo S40 $24-29,000, Volkswagen Jetta $18-24,000, Subaru Legacy $22-34,000, Kia Optima $16-20,000 and Hyundai Sonata $18-23,000, Mazda6 Sports wagon $24-28,000, Toyota Camry $18-28,000.
Good News:
Nice styling, well priced, Fuel efficient, quite and comfortable.
Bad News:
Fairly new technology with unknown maintenance issues down the road.
Standard Equipment:
2.4 liter 187 hp 4-cylinder engine with Hybrid Synergy Drive electric motor, electronic Continuous Variable Transmission (ECVT), electronic power assist rack and pinion steering, 4-wheel ABS disc brakes (with regenerative system to recharge the batteries), front, side and side airbags with driver knee airbag, child restraint system, tire pressure monitor system, engine immobilizer (theft deterrent), halogen auto headlights, daytime running lights, power mirrors, sound dampening windshield (which accounts for the quiet interior ride), keyless start button, climate control, JBL digital audio with MP3 and 6-disc in dash CD changer with Bluetooth and 8 speaker 440 watts, auxiliary audio jack, homelink universal transceiver (for garage door opener), power windows and locks, power drivers seat with lumbar support, tilt and telescopic steering wheel with controls, cruise control, 60/40 split fold down rear seat. Options for voice activated Navigation system will add $1,200 to MSRP
Gas Stats:
40 City and 38 Highway MPG
Pricing:
MSRP $25,900.
Your comments are welcomed. My e-mail is joe@autolove.com
Copyright © 2006 – An Automotive Love Affair
Your comments are welcomed. My e-mail is joe@autolove.com
Copyright © 2014 – An Automotive Love Affair.