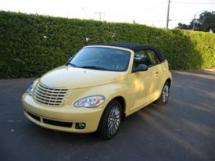 Overview:
This week we're looking at the 2007 Chrysler PT Cruiser GT (Turbo) Convertible. Cute, eh?
And you know what really surprised me is that a friends young teen daughter chose the PT Cruiser as her dream car at the LA auto show when it was first introduced. Well the folks were thrilled with her dream in part because it was affordable and she needed a car to see her through college. So they bought her one and it realized her dream. Cool folks don't you think?
Overall this has got to be a 9. It would have been a ten if it were better on the fuel. Perhaps they should introduce a 'green' model hybrid.
Handling & Performance:
All things considered the fuel economy is only fair but only suffers ONE mile per gallon with the turbo so I recommend the turbo since it is sorely needed. It provides the extra horsepower to make this 4 cylinder hummmmmm.
It is a cruiser that corners nicely and is quite capable as well as cute. I drove a pastel yellow model with a black convertible top and didn't notice any creeks and groans in the turns. It is simply a classy head turner that is flat fun to drive.
Styling:
The PT Cruiser continues to be one of the most popular of the Chrysler line. And I'm sure its popularity has a lot to do with Chrysler making bold design steps in other cars in their lineup, like the 300, Charger and hopefully soon to arrive Challenger that brings the 1970s back to the future.
The convertible is well done and road noise is much less than I expected. And for a convertible the rear window visibility is very good, while at the same time has a few blind spots that are bothersome. Nice top with a boot for clean styling and when you put it down, wa la – no visibility problems.
The trunk is small and because of the convertible top requirements the opening is also small and an awkward opening. My golf clubs just barely fit and you won't want to be taking a foursome with 4 sets of clubs because that would be an impossibility. Two would work since you could put the second set of clubs in the rear seat… which by the way is roomy and comfy – even if hard to get in and out of.
Fit and Finish:
Wonderful attention to detail inside and out. The interior reminds me of the VW Beetle with color coordinated painted dash panels etc which brings it all beautifully together. The feel is solid and capable. You gotta love this car.
Cost:
Although the entry level cost is still quite good, when you ratchet up and move to the GT  the price escalates quickly. This turbo convertible will set you back just under $30,000. For the unique design you'd expect to pay a bit more but at the end of the day "the price is right" Bob Barker.
Conveniences and comfort:
The car is comfortable but as a 2-door convertible you lose the ease of entry and exit to and from the rear seat. The seat action is easy but a step over sill requires agile younger people. The older passengers will struggle to wiggle their way into the rear seat. Getting out is even worse of course.
You can get a little extra cargo area with the folding rear seats but the pass through is nearly useless.
Consumer Recommendation:
It doesn't fit all needs, as you can imagine, and its uses are limiting but it does what it is designed to do very well. It is a head turner because its retro look is ageless. It does the a great job of retaining that cool retro look that is made even better when they gave it a convertible top. I can see why it has appealed to so many. I loved it when it came out and I drove the very first one and said then this would be a very successful look from the past. It has not disappointed me.
Recognized Competition:
Chrysler PT Cruiser $15-26,000, Chevrolet HHR $16-19,000, Chevrolet  $21-24,000, Nissan Versa $13-15,000, Volkswagen $15-17,000, Subaru Forester $21-28,000, Toyota Matrix $15-17,000, Honda Element $19-23,000, Mazda 5 $18-22,000, Mercury Mountaineer $27-34,000, Ford Explorer $25-35,000, Hummer H3 $29-38,000, Mazda Tribute $19-26,000.
Good News:
Cool head turner that handles well and lots of power with the turbo, great interior touches and fit and finish is wonderful in and out.
Bad News:
Only fair fuel economy, small trunk with difficult opening, not the easiest entry and exit rear seat.
Standard Equipment:
2.4 Liter 230 horsepower turbo inline 4 cylinder engine, 4-speed auto trans with autostick, sport leather bucket seats, front and side airbags, 4-wheel ABS disc brakes, security alarm, theft deterrent system, cruise control, traction control, remote keyless entry, power rack and pinion steering, information center, sport suspension with front stabilizer bar, 12 volt power outlets, tilt steering column, air conditioning, stereo with CD player and 6 speakers, power windows, 6-way power drivers seat, speed sensitive door locks, leather wrapped steering wheel, 17" aluminum chrome clad wheels, fog lights, rear window defroster, power convertible top, halogen headlights, power mirrors, and sport roll bar.
Gas Stats:
$3.29/ Gal avg. May 31 '07
www.fueleconomy.gov
for more information.
19 City and 26 Highway MPG
Pricing:
MSRP $30,375
Your comments are welcomed. My e-mail is joe@autolove.com
Copyright © 2007 – An Automotive Love Affair
Your comments are welcomed. My e-mail is joe@autolove.com
Copyright © 2014 – An Automotive Love Affair.