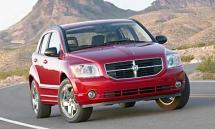 Overview:
This week we're looking at the 2007 Dodge Caliber R/T All-Wheel-Drive crossover. The R/T comes with AWD. Other models are front wheel drive propelled. It is roomy with lots of head room as well.
Great family vehicle in all respects.
General Info:
Parts – US/Canadian 63%, Mexico 22%, Engine – US, Transmission – Mexico.
Assembly – Belvidere, Illinois, USA
Class: – Compact Cars
Cars: – Avenger, Caliber, Caravan, Charger, Dakota, Durango, Magnum, Nitro, Ram 15, 25 & 3500, Sprinter Van, Sprinter Wagon and Viper.
Handling & Performance:
Performance is quite good but you will hear the engine that powers this compact. I wonder when they've done so many things so well, why they didn't quiet the mechanical a little better. Here in the US gas will fuel the power plant but it will be offered in Europe and other foreign markets with turbo diesels where more than half of the cars are diesel. Now that is Smart. But even the US gas burner version will get pretty good mileage. I would like to see Americans buy more diesel products and push a movement to "Clean Diesel" model availability in the US.
My ranch truck with 265,000 miles is a diesel and most diesel owners will tell you that is just getting broken in. It is a very popular Dodge Ram 3500 dual real wheel and will haul a house if called upon. It is awesome and even with 15 large bales of hay stacked up it will still pull that house.
I prefer more road steering feel but this Caliber is a little loosy goosy feeling. I did get used to it but still prefer more feel.
Styling:
In keeping with Chrysler bravado in design this Caliber also makes an original and contemporary statement. I like it. How about you?
Fit and Finish:
Quite good and exceptional in class.
Cost:
Like most Chrysler products this Caliber is verrry affordable. I'm always impressed mostly because price hasn't increased in proportion with the quality and design improvements of this American car company.
Conveniences and comfort:
The console has lighted cup holders that are really very cool and it makes me wonder why that nice touch isn't seen on any other cars.
I found the ignition location annoying.
Standard in the R/T is a unique Chill Zone storage area for keeping up to 4 – 20 ounce bottles or cans cool.
Consumer Recommendation:
In my opinion this Caliber is the best of the bunch listed here, so it is a must drive inclusion in your search. Try it, you'll like it.
Recognized Competition:
Dodge Caliber $14-20,000, Mazda 3 $14-20,000, Honda Civic $15-25,000, Ford Focus $14-17,000, Pontiac Vibe $16,710, Chevrolet Cobalt $13-20,000, Nissan Sentra $15-18,000, Hyundai Accent $10-14,000, Acura RDX $33-36,000, Subaru Impreza Wagon $18-27,000, Kia Rio5 $13,750, Toyota Matrix $15-17,000.
Good News:
Perky performance, nice styling, well priced, versatile roomy family alternative and good fuel economy.
Bad News:
Poorly positioned ignition, noisy engine.
Standard Equipment:
2.4 liter 172 horsepower 4-cylinder engine, continuous variable transaxle auto transmission, dual front air bags and front and rear side curtain airbags, 4-wheel power assist ABS disc brakes, power windows, solar control glass, rear window defroster, theft deterrent system, rear window wiper washer, power mirrors, speed sensitive power locks, cruise control, 12 volt and 115 volt aux power outlets, air conditioning with Chill Zone storage, front passenger fold flat seat, rear fold flat seat, with rear 60/40 split reclining seat, stereo with CD player, leather wrapped steering wheel with audio controls, tilt column, illuminated cup holders, lift gate and fog lights.
Gas Stats:
$2.69/ Gal avg. Mar. 4, '07
www.fueleconomy.gov
for more information.
23 City and 26 Highway MPG
Pricing:
MSRP $19,475.
Your comments are welcomed. My e-mail is joe@autolove.com
Copyright © 2014 – An Automotive Love Affair.