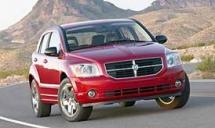 Overview:
This week we're looking at the 2007 Dodge Caliber R/T Front Wheel Drive SUV.
Yet another sport utility. Do you think these guys know something they're not telling us? Is there something about $4 buck a gallon gasoline they don't understand? Did someone just find an oil reserve that will eliminate the need for middle east oil? Why else would we play into the hands of those bent on our destruction?
"Suppose you were an idiot; and suppose you were a congressman; but then I repeat myself." – Mark Twain.
You gotta just love that man who recognized at the turn of the 20th century what is still true today as we forge forward into the 21st century.
Anyway, Chrysler has (along with all manufacturers in the auto industry) at least improved the fuel economy of cars and trucks like this SUV "looking" vehicle. Powered by a 2.4 liter I 4-cylinder engine will get 26 highway mpg but you can push that up to 32 mpg highway if you opt for the 1.8 liter inline 4-cylinder.
Public Service Reminder:
Keep the traffic flow moving by slowing down to no more than what the general speed flow is. If everyone is traveling at 50 mph in heavy traffic and you insist on doing 75 you not only get there no sooner, you will be a hazard to everyone on the road. At the very least you will cause a ripple effect when forced to brake down to the average speed of those around you. That will bring everyone far behind to a screeching halt to avoid collisions if they're lucky. Guess what? It will have been your fault. Keep the pace and be safe in consideration of all who must share the road with you.
Handling & Performance:
Quite a nice comfy ride. You won't break any speed records but you will go 0-60 mph in just under 10 seconds. Compared to a Corvette Z06 that does 0-60 in under 4 seconds I guess it seems slow. But for every ass there's a seat, I've heard it said, and these two cars have nothing else in common either. The Vette was just used as a reference point of perhaps the fastest production car on the highway today.
Styling:
I like the styling, but it would have been nice to include a roof rack as standard equipment considering the limited cargo space inside. Seating is provided for 5 people and I'm sure that will be a buying consideration for larger families.
Interestingly enough this Caliber comes with a large speaker system in the rear tail gate that swings down with the gate open so you can have music at "Tailgate" parties or anywhere radio broadcasting, CD music etc may be wanted at outside venues.
Fit and Finish:
Good.
Cost:
Actually pretty competitive and when I drive economy cars it never ceases to amaze me that manufacturers can build a piece of machinery as cheaply as they do.
Conveniences and comfort:
Overall this is a well thought out interior with very convenient storage cubby holes with today's drivers in mind. What a novel idea – considering what the consumer may want. Sometime you've got to wonder if they really think about how the product will be used.
Consumer Recommendation:
This is a passenger car we used to call a station wagon. I know it looks like an SUV but it isn't in the true sense of our perception of the 4-wheel drive, tow a boat, go off the road and basically indestructible. If you really will need to tow a boat, the 1,000 pound rating isn't likely enough.
Recognized Competition:
Dodge Caliber $14-19,000, Ford Focus $13-18,000, Scion xB $14,000, Chevrolet HHR $15-16,000, Mazda 3 $14-19,000, Subaru Impreza Wagon $18-27,000, Toyota Matrix $15-19,000, Scion xB $14,030, Chrysler PT Cruiser $14-29,000, Volkswagen Golf $16-20,000, Suzuki Aerio SX $14-17,000, Kia Rio 5 $13,700, Pontiac Vibe $16,630.
Good News:
Well priced, decent fuel economy and comfortable.
Bad News:
No roof rack.
Standard Equipment:
2.4 liter 172 horsepower inline 4-cylinder engine, continuously variable transaxle transmission, dual air bags, solar glass, 4-wheel ABS disc brake system, rear window defroster, rear fold flat seat, 60/40 split reclinine seat, theft deterrent system, intermittent front wipers, rear window wiper/ washer,  sliding sun visors w/mirrors.
Gas Stats:
$2.60/ Gal avg.
23 City and 26 Highway MPG
Pricing:
MSRP $17,475.
Your comments are welcomed. My e-mail is joe@autolove.com
Copyright © 2006 – An Automotive Love Affair
Your comments are welcomed. My e-mail is joe@autolove.com
Copyright © 2014 – An Automotive Love Affair.