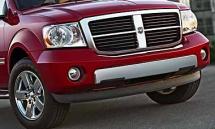 Overview:
This week we're looking at the 2007 Dodge Durango Limited 4X4 Hemi SUV. What a perfect time to be in a "Tank" of the highway. I feel so conspicuous driving this berg as it sucks up gas at about 15 miles per gallon on average. In the news is the amazement of everyone why sales of these environmentally irresponsible vehicles. That wouldn't be so true if the vehicle were transporting more than one (count them – ONE) person most of the time.
If you can get past the crime of waste the vehicle is pretty special in appearance, performance and comfort. The Hemi engine is powerful and you don't suffer any acceleration in spite of its size and weight.
Curious that the press information doesn't indicate a Gas Guzzler Tax imposed on this sled.
General Info:
Parts – U.S/ Canadian 77%.
Assembly – Newark, Delaware, USA.
Class:  – Special Purpose
Cars: – Avenger, Caliber, Caravan, Charger, Dakota, Durango, Magnum, Nitro, Ram 15, 25 and 3500, Sprinter Van and Wagon and Viper.
Observation:
Gas Prices – In the news you hear groans coming from lower wage earners and ambivalence from higher income households when they are faced with rising prices at the pump. My observation is that industry – big business primarily – simply raise their prices to cover the rising costs of any kind. We common folk must bear the burden because we're not represented by our illustrious congress-people. Mark Twain said it best and is quoted as saying: "Suppose you were an idiot; and suppose you were a congressman; but then I repeat myself". Some things never change.
If congress were wise and responsible to their constituents they would understand this economic fact of life and give the commuter a break for their increased cost of earning a living.  This just goes to show you they are insensitive and 'out of touch' with reality – and then they become President! – What's that all about? We must be as stupid as they think we are.
Handling & Performance:
Outstanding in most respects. It swayed a bit on my Crest Test mountain runs but there weren't any moments when it didn't take the turns or accelerate on demand equal to smaller sedans on the road. And at only 335 horsepower it is very impressive.
Styling:
Rough and tumble looking as a Dodge should be but pretty nice looking and stylish.
Fit and Finish:
Solid and well put together. The lines are clean and well fitted. I wonder what will happen when Mercedes Benz is gone.
Cost:
Less than I expected and very price competitive with other luxury brands.
Conveniences and comfort:
All the comforts of home and more but I miss the GM lock on OnStar that I've come to appreciate more and more over time. This is a beefy SUV and feels the part of a luxury family outing vehicle.
Consumer Recommendation:
If you have a need to haul a family and lots of gear and tow a boat or trailer this Durango makes a lot of sense. But if you're using it as a single passenger commuter it isn't a good idea even if the price of gas doesn't faze you. The sense of responsibility to burn less Middle East oil per capita should awaken your senses.
Recognized Competition:
Dodge Durango $26-36,000, Toyota 4Runner $28-38,000, Acura MDX $40-48,000, Jeep Grand Cherokee $28-43,000, Chevrolet TrailBlazer $25-37,000, Buick Rainier $32-34,000, GMC Acadia $29-37,000, $20-34,000, Honda Pilot $27-35,000, Chrysler Pacifica $24-36,000, Nissan Pathfinder $26-36,000, Kia Sorento $20-26,000, Mercury Mountaineer $27-34,000, Ford Explorer $25-35,000, Hummer H3 $29-38,000, Mazda Tribute $19-26,000.
Good News:
Hugely comfy, solid and safe feeling, powerful for those 'special purpose' things you need to do.
Bad News:
Totally irresponsible gas guzzler, 27 gallon gas tank (because you NEED it).
Standard Equipment:
5.7 liter 335 HP Hemi V8 engine, 5-speed automatic trans, ESP – electronic stability program, leather trimmed seating, front and side curtain airbags, rear park assist system, 4-wheel drive, 4-wheel ABS disc brakes, rear variable speed wipers, power liftgate, rear window defroster, 27 Gallon FUEL tank, tire pressure monitor and warning signal, dual zone air conditioning front and rear, overhead console, driver memory feature settings, heated front seats, vehicle information center, reclining 40/20/40 second row seat, keyless entry, security alarm, power adjustable pedals, power windows and locks, cruise control, leather wrapped steering wheel, 115 and 12 volt power outlets, illuminated entry, auto dimming mirror, steering wheel mounted audio controls, stereo with 6-in-dash disc CD/MP3 player, 8 speakers with subwoofer. SIRIUS satellite digital radio with 1 year included, 18" chrome aluminum wheels, auto headlights, fog lights large power fold away mirrors. Optional equipment: tow group with class IV hitch and 4 and 7 pin wiring harness, 5.7 liter HEMI multi displacement engine with full time 4-wheel drive, heated second row seats, hands free communication connection.
Gas Stats:
$3.35/ Gal avg. May 22 '07
for more information.
14 City and 19 Highway MPG
Pricing:
MSRP $36,375 (add $3,090 for options)
Your comments are welcomed. My e-mail is joe@autolove.com
Copyright © 2014 – An Automotive Love Affair.