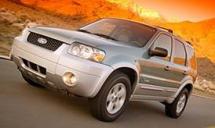 Overview:
This week we're looking at the 2007 Ford Escape Hybrid FWD. The last time I had an Escape it was a standard power plant and we journeyed to Glacier National Park by way of Yellowstone and Jackson Hole Wyoming State Parks in the heart of America . 3,000 miles later and we were back in California .
You do the math on how many gallons we burned at about 20 mpg then and the 32 mpg possible from this hybrid. My calculator says that's a 38% savings in fuel consumed with a Hybrid version. Any more questions?
If you believe Al Gore invented the internet and is absolutely correct about global warming you will surely buy a hybrid like this Ford Escape Hybrid. If you don't you'll buy a less fuel efficient model. But after all said and done it matters little what Gore thinks because it makes economical sense to support the higher fuel efficient models. If I were taking another 3,000 mile trip you can bet I'd schedule a high mileage Hybrid.
I guess the bottom line is that the industry gives us the hybrid option in the same car or truck. I have to say there is still no information on how reliable the electric motor and conventional internal combustion engine will be over time. But "No news is good news". If you have had experience with repair and maintenance difficulties please share with others by emailing me. I'll share with our readers.
Handling & Performance:
Wow. This is truly an "escape" from gas guzzlers without suffering performance. It is nearly undetectable that it is a Hybrid until you come to a stop and the engine shuts off. Then when you resume the electric motor starts you off and the engine kicks back in when it's needed. Driving to my friends' house for poker night I drove up his long half mile drive in stealth silence – on battery alone. Very cool.
Styling:
The only difference in look and presence of this hybrid is the small green leaf that is a part of the logo. The rest is unmistakably Ford.
Fit and Finish:
Very good.
Cost:
Not bad – all things considered.
Conveniences and comfort:
Quite good – see list below. I particularly like the Nav systems, but the screen on this one is as small as a portable model. Car makers really should compete with the portables that save you $2 grand for a Nav system. You can do as well with some cell phones for a small usage charge. Two car families, (like everyone), would be spending four grand for Nav, so why not get $500 portables and take them anywhere, with anyone. Daughter Jenny bought an Acura with Nav and husband Marc bought the portable and you can guess which is more flexible. When they came down for the holidays and had to take the truck the Acura stayed home with the Nav solidly attached to the dash. So much for $2,000 options.
Another favorite that I would invest in is the rear back up sensor option that is very practical. I can do without the camera that is more of a distraction than a help. My head still rotates so I can turn and see much better.
Recognized Competition:
Ford Escape Hybrid $26-27,000, Suzuki Grand Vitara $19-25,000, Mazda Tribute $20-25,000, Nissan Xterra $20-28,000, Hyundai Tucson $17-24,000, Ford Escape $19-26,000, Mercury Mariner Hybrid $28,000, Chevrolet Equinox $22-29,000, Toyota RAV4 $21-26,000, Jeep Liberty $21-27,000, Mitsubishi Outlander $21-25,000, Pontiac Torrent $23-24,000, Honda CR-V $20-28,000, Kia Sportage $16-23,000, Subaru Forester $21-28,000, Saturn Vue $17-24,000.
Good News:
Great fuel economy that is even best around town, precise steering and snappy performance.
Bad News:
Costly Nav system.
Standard Equipment:
2.3 liter inline 4 cylinder engine, auto transmission, front wheel drive, 330 volt hybrid battery, regenerative braking system, electric power assist steering, 4-wheel ABS disc brakes, dual air bags, fog lights, privacy glass, power windows, mirrors and locks, rear defrost and wiper, roof side rails, cloth bucket seats, 60/40 rear fold seats, 6-way power driver seat, center console, stereo with 6-in dash CD changer, cruise control, tilt wheel, hybrid gauges, message center, air conditioning, perimeter alarm and tire pressure monitor system.
Optional: Nav system for $1,995, 110 AC power outlet $180, upgraded cladding etc. $695, other items for a total with destination charge of $29,705.
Gas Stats:
$2.60/ Gal avg. Jan 07
36 City and 31 Highway MPG
Pricing:
MSRP $25,600.
General Info:
Parts – n/a
Assembly – Kansas City , USA
Class:  – Special Purpose
Cars: – Crown Victoria, Edge, Escape & Hybrid, E-series Van & Wagon, Expedition, Explorer & Sport Trac, F150,250 &350, Five Hundred, focus & Wagon, Freestar, Freestyle, Fusion, GT, Mustang, Ranger and Shelby GT500.
Your comments are welcomed. My e-mail is joe@autolove.com
Copyright © 2014 – An Automotive Love Affair.