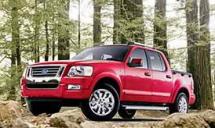 Overview:
This week we're looking at the 2007 Ford Explorer Sport Trac Ltd 4X4 standard pickup. But to me this was very special. My first pick up truck was a 1946 Chevrolet ½ ton and it would pull a house with an inline 6 cylinder engine. Long stroke and torque. My second Pickup was a 1955 Ford ½ ton and with a small V8 it has remained the most memorable of vehicles. In those days and those cars and trucks you could smuggle 10 illegal aliens under the hood.
The engine was almost an afterthought – remember?  
Today you can't find room under the hood of this Explorer for a Mexican Chihuahua, legal or illegal.
I loved that first Ford Pick up and although I've leaned to GM cars ever since that pick up I can't tell you why. We all have our favorites but in the truck market the field is getting very crowded. Toyota has now set up a new factory in San Antonio , Texas for trucks only. They have announced building 5 more factories over the next 10 years. On the threshold of becoming the second largest car manufacturer in the world, behind GM, they have some nice product.
But they will have to pay some more dues in earning a place in the Big 3 truck makers – GM, Ford and Chrysler's impressive Dodge Ram Series.
Congrats to Ford for this small pickup. It is especially good for those outdoor sports enthusiasts where large is not as important as comfort, convenient manuverabliity and well provided tie downs and closed in and lockable cargo area.
I enjoyed this well equipped truck and quickly got used to the back up sensors and a tire pressure monitoring system that saved my bacon in the middle of 3 million acre Death Valley , California . A rock must have broken the bead between tire and rim and released half the air on one of the tires. Ding and the Tire Pressure Icon popped up on the instrument panel. I just happened to be close to a service station and fixed the issue before it became a problem.
General Info:
Parts –
Assembly – USA
Class:  – Standard Pickup
Cars: – Crown Victoria, Edge, Escape & Hybrid, E-series Van & Wagon, Expedition, Explorer & Sport Trac, F150,250 &350, Five Hundred, focus & Wagon, Freestar, Freestyle, Fusion, GT, Mustang, Ranger and Shelby GT500.
Observation:
I have a keen sense of the obvious and have to express my frustration with the ineptness of CalTrans and every other government agency and official we've entrusted with the job of planning highway construction and maintenance. The obvious part? Population growth is no secret in high density parts of the cournty. And with that knowledge they do nothing about highway congestion. It has reached critical 24-7 and that didn't happen over night. These guys must smoke dope – shame on them. Jobs of this nature should be elected postions so those scoundrels are accountable to the people who pay them. What's more, where has the mainstream media been all this time. All they do is report how congested it is. Lousy reporting on such an obvious problem – especially in California .
Handling & Performance:
The Crest test proved unexpectedly positive mostly due to not being as high profile as larger trucks. Dropping it down to 3rd gear allowed me to cruise easily up and over the San Gabriel mountain range. 0-60 is a quick 7.5 seconds and plenty of power for condident freeway passing.
Another benefit of a standard size pickup is the short turning radius and precise steering. The 4X4 is automatic.
Styling:
The turn signal is oddly placed, higher than usual design and since it is something you use all the time, it is misplaced. The Orange Frost paint initially strikes you as wild but it grew on me.  And the sharp edges do as well.
Fit and Finish:
The ride is solid with a tight feel.
Cost:
A little on the pricey side as equipped, mostly because of the Navigation system. That can be replaced with a portable one that would save $2,000. I can't understand why they are so expensive. Portable versions can be purchased for about $5-600. And if you don't need an entertainment system that's another $1,295.
Conveniences and comfort:
This is truly designed for the dual purpose of having a truck and a family vehicle equipped with a roomy crew cab complete with a rear entertainment center. Sirius satellite is also worth the price even if only to eliminate commercial interruptions. Cruise control was perfect – these things get better every year, which reminds me this is perhaps the best invention of the past 20 years for cars. I find the longer I drive, before cruise control I would drift in and out of consciousness as pedal control of speed has to be the most significant reason for stop and go flow and resultant accidents.
That being said I have to ask Ford to improve the seats that are uncomfortable on longer commutes.
Consumer Recommendation:
I've always been a Chevy fan but I have to admit this Ford impressed me.
Recognized Competition:
Suzuki XL7 $23-32,000, Dodge Durango $29-38,000, Nissan Murano $28-32,000, Hyundai Santa Fe $21-28,000, Ford Explorer $25-35,000, Chevrolet TrailBlazer $25-37,000, Toyota Highlander $25-32,000, Jeep Grand Cherokee $28-43,000, Mitsubishi Endeavor $27-31,000, Honda Pilot $27-35,000, Kia Sorento $20-26,000.
Good News:
Nice handling, versatility of truck combined with SUV-like passenger compartment, roomy, rust resistant cargo bed and 131 inch wheel base for smooth ride.
Bad News:
Very poor fuel economy, seats on the uncomfortable side, great looking instruments but hard to read.
Standard Equipment:
4.6 liter 292 horsepower V8 engine, 6 speed auto transmission, locking tailgate, rear privacy glass, roof rails, chrome grille, stereo w/ CD / MP3 player, auxiliary audio input jack, 6-way power front seats, 60/40 rear split fold down bench seat, power windows and locks, temp and compass display, hverhead console, auto headlights, power 4-wheel ABS disc brakes, cargo box tie down hooks, class II trailer tow hitch, front and side air bags, child seat tether anchor and anti theft system.
Optional: door entry keypad, auto dimming mirror, ltd elect pkg, upgrade to class III towing, Nav system, power sliding rear window, power adj pedals, cargo cage bed extender, reverse sensing system, Sirius sat radio, hard tonneau cover, two-tone leather seats and rear seat entertainment DVD.
Gas Stats:
$2.60/ Gal avg. Jan 07
14 City and 20 Highway MPG
Pricing:
MSRP $29,540
With Options $37,545.
Your comments are welcomed. My e-mail is joe@autolove.com
Copyright © 2014 – An Automotive Love Affair.