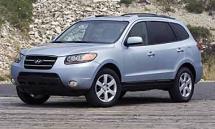 Overview:
This week we're looking at the 2007 Hyundai Santa Fe Limited AWD SUV. And I gave it an extended test of over 1,000 miles on a trek to Lake Tahoe, CA. The last time I drove this car was in 2003 and it has come along nicely. Since then they have added the Azera, Entourage, Tucson and Veracruz and dropped the XG350.
Hyundai is looking to provide an upscale sleek alternative to existing SUV's. I know when I first drove the Santa Fe I showed it to my kids to encourage them to consider this as an option to some of the larger SUVs with far worse fuel consumption and purchase price. The two model years are not drastically different outwardly, but they have concentrated on providing a lot of the safety technology features only available in more expensive SUVs. That helps to explain the sizeable increase in MSRP of about $10,000 over the 2003 year model.
General Info:
Parts – Korea 65%, U.S/ Canadian 35%.
Assembly – Montegomery, Alabama, U.S.A.
Class:  – SUV
Cars: – Accent, Azera, Elantra, Entourage, Santa Fe, Sonata, Tiburon, Tucson and Veracruz.
Handling & Performance:
This '07 year model 3.3 liter V6 develops 242 horsepower in contrast to the '03 model that was 3.5 liter and only developed 195 horsepower. And interestingly enough, today's model improves fuel performance by a few miles per gallon in spite of the added horsepower.
Styling:
Improved design for 2007 makes the appearance more like higher priced luxury makes and models. They have achieved that more stylish look from older model years and you can't tell without looking closely at the badge. Unless you're a snob about badges you'll be delighted with this Korean made SUV and save a bunch of money in the process.
Fit and Finish:
Excellent. You're sure to be as impressed as I was.
Cost:
In the past four years the MSRP has climbed from $18,000 to $28,000 for 2007 which is mostly for the additions of several safety features. Inflation accounts for the rest.
Conveniences and comfort:

The conveniences are not so different as mentioned but the real change comes in hidden features that are more important to consumers safety and performance.
Recognized Competition:
Hyundai Santa Fe $21-28,000,  Toyota RAV4 $21-27,000, Mitsubishi Outlander $21-25,000, Chevrolet Equinox $22-29,000, Buick Rendezvous $25-29,000, Jeep Liberty $22-27,000, Nissan Xterra $20-28,000, Mercury Mariner $21-26,000, Mazda CX-7 $24-28,000, Honda CR-V $21-28,000, Hyundai Elantra $13-17,000, Ford Escape $19-26,000,  Saturn Vue $21-29,000, Kia Sorento $20-26,000.
Good News:
More powerful V6 coupled with significant fuel enconomy improvement.
Bad News:

A little pricey for most 'badge sensitive" buyers who would likely opt for BMW, Lexus,
Standard Equipment:

3.3 liter 242 hp V6, 5-speed auto trans,
Gas Stats:

$2.99/ Gal avg. July 23 '07
for more information.
19 City and 24 Highway MPG
Pricing:
MSRP $27,945.
Your comments are welcomed. My e-mail is joe@autolove.com
Copyright © 2014 – An Automotive Love Affair.