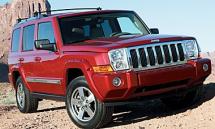 Overview:

This week we're looking at the 2007 Jeep Commander 4-WD sport utility vehicle. Navigation systems are getting more common … I think. I'm a little spoiled I suppose since many of the press cars I drive are loaded which of course makes perfect sense since we need to experience all they have. Well that's where I'm going with this… Navigation systems should be standard equipment by now. That comment is for the car companies, because they need to know we all know how inexpensive electronics are these days. The important thing is that the benefit of Nav systems to travel, generally, is far reaching.
When I consider how much more comfortable driving can be with a Nav system they should be used to – a.) reduce stress b.) improve safety on the highways c.) save fuel consumption by every car being able to go directly to their destination without getting lost or simply getting there the most efficient way.
Anyway I wouldn't buy another car without one and portable versions are "Really" cheap now. You can buy one for as little as $250. Brother-in-law Mark has one on his motorcycle and God knows he needs it. Talk about men and directions … we traveled all around Denver, Colorado one day and he was sure he knew where he was going. I forget if we ever stopped for directions because I believe I blacked out from exhaustion.
General Info:
Parts – US/Canadian 73%.
Assembly – Detroit, MI, USA
Class:  – Special Purpose
Cars: – Commander, Compass, Grand Cherokee, Liberty, Patriot & Wrangler.
Observation:
This week began the LA Auto Show week and I was interested to see that most all manufacturers pre-show press conferences emphasised the announcement of their Hydrogen Fuel Cell models. In last weeks column I happened to comment GM putting all their eggs in that technology for next generation of cars. Of course the infrastructure will be a major obstacle in the early going as you'd expect.
GM was in the Hydrogen powered car development very early and I tested their Hi Wire fuel cell car at the turn of the century as you may recall. Back then GM estimated 20 years before it would be offered for general consumption. But it would seem the push for alternate fuel sources is heating up and we are sure to see them available sooner than GM estimated. Recently it was reported in several sources that in the next two years China will lead the world in oil consumption. Imagine what that will do to gas prices.
On the other hand VW / Audi are still putting diesel and particularly bio diesel on the front line for powering their products. I don't blame them. Why not let the others do the development and when the obstacles are overcome they can easily make the transition. More on this later.
Handling & Performance:
Power plants offered for the Jeep Commander include a 3.7-liter 210-horspower V6, a 4.7-liter 235-horsepower V8 standard in the Limited and a very powerful 5.7-liter 330-horsepower HEMI V8 option in my test vehicle. I enjoyed the added power but I have tested the standard 4.7 liter V8 and would find little reason to pay the added $895 option cost for the HEMI. However the fuel economy differences are only affected by one mpg give or take.
Styling:
Well they say the greatest form of flattery is when others copy you. Well, looking around at all the "Real" off road SUV's all try to copy the real thing – Jeep.
Third row seating with theater style higher rear seats gives rear seat passengers much better visibility. This may seem like a small thing but very noticeable for those who sit in the rear seats.
Fit and Finish:
As good as anything on the market in class. Jeep continues to improve not only the rough and tumble versions, but has added new more comfort oriented off road models. All around, they do a nice job.
Cost:
As quality, convenience and capability have improved the cost has gone up as you'd expect. But they are very competitive with others attempting to provide the same all terrain capability. You can literally pay twice the price for the Range Rover. I'll take the Jeep thank you. I think I'd rather take a few trips abroad with the cost savings.
Conveniences and comfort:
Standard equipment is very good and the options are numerous including entertainment system, tow package, Nav and rear camera, etc.
Consumer Recommendation:
Model year-end is upon us as I write this so as common sense dictates you can do better generally at this time on a NEW prior year model. In this case there is very little difference from 2006 through 2008 so you will want to wheel and deal on a 2007 model.
Recognized Competition:
Jeep Commander $28-44,000, Lexus GX 470 $46,635, Land Rover LR3 $41-53,000, Nissan Armada $35-45,000, Infiniti QX56 $52-55,000, Hummer H2 $54-62,000, Dodge Durango $26-37,000, GMC Yukon $35-44,000, Chevrolet Tahoe $34-48,000, Ford Expedition $31-46,000.
Good News:
Comfortable, powerful options so you can have it your way, great theater seating for back two rows.
Bad News:

Only fair fuel economy.
Standard Equipment:

5.7 liter V8 engine, 5-speed auto trans., latch ready child anchors, front and side airbags, 4-wheel ABS disc brakes, Quadra Trac full time 4-WD, el traction control, rear park sensor, remote keyless entry and start system, theft deterrent system, Electronic Stability Program, power sunroof with 2nd row skylights, power windows, tire pressure monitoring, front and rear air conditioning, power front seats, lumbar adjust front, 2nd row 40/20/40 fold and tumble seats, 3rd row 50/50 split bench seat, power adjustable pedals, Boston acoustics sound system – stereo with in dash 6-disc CD/MP3 player, SIRIUS satellite radio (1 yr included), steering wheel audio controls – leather wrapped, tilt steering column, trip computer, auto on/off headlights, fog lights, power heated folding mirrors.
Gas Stats:

$3.25/ Gal avg. November 12, '07
for more information.
14 City and 18 Highway MPG
Pricing:
MSRP $39,115.
Your comments are welcomed. My e-mail is joe@autolove.com
Copyright © 2014 – An Automotive Love Affair.