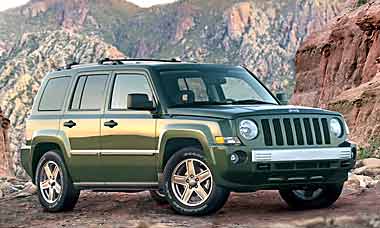 General Info:

Parts – U.S/ Canadian 70%

Assembly – Belvidere, Illinois, USA

Class:  -Special Purpose

Cars: – Commander, Compass, Grand Cherokee, Liberty, Patriot and Wrangler.

"An Automotive Love Affair"
By Joseph Mavilia

2007 Jeep Patriot 4X2 Sport
Overview: 
This week we're looking at the 2007 Jeep Patriot sport utility and I'm sorry but with well priced and decent fuel economy cars like this there is little reason folks can't have good practical transportation.  And it is a Jeep and although it is a 4X2 you won't do a lot of off roading which is about how much 4X4 vehicles do anyway (remember the stats – 5% ever do any off road driving).
But if you are into off road adventures you need to check into Jeep's Jamboree's. Go towww.jeepjamboreeusa.com if interested. And if you do own or purchase a Jeep this is one of the most fun adventures you'll experience. My adventure was at the Mohawk Trail in Northwest Massachusetts. Fun Fun Fun.
Handling & Performance:
The real importance of this SUV is that it is fuel responsible. Yes it is an inline 4 cylinder engine but at 172 horsepower it is no slouch. This model is equipped with a nice shifting manual transmission and I didn't find a time when I wanted more out of the engine and transmission. In Los Angeles traffic you seldom get over 40 mph anyway and that is particularly true on the "FREEWAY". . . just kidding but when stuck in traffic I reflect on the pacific northwest (Oregon & Washington) where the worst traffic jam for them is simply everyday driving 27/7 in Southern California. And if I were up there I suspect I would invest the $1,750 cost difference to have the 4-wheel drive option.
Styling:
Jeep.
Fit and Finish:
Plastic comes to mind. But today that isn't uncommon and quite frankly it is light years ahead of the squeaky, rattle bucket of 'metal' bolts we all had to drive before the 1990s. 
Cost:
Outstanding – and I believe people will begin to demand more practically priced transportation and if we ever rid ourselves of dependence on foreign oil the price of fuel will rise closer to world market prices and cars will get more fuel efficient like they are in Europe, for example. There the cost of fuel is higher but you get twice the mileage per gallon. They burn clean diesel in 50% of their cars. So you do the math and you'll demand less war, higher fuel cost and better performing cars. Dah… sounds like a blonde joke.
If we saved the money it costs to wage war to control oil rich nations we'd pay more at the pumps and less in lives lost in those countries.
Conveniences and comfort:
Just fine. But I did miss not having cruise control. Nav I can live without and few if any other options should be necessary for the cost. I would therefore save on the purchase price as well as operating costs. That goes a long way to satisfying my transportation needs. Think about that when you're pressured to keep up with the Jones's.
Consumer Recommendation:
There isn't all that much to test drive in this class that you would be wise to drive them all.
Recognized Competition:
Jeep Patriot $14-21,000, Dodge Caliber $17-20,000, Honda Element $19-23,000, Mazda 5 $18-22,000, Chevrolet HHR $16-19,000, Pontiac Vibe $16,760, Suzuki SX4 $15-16,000, Toyota Matrix $15-17,000, Kia Spectra $15,995, Scion xB $15,650.
Good News:
Outstanding fuel economy for an SUV, roomy, Jeep styling, economical to buy and drive.
Bad News:
Light on power and torque if you intend to haul a trailer or boat.
Standard Equipment: 
2.4 liter 172 hp inline 4-cylinder engine, 5-speed manual transmission, front air bags with side curtain front and rear bags, electronic stability and traction controls, 4-wheel brake assist ABS disc brakes, electronic roll limitation, rear window washer/wiper and defroster, sliding sun visors with mirrors, rear 60/40 split folding rear seat, stereo with CD player, floor console with sliding armrest, tilt steering column, temp display, side roof rails, halogen headlights.
Options: air conditioning, power fold away mirrors, power windows and locks, remote keyless entry and illuminated entry, add reclining rear seats, height adjustable drivers seat, front passenger fold flat seat back, 115 v power outlet, interior removable and rechargeable light, 17" wheels, compass display, info center, tire pressure monitoring display, security alarm, daytime running lights, soft rear tonneau cover. ($3,800)
Gas Stats:
$3.15/ Gal avg. June 16 '07
for more information.

26 City and 30 Highway MPG
Pricing:
MSRP $14,425 / $18,225 with options.

Your comments are welcomed. My e-mail is joe@autolove.com
Copyright © 2007 – An Automotive Love Affair
Your comments are welcomed. My e-mail is joe@autolove.com
Copyright © 2014 – An Automotive Love Affair.