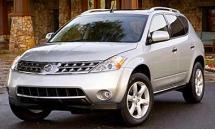 Overview:
This week we're looking at the 2007 Nissan Murano SE All Wheel Drive Sport Utility. Nissan says this is the world's first Smooth-UV and I have to agree that is the first thing you notice when you drive it for the first time. It shifts seamlessly smooth.
Nissan, or Datsun as it was called when it first came to America in the early 1960s, is near, even if not so dear to my heart. Not that my first Datsun was a bad car in the early days because it wasn't bad. It was good. Not great, but good. Ours was a station wagon for our growing family with kids, dog, cat, bird and all the other stuff families need to have. There were no child car seats or anchors needed on the seats then and seat belts were not mandated yet. But buggy whips were out by then and we were happy to have a small, inexpensive simple car. It had been a long time since Ford gave us the simple and affordable Model A so everyone could have one in the driveway as well as a chicken in every pot. Now the Japanese were making cars affordable again for struggling folks like us.
Well that was truly a simple car and when you started it "Singer" sewing machines came to mind. After the muscle cars I had owned before replete with dual exhaust pipes and 30" glass packs to rumble my arrival, these new Japanese cars seemed as tame as "Pussy Cats".
Today not only the name has changed from Datsun to Nissan the car is way different and so much more refined. I suspect it still would have evolved even without the name change.
General Info:
Parts –
Assembly – Los Angeles, CA USA
Class:  – Special Purpose
Cars: – 350Z, Altima, Altima Hybird, Armada, Frontier, Maxima, Murano, Pathfinder, Quest, Rogue, Sentra, Titan, Versa & Xterra.
Handling & Performance:
Performance and the early Datsun are words that don't belong in the same sentence. Not true of this 21st Century Nissan Murano or any of Nissan's product offerings. I was most impressed with the smooth and powerful acceleration.
Styling:
Nissan has grown up nicely and the pimply snot nosed kid of the 1960s has matured. I suppose the only criticism you can make about today's automotive designs is characterized by the term CAD for Computer Aided Design. Computers simply don't have heart so the styling is Robo-Design that is dictated by what the computer says about aerodynamics for maximum efficiency cutting through the air. It also identifies the perfect placement of components and often that tweaks the design in such a way as to make them all look strangely the same, or at the very least they look like they're related.
Fit and Finish:
Typically Japanese pay greater attention to detail, but I believe American cars have risen to the challenge and you find very little difference in appearance any more. Where American made cars haven't quite reached the point of equality with the Japanese is in philosophy. The Japanese still design components to last longer. We all need to impress that on American Car Makers. They can do it … I know they can but simply chose not to.
Cost:
Competitive pricing.
Conveniences and comfort:
Well equipped and all is standard.
Recognized Competition:
Nissan Murano $28-32,000, Buick Rendezvous $25-29,000, Kia Rondo $16-20,000, Cadillac SRX $37-44,000, Saturn Outlook $28-32,000, GMC Acadia $29-38,000, Chevrolet TrailBlazer $27-37,000, Subaru Tribeca $30-34,000, Toyota Highlander $27-34,000, Dodge Nitro $20-28,000, Honda Pilot $28-36,000, Mazda CX-7 $24-28,000, Hyundai Santa Fe $21-30,000, Ford Edge $25-32,000, Mitsubishi Endeavor $28-31,000.
Good News:
Nissan has been sold in US a long time (nearly 50 years), handles well, lots of ultra smooth power, good contemporary styling.
Bad News:
Fuel economy only fair.
Standard Equipment:
3.5 liter 240 hp V6 engine, Xtronic CVT (continuously variable transmission), manual shift mode, all wheel drive, 4-wheel power vented disc brakes, 4-wheel independent suspension, front and rear stabilizer bars, power R&P steering, 18" Alloy wheels w/ all season tires, dual exhaust, power side view mirrors, audio system with CD and 6 speakers, dual zone climate control, defogger all windows, 7 inch color information display, aluminum trim accents, 10-way power drivers seat, reclining rear seats 60/40 split, rear fold flat seat, remote keyless entry, power windows and door locks, lighted vanity mirrors on sun visors, intermittent wipers, front and side airbags and roof mounted curtain side airbags with rollover sensor, 5 passenger front and rear head restraints, child safety rear door locks, anchors and tethers for children, tire pressure monitoring system, immobilizer security systems, anti lock braking and brake assist and electronic brake force distribution.
Gas Stats:
$3.15/ Gal avg. December 19, '07
for more information.
20 City and 24 Highway MPG
Pricing:
MSRP $32,590.
Your comments are welcomed. My e-mail is joe@autolove.com
Copyright © 2014 – An Automotive Love Affair.