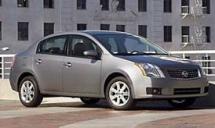 Overview:
This week we're looking at the 2007 Nissan Sentra 2.0 S 5-seat 4-door sedan. It is classed as a Mid-size car. My first impression was it is a Small car, but it does seat 5 and 4 quite comfortably with a decent size trunk. Yes, I think I could take a few folks to the airport with baggage.
I really found nothing lacking that I couldn't live without on a daily basis. But then I grew up in the 50's and 60's when cars were much more basic. We were thrilled to be able to drive and pleasantly surprised to get to our destination with only a few stops for gas, add a quart of oil, change a tire or add water to the radiator. Prom night Norm and I ended up pushing the "not so old" 1950 Ford convertible, we borrowed for the special event, to the gas station to see why it wouldn't start. It was always something but we took in stride because we didn't know any better. We were lucky to have any bucket of bolts. Most were held together with bailing wire and chewing gum as we would lovingly and descriptively quip.
General Info:
Parts – n/a
Assembly – Mexico
Class:  – Midsize
Cars: – 350Z, Altima, Armada, Frontier, Maxima, Murano, Pathfinder, Quest, Sentra, Titan,               Versa and Xterra.
Public Service:
The Crest (highway 2) over the San Gabriel Mountains is an alternate route from the northern desert communities to the northern San Gabriel Valley in the greater LA basin.
It is an interesting and starkly beautiful journey. And for those who drive it often they may know there are 188 turns from Aliso Canyon Rd to the end at Foothill Blvd in La Canada .
The speed limits are 55 mph from highway 14 up Angeles Forest Highway to the junction to the Crest Highway and 45 mph from there to Foothill Blvd. , in La Canada . These are well posted limits and if traffic keeps close to those limits everyone completes the trek safely and as fast as you can expect to get from one side to the other. Drive safely and enjoy the drive.
Ok, 188 turns is your trivia for the week.
Handling & Performance:
This commuter / family sedan passed the Crest Test with flying colors. I found I could stay in 5th gear (6-speed manual transmission) over most of the ride of about 36 miles. That from a 2.0 liter engine. Pretty impressive, eh?
Styling:
Ok, so it's not the best looking girl at the dance but the girl next door gets more exciting as the years go by. You get a lot more for your investment in a no nonsense low maintenance relationship with your car.
Fit and Finish:
Very good, especially considering the price.
Cost:
It doesn't get much better for a great commuter that is also a great family sedan.
Conveniences and comfort:
It has it all. However I have become accustomed to XM radio that would add $300 plus the required Rockford Fosgate Audio Package for another $750, which includes 6-in dash CD Auto-changer, satellite radio control and MP3/WMA CD ROM playback Capability.
Consumer Recommendation:
Cars that have too big a spread in price range scare me. I don't like to think that much on what I will have to pay extra for. Like a restaurant menu, the more there is to choose from the more difficult the buying decision. You gotta wonder what you get for the lower end price.
There are three models to choose from: entry 2.0, midrange 2.0S and top of the line 2.0SL ranging from $14,750 to $18,400.
You can see from the list of competitors you have many choices. (Sounds like the next words should be… "we thank you for choosing CBS"). I've driven all listed and have to say it would be a toss up decision for me. The newest kid on the block is the Hyundai, of course, so I would expect I'd be able to strike a better deal than more established brands.
Recognized Competition:
Nissan Sentra $15-18,000, MINI Cooper $18-26,000, Mitsubishi Lancer $15-35,000, Dodge Caliber $14-20,000, Hyundai Elantra $13-17,000, Ford Focus $13-18,000, Chevrolet Cobalt $13-20,000, Toyota Corolla $14-15,000, Volkswagen Rabbit $15-17,000, Mazda3 $14-20,000, Honda Civic $15-25,000, Subaru Impreza $18-33,000.
Good News:
Wonderfully refreshing fuel economy, it's a buyers market in a huge sea of auto producers so you win.
Bad News:
I made no negative notes, either because I couldn't find any or they just weren't annoying enough to mention.
Standard Equipment:
2.0 liter 140 hp inline 4-cylinder engine, 6-speed manual transmission, torsion beam rear suspension with stabilizer bar, independent front strut suspension, front stabilizer bar, power assisted vented front disc and rear drum brakes, power steering, power mirrors, halogen headlights, air conditioning, power windows and locks, 6-speaker audio with CD player and speed sensitive volume, 60/40 split fold flat rear seats, tilt steering column, 6-way adjustable driver's seat, intermittent wipers, center console, rear defroster, remote fuel filler door and trunk release, trip computer with o/s temp etc., steering wheel mounted audio controls, remote keyless entry, front and side airbags with roof mounted curtain side airbags, immobilizer system, child rear door locks and tire pressure monitoring system.
Gas Stats:
$2.37/ Gal avg. Nov 06
28 City and 34 Highway MPG
Pricing:
MSRP $15,650.
Your comments are welcomed. My e-mail is joe@autolove.com
Copyright © 2014 – An Automotive Love Affair.