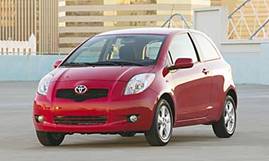 Overview:
This week we're looking at the 2007 Toyota Yaris 3-Door Liftback. And you have got to appreciate this car in today's world of over $4.00 per gallon of gas in the US . In Europe it is pushing eight bucks a gallon. In Amsterdam it's over $7 a gallon.  
Automotive engineer friend Merkel and I agree this is the most important car of the past decade. Merkel and I do not agree when he says American carmakers don't know how to build small cars. I think it is more a matter of they "don't want to" build small cars. In either case, shame on them.
Handling & Performance:
This is one amazing car. It is so comfortable handling and the seats are special and the car simply doesn't seem like a small car.
Styling:
The 'other' love of my life, Ilona says she thinks it is a cute car but I'm not as attracted to it even if I do like driving the car. Since it sets higher than the Corolla she drives, for example, you feel like the Yaris is larger than it is. It has abundant headroom.
Fit and Finish:
Very good.    
Cost:
Outstanding for a conventional (non-hybrid) drive system car that has such great fuel economy.  
Conveniences:
Everything falls perfectly to fingers in this Yaris, although you'd expect that of a small car. That is not always true however as I found when I tested the MINI from BMW. It is tiny but I found the features controls to be hard to find and in the wrong places. I found the placement of things like the cup holders perfectly placed in this Yaris. I like carrying small bottles of water in the car and the cup holders are smartly placed right in front of the air conditioning vents so I can keep cold drinks cold. Very cool. Ok, so if you have hot drinks you will need to turn the vent off.  
Consumer Recommendation:
My predictions have finally been realized with the rapidly escalating price of gas worldwide. So to find a non-hybrid with essentially the same fuel economy without the complicated drive system of the hybrid is a real nice option. This Yaris, of course, has a conventional drive system.  
Recognized Competition:
Toyota Yaris $11-13,000, Chevrolet Aveo $9-13,000, Ford Focus $13-17,000, Saturn Ion $12-19,000, Scion xA $12,780, Kia Rio $11-13,000, Suzuki Reno $13-15,000, Hyundai Accent $12,455.  

Good News:
Priced very well, cute car, great design, big feel, lots of headroom, fantastic fuel economy and it's a 5 seater.    
Bad News:
Poor placement of instrument cluster in center of dash, lightweight issues.    
Standard Equipment:
1.5 liter 106 horsepower 4-cylinder engine, 4-speed auto trans, air conditioning, electronic power steering, front ventilated disc brakes and rear drum brakes, temporary spare tire, dual airbags, center high mount stoplight, cloth front bucket and rear seats, tilt steering wheel, intermittent wipers, folding rear seat, liftback luggage cover. Options:
power windows, locks, mirrors, split folding rear seat, AM/FM with CD player and MP3/WMA Playback capability with auxiliary audio jack, rear wiper and defrost and Alloy wheels, anti lock brakes, side and rear side curtain airbags and remote keyless entry will increase the cost by nearly $4,000.
Gas Stats:
34 City and 39 Highway MPG
Pricing:
MSRP $11,850.
Your comments are welcomed. My e-mail is joe@autolove.com
Copyright © 2006 – An Automotive Love Affair
Your comments are welcomed. My e-mail is joe@autolove.com
Copyright © 2014 – An Automotive Love Affair.