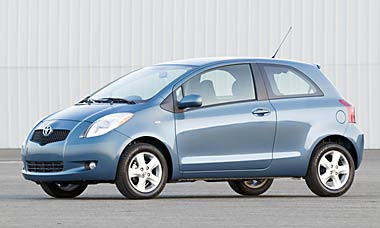 [wpsgallery]
Overview:
This week let's look at the 2007 Yaris S 4-door Sedan that speaks to us about the hypocrisy of our 'classes'. Most 'do gooders' will tell you to "do as I say, not as I do". Can you think of someone who wastes and then tells others to tighten their belts, be "green", cut fewer trees and save the spotted owl and prevent global warming?
Well you don't have to listen to him but simply buy a fuel efficient car to beat the high price of gas with cars like this Yaris at nearly 40 mpg. In fact friend Merkel tells me he gets more than 40 mpg in his new Yaris with a manual transmission and hasn't dipped below 36. This test vehicle has a 4-speed automatic trans which I would opt for as shifting is great some of the time but it gets old fast.
This car is a serious option for those cost conscious buyers who want great fuel economy but don't want to take a chance on the Hybrids that could end up costing a lot in repair bills down the road. The jury is still out on that but consider you can get nearly the same economy from a conventionally powered Yaris. Next time I will give some information on the Actual Cost of vehicles.
Handling & Performance:
The 1.5 liter 4-cylinder 106 horsepower engine is not a lot but it's amazing how little you need even in today's world of highway driving. Consider the 505 hp Corvette with 16 mpg fuel stats compared to this 40 mpg car that seats 4 and (looks aside) will out perform the Vette under most usual traffic conditions where horsepower means absolutely nothing.
Amazingly however the Vette actually develops more horsepower per liter than the Yaris. Historically the smaller engines (especially those from European car makers) have delivered close to 100 hp per liter.
I felt very comfortable driving at highway speeds. I can't say that of all small cars so the Yaris road ability is good.
Styling:
Yaris is available as a two door hatchback or this 4-door sedan. I found the center mounted gauges to be odd and unclear why they did that. It was explained to me that is most likely for the world market generally so the car can be configured right or left hand drive and not change in the instruments.
I kept looking first at where you expect the gauges to be and staring at a blank piece of plastic. Speaking of plastic, the cupholders hidden in the dash are smart on each side of the front seat for driver and passenger.
Fit and Finish:
Typical of this price class. It is not, however, noticeably cheap. Components are solid and no indication things will start falling off any time soon. That too is not true of all cars I critique. Literally some are so cheaply put together components do indeed fall off, bend, and otherwise are not suited for the purpose intended. This Yaris is engineered well and you won't get that cheap feeling when you drive this car.
Cost:
Excellent especially when put up against most of the competition noted here.
Conveniences and comfort:
Skinny. Pretty basic. I found the seats to be rather uncomfortable which is not so uncommon in this price range car. I expected better.
Consumer Recommendation:
For the money this Yaris will be hard to beat and you have to give Toyota credit for making fuel stingy cars available at the height of fuel price levels. Smart and I believe this is as good a reason to support economical models. This is a great example of responsible vehicles and I predict they will explode now and in the future which will push the price up for new and used alike. You can't lose on resale. This is a good choice and a good buying decision.
Recognized Competition:
Toyota Yaris $11-14,000, Honda Fit $14-16,000, Ford Focus $14-17,000, Saturn Ion $12-20,000, Chevrolet Aveo $12-14,000, Chevrolet Aveo5 $10-12,000, Honda Fit $14-16,000, Hyundai Accent $10-14,000, Nissan Versa $13-15,000, Suzuki Reno $14-16,000, VW Rabbit $15-17,000, Kia Rio $11-13,000 and Kia Rio5 $13,750.
Good News:
Outstanding fuel economy without concern for potential Hybrid repair nightmares down the road and interior space is roomy feeling.
Bad News:
Sparse on the features which are very basic unless you spend another $2,075 for the options, uncomfortable seats and I don't like the center mounted gauges.
Standard Equipment:
1.5 liter 4-cylinder 106 horsepower engine, 4-speed automatic trans with overdrive, air conditioning, power steering, electronic throttle control, front ventilated disc and rear drum brakes, front airbags, halogen headlights, cloth bucket seats, 60/40 split fold down rear seat, tilt steering wheel, intermittent wiper, audio system with CD and rear defroster.
Options: Power package with 15" allow wheels, seat mounted front side airbags and front and rear side Curtain airbags, remote keyless entry, fog lights: add $2,075.
Gas Stats:
$3.00/ Gal avg. August 10, '07
www.fueleconomy.gov
for more information.
34 City and 39 Highway MPG
Pricing:
MSRP $14,050.
Your comments are welcomed. My e-mail is joe@autolove.com
Copyright © 2007 – An Automotive Love Affair
Your comments are welcomed. My e-mail is joe@autolove.com
Copyright © 2014 – An Automotive Love Affair.