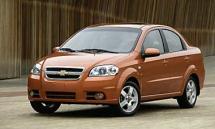 Overview:
This week we're looking at the 2008 Chevrolet Aveo LT 4-Door Sedan that is very affordable for a US built car. Good show Detroit… whoops, good show South Korea. Say what, South Korea? General Motors Chevrolet is being made in Korea? Our government talks about North Korea being one of the Axis of evil and US cars being made there. Seems like a contradiction in terms. But in a larger sense it is nice to see our industry is separate and apart from those political geniuses in Washington. Just kidding, of course, politicians are anything but geniuses.
Well I guess if Japan assembles some of its cars in Korea, Detroit needs to do the same to compete with lower production costs of Japanese competitors?
In all the good and the bad of all cars it is important to learn that not considering bragging rights these lower cost commuters are the smartest car purchases. You sacrifice little and gain much by not having to fork over 2-3 times the money to go to work every day.
And by the way the real world of tomorrow with gasoline prices of over $6.00 per gallon will be much easier to swallow if you have one of these gas stingy low cost cars. In fact, if you take this as seriously as I do, look closely at the Smart Car from Mercedes Benz.
General Info:
Parts – n/a.
Assembly – Bupyong, South Korea
Class:  – Compact Cars
Cars: – Avalanche, Aveo, Aveo5, Cobalt, Colorado, Corvette, Equinox, Express, Express Cargo Van, HHR, Impala, Malibu, Malibu Hybrid, Malibu Maxx, Monte Carlo, Silverado 1500, 2500, 3500 and Hybrid, Suburban, Tahoe & Hybrid, Trail Blazer and Uplander.
Handling & Performance:
The Manual transmission gets a little better fuel economy at 27 City and 35 Hwy mpg and 87 octane fuel.
I found the steering to be a little too lose with a corresponding feel of the road that was too light for my taste. But the design seemed to be more aerodynamic than the actual results of less road hug than I like. However, it was more noticeable after my testing of the Cad CTS and Infiniti G series high end cars over the prior few weeks. I still hadn't come down off that high. And as a commuter those cars were poor performers compared to this Aveo.
On the plus side I fount it to be very well geared across the entire speed spectrum.
Styling:
Plain Jane… but functional and a good inexpensive commuter. The interior is clean, neat and plastic as you might expect as I did. I wasn't disappointed.
Fit and Finish:
Just when I was about to blame Detroit for assembly I noticed South Korea was responsible. Oh well, I suspect when wages fall in the US to more worldly levels we'll be making cars in the US again. I expect further those factories will be right next door to buggy whip makers and harnesses for the horses we'll need to use for economical transportation. Actually I'd rather like to try the simpler life of by-gone years, wouldn't you?
Cost:
Sinfully low… it reminds me of the Geo Metro years not so long ago. Cars seem to go in and out of style quickly because of sagging sales performance, but in today's world you can bet cars like this Chevy Aveo will rebound big time with 40-50 mpg fuel economy. You do the math and after paying $12 grand for the car you'll have just enough to pay the rising taxes to cover irresponsible government spending and waste.
Features and Conveniences:
In addition to a good array of features mpg is the greatest feature, and it becomes more important with every barrel of oil brought in from the Middle Eastern Sheiks. (Can anyone tell me when are we going to drill our own oil, lower the pump price in America so Korea and China can have enough Arab oil to produce our low cost cars)?
Recognized Competition:
Chevrolet Aveo $12-14,000, Ford Focus $14-17,000, Nissan Versa $13-15,000, Toyota Yaris $11-15,000, Aerio $14-17,000, Hyundai Accent $11-15,000, Kia Rio $11-14,000, Honda Fit $14-16,000.
Good News:
Very acceptable fuel economy, roomy, good standard equipment for such an affordable purchase price.
Bad News:
Plain Jane design, lose steering and light feel of the road and road noise higher than I care for.
Standard Equipment:
1.6 liter 103 horsepower inline 4-cylinder engine, 5-speed manual transmission, front disc rear drum brakes, power rack & pinion steering, independent front suspension, front and side airbags, rear child LATCH system, daytime running lights, power seated outside fold away mirrors, tire pressure monitor system, 15" aluminum wheels, intermittent wipers, halogen lights, fog lights, air conditioning, tilt steering column, cruise control, remote keyless entry, power windows and locks, cloth seats, stereo with CD/MP3 format and 6 speakers and 60/40 split fold rear seat.
Gas Stats:
$3.59/ Gal avg. 87 Octane Apr 8, '08
www.fueleconomy.gov
for more information.
24 City and 34 Highway MPG
www.safercar.gov   or    888-327-4236
Pricing:
MSRP LS $12,575; LT $13,765.
Your comments are welcomed. My e-mail is joe@autolove.com
Copyright © 2014 – An Automotive Love Affair.