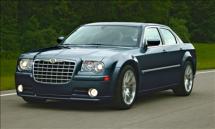 Overview:
This week we're looking at the 2008 Chrysler 300C SRT 4-door sedan with unique styling that sets you apart from the crowd. The low profile "chopped top" look and wide stance and bold sturdy appearing design has endeared this car to every adventurous souls everywhere.
From the launch to now I have always appreciated the fine points of products from Chrysler that are subtle and classy, like the analog clock, and beautiful gauges set in a great dash board. Seats are overstuffed and comfy. It's just a great looking car.
General Info:
Parts –  US/Canadian 74%. Engine – Mexico, Transmission – Germany.
Assembly – Brampton, Ontario, Canada
Class:  – Large Cars
Cars: – 300, Aspen, Aspen Hybrid, Crossfire, Pacifica, PT Cruiser, Sebring and Town & Country.
Observation:
I will miss the kids being out of school. Summer is a driver's paradise with the significant decrease in traffic. Back to traveling off rush hour for me. Altering your hours is about the only way to retain your sanity – if that is possible for you. I find that if you don't ask you don't get.
Perhaps the greatest sadness in driving today is "road rage". It's a term we all understand the meaning of but don't really understand why. Why have we become such an uncouth, impolite and impatient society? I suspect the "little old lady from Pasadena" would flip off a fellow traveler when they cut her off or simply pulling in front of her simply because she leaves a safe distance between her and the car in front.
In speaking with Sgt. Robinson at the CHP there are things you can do if someone is being a jerk. You can dial 911 or 800 tell chp. That goes to Sacramento but they will immediately transfer your call to the area Communication Center you are in. You'd give your location / city and dispatch will determine if there is a CHP officer in the area.
They catch people all the time this way so be informed because the more people know this is available, the more others will think twice before breaking the law. An armed society is a polite society, whether with guns or knowledge.
Handling & Performance:
Fuel economy is lacking a bit, but this HEMI powered sedan will effortlessly walk away from all traffic when you need the power to do that.
Styling:
Unique and classy.
Fit and Finish:
Very good.
Cost:
Competitive in class.
Conveniences and comfort:
One of my favorite features on any car, which I enjoyed on this 300C, is the smart cruise control that monitors the distance to the car in front of you with a distance finder. It allows for 3 settings for several car lengths to only a few. The comfort is pretty amazing with this feature because it goes a long way at taking the stress out of driving. I get so accustomed to using this feature that when I step into the next test vehicle I really miss that safe guard from running into the car in front of me. No one is perfect and accidents happen in the blink of an eye when some distraction causes you to take your eyes off the road. If the car in front brakes unexpectedly or while you are distracted the car will apply the brakes as hard as necessary to prevent a collision. Now that's peace of mind and you'll notice it in minutes of using the feature.
It can however make you a little lazy and dependent on the device. But used properly it is really cool.
Recognized Competition:
Chrysler 300 $25-42,000, Lincoln Town Car $45-51,000, Infiniti M $44-53,000, Lexus GS $45-53,000, Nissan Maxima $29-31,000, Acura TL $34-38,000, Toyota Avalon $27-35,000, Dodge Charger $23-37,000, Ford Crown Victoria $25-28,000,
Good News:
Unique styling, powerful and a comfortable ride.
Bad News:
Fuel economy less than most competition noted here by a mile or two. (ok, so not too bad for a 5.7 liter HEMI).
Standard Equipment:
5.7 liter HEMI multi displacement engine, 5-speed auto trans, 4-wheel ABS power assist disc brakes, electronic stability program, remote start system, 4-wheel independent suspension, traction control, power adjustable pedals with memory, rain sensitive wipers, dual zone climate control, SIRIUS satellite radio with 1 year service incl., 276 watt amplifier, power windows, power tilt / telescope steering column, speed sensitive power locks, sentry key engine immobilizer theft deterrent, cruise control, security alarm, keyless entry, audio with CD / MP3 players, illuminated entry, mirrors and cup holders, power heated front seats, 18" chrome wheels.
Options:
Preferred package $2,905 including leather appointments, graphite pattern accents, additional airbags, performance steering and suspension and exhaust, perforated suede seats, performance 20" tires / wheels, body color handles and mirrors.
Protection Group II is $1,275 including park sensor, air filtration, hands free communication, hi intensity headlights and auto dim mirrors. Navigation & sound group II for $1,475 includes entertainment / Nav / GPS system, SIRIUS traffic (1 year), upgrade of speakers and 388 watt amplifier. Power sunroof for $950 and rear seat video entertainment / back seat TV $1,460.
Gas Stats:
$3.79/ Gal avg. August 31, '08
for more information.
15 City and 23 Highway MPG
Pricing:
MSRP $35,395 – With options $44,135.
Your comments are welcomed. My e-mail is joe@autolove.com
Copyright © 2014 – An Automotive Love Affair.