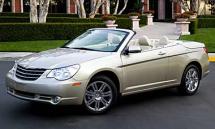 Overview:
This week we're looking at the 2008 Chrysler Sebring Convertible. This sport subcompact is a fun car but not a good match for a family needing a four or five seat sedan. Sebring adds a redesigned convertible joining the sedan that was all-new for 2007. For the first time, the Sebring Convertible offers three different top options: a black vinyl top is standard on base and touring, a cloth-top is available on Touring and standard on Limited, and a steel body-color retractable hardtop is available for either Touring or Limited.
The convertible Limited is powered by a 235-horsepower 3.5-liter V6 with a 6-speed automatic transmission. The Touring is powered by a 189-horsepower 2.7-liter V6. This test model is a base version with a 173-horsepower 2.4-liter 4-cylinder.
General Info:
Parts – U.S/ Canadian 75%.
Assembly – Sterling Hts, MI, USA
Class:  – Subcompact Cars
Cars: – 300, Aspen, Crossfire, Pacifica, PT Cruiser, Sebring and Town & Country.
Observation:
I have noticed talk around that our government hasn't done enough to demand more fuel economic vehicles from car makers. But there is a steady albeit slow improvement. Yes we all care but sometimes the consumer only hears what they want us to hear.
I recently had a discussion on this topic with two automotive engineers and it was an interesting revelation to hear that the toxic effects of lead in our gas (used to increase octane) was less ominous than the MTBE additive that replaced it. I suspect if we followed the money we'd learn why it has been used since the early 1990s.
About 109 million Americans live in counties where MTBE is used. Related health complaints were first reported in Fairbanks, Alaska in November 1992 when about 200 residents reported headaches, dizziness, irritated eyes, burning of the nose and throat, coughing, disorientation, and nausea after MTBE had been added to gasoline. Health complaints also have been registered in Anchorage, Alaska; Missoula, Montana; Milwaukee, Wisconsin; and New Jersey. Studies done by the Centers for Disease Control and Prevention in Fairbanks, Alaska; Albany, New York; and Stamford, Connecticut have shown that the concentration of MTBE in the blood is related to the concentration of MTBE in the air where commuters had measurable concentrations of MTBE in their blood. The Fairbanks study showed detectable concentrations of MTBE were found in the blood of all those tested 2 months after the use of MTBE was suspended in Alaska.
"It is insidious bad stuff" said the engineers I spoke with, "and far worse than the lead additive of the past". Some other states are outlawing MTBE especially since Ethanol (a biofuel) is being used for additive purposes and hopefully will replace MTBE. More on Ethanol at www.eere.energy.gov.
I think I'm feeling dizzy, my throat is burning and I've been disoriented lately. Do you think it's the MTBE?
If you care to read more about this go to: http://sd.water.usgs.gov/nawqa/pubs/factsheet/fs114.95/fact.html#HDR0
Handling & Performance:
Very nice in the corners through the mountains but a little sluggish and stingy on the power. But the fuel economy makes that acceptable.
Styling:
Because of the automatic convertible top mechanics the trunk is laboriously heavy. But it is solid, I'll give 'em that. But guys you could have used a counter balance and made it easier.
The top also uses a vinyl soft top on this base model but my complaint is it looks old from some angles even when new. I was at the Mall and when I approached the spot where I remember parking I began to turn away when I saw the old top. However they do have a fabric top as well as a hard top convertible.
Overall I like the styling which was reinforced when a woman got my attention at a stop signal and as I roll the passenger window down she is telling me how much she likes my car.  Rats, I thought she was looking at me!
One fellow said he didn't like the ribbing on the hood but I rather like it – sorry Glenn.
Fit and Finish:
Good. But I must tell you the plastic enclosure and retainer in the trunk to provide an area for stowing the top when down, fell apart in my hand when I attempted to fold it. Not impressive.
Cost:
Fair.
Conveniences and comfort:
The convertible top looks great up and wonderful down with a perfect fitting hard tonneau cover. And utility makes it even more of a convenience with the one touch button to put it up and down.
What's more, there is a decent amount of room in the trunk that will take a set of clubs and a couple of over night bags, but if you have more people leaving the top up allows for three more sets of clubs and 2 more over night bags.
Consumer Recommendation:
Write your congressman and ask about MTBE and why we're not doing something about that.
Recognized Competition:
Honda Element $19-23,000, Ford Escape $19-25,000, Ford Escape Hybrid $25-27,000, Chevrolet Equinox $22-29,000, Pontiac Torrent $22-24,000, Hyundai Tucson $17-24,000, Jeep Liberty $22-27,000, Honda Civic $15-25,000, Suzuki Grand Vitara $19-25,000, Kia Sportage $16-23,000,  Subaru Forester $21-27,000, Jeep Patriot $14-21,000, Pontiac Vibe $16,760, Toyota RAV4 $21-27,000, 2008 Scion xB $15,650.
Good News:
Good leg room in rear seat, decent fuel economy for a sport compact, attractive styling.
Bad News:
Convertible top fabric looks old, trunk lid is hard to open as it is heavy and it is difficult to close for that reason plus there is no hand hold to pull it shut, difficult entry and exit from rear seat and poorly made convertible top housing enclosure in the trunk.
Standard Equipment:
2.4 liter 173 hp 4 cylinder engine, 4-speed automatic transmission, front and side airbags, child seat anchor system, front power disc and rear drum anti lock brakes, rear window defroster, power windows and locks, theft deterrent system, keyless entry, cruise control, power steering, front and rear stabilizer bars, power trunk lid, intermittent wipers, air conditioning, stereo with in dash 6-disc DVD/MP3 player with 4 speakers, vinyl convertible top, analog clock, tire pressure monitor with warning signal, outside temp display, console with sliding armrest, power outlets, tilt / telescope steering column and power mirrors.
Gas Stats:
$2.99/ Gal avg. July 10 '07
for more information.
20 City and 29 Highway MPG
Pricing:
MSRP $25,470.
Your comments are welcomed. My e-mail is joe@autolove.com
Copyright © 2014 – An Automotive Love Affair.