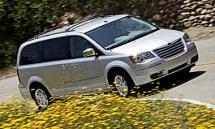 Overview:
This week we're looking at the 2009 Chrysler Town & Country Limited with uconnect web (Autonet). Time and technology keep marching on and this Swivel and Go configuration with a table and chairs that swivel to face each other is a mini-motor home.
With the ever growing dependence we have on computers this is a VERY cool feature and continues to show why Chrysler has been a leader in not only the futuristic designs forward and back to the future, it continues to lead in useful features. This adaptation of Wi-Fi in the car adds yet another creature comfort for how we live our lives in today's world.
As equipped it reminds me of great in-flight first class seating and entertainment and comfort with the added capability of wireless computer connectivity. I would have thought the airlines would have done this first. But they are sure to follow.
General Info:
Parts –  US/Canadian 71%. Engine & Transmission – US.
Assembly – Windsor, Ontario, Canada
Class:  – Special Purpose Mini Van
Cars: – 300, Aspen, Aspen Hybrid, Crossfire, Pacifica, PT Cruiser, Sebring and Town & Country.
Opinion:
For those who travel Cal State highway 14 to and from LA and the Antelope Valley you are aware of the rush hour travel patterns. Cal Trans has painted lines in compliance with the legislation surrounding Diamond Lanes. In our governments infinite wisdom the Diamond lane is effective between the hours of 5AM and 9AM and for the commute in the evening from 3PM to 7PM. Outside of those hours, and on the week end you may use the HOV lane any time.
I've been asked if you can cross the double lines for entry and exit when it is NOT considered a Diamond lane. It makes sense to me so I discussed it with the CHP and according to California VC 21655.8A we are cautioned against doing that. I'm waiting to discuss this issue further with my contact at Media Relations and will report on what I find. If you have some input on this issue e-mail your questions and comments to me.
In the meantime if you ignore big brother I'm sure you know the fines are stiff for violations of the present law. I think the law should be changed, what do you think?
Handling & Performance:
This front wheel drive mini van is agile and it did marvelous over the Crest mountain course and never struggled for power. I found ride and comfort is very good and although the fuel economy isn't as good as we'd all like, this is a special purpose vehicle for the family and we overlook that in these cases.
Styling:
Unique and classy. I love all the features and the lighting inside is special. I must say I totally enjoyed this week's ride. It looks great inside and out and is functional, especially for those who are on the go. It is perfect for changing lifestyles in that we will be staying close to home in this economy and it fits the out of doors application so well.
Fit and Finish:
Good. Some say the vehicle is disappointing when it comes to fit and finish and it could be better, but all things being equal it suits me just fine. Chrysler's advanced convenience features are the highlight of this mini van in most opinions I've seen.
Cost:
Competitive in class and is at the top of the list for me being uniquely configured to be the best of the family vans listed.
Conveniences and comfort:
The table stows nicely under the floor and although it is tight quarters in that use, the swivel captain's chairs add a capability found only in the Town and Country. Nice job Chrysler.
The Autonet is as simple as any other internet connection at a hotel, for example. Your computer will find the wireless connection called Autonet and you select that and log on. Pretty neat.
Consumer Recommendation:
I find this an outstanding mini van that is more versatile than the competition listed. It is a great family van that provides so much convenience and comfort as equipped. 2nd and 3rd rows have separate entertainment facilities for DVD and the computer Wi-Fi unique to the Town & Country is sure to be a hit. If your family is on the go a lot it gives much and it only takes a small amount in reduced fuel economy.
Recognized Competition:
Chrysler Town & Country $26-37,000, Kia Sedona $21-27,000, Hyundai Entourage $ n/a, Nissan Quest $26-36,000, Honda Odyssey $26-41,000, Toyota Sienna $25-38,000, Dodge Grand Caravan $24-28,000, Volkswagen Routan $25-38,000,
Good News:
Uniquely equipped for a special family van, advanced Wi-Fi & entertainment including TV.
Bad News:
Fuel economy could be better and quality is questioned by some.
Standard Equipment:
4.0 liter 251 hp V6 engine, 6-speed automatic transmission, front and side curtain airbags in all rows, LATCH child anchor system, rear parking sensor and rear view camera, electron stability program, tire pressure monitoring, high intensity automatic headlights, power lift gate, power sliding side doors, remote keyless entry with engine immobilizer and remote start, power adjustable pedals with memory, rain sensing windshield wipers, cruise control, climate control with 3 zones, bucket seats and fold in the floor seats, 8-way power driver seat and 6-way passenger seat, heated 2nd row seats, 2nd & 3rd row window shades, 2nd row power windows.
Options:
Swivel 'n Go seating group (removable 2nd row seats), 2nd & 3rd row removable stowable table, trailer tow wiring harness, load leveling & height control suspension, heavy duty engine cooling radiator and transmission, splash guards and running boards, dual screen DVD ent. System w/ SIRIUS back seat TV with 1 year service included, 2nd & 3rd row overhead 9" video screens, additional DVD player, wireless headphones, video remote control, power sunroof, power folding 3rd row seats, uconnect gps w/ iPod interface, phone, SIRIUS traffic w/ 1 year service included.
Gas Stats:
$1.99/ Gal avg. Jan 31, '08
for more information.
17 City and 25 Highway MPG
Pricing:
MSRP $36,530 – With options $43,800.
Your comments are welcomed. My e-mail is joe@autolove.com
Copyright © 2014 – An Automotive Love Affair.