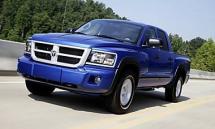 Overview:
This week we're looking at the 2008 Dodge Dakota Crew Cab TRX4 4X4 pick up truck. Generally I like pickup trucks and have had several personally and own one now (extra large Dodge Ram Dual rear wheel Cummins Diesel with 265,000 miles, which is just broken in).  I especially like the mid-size like this Dakota and if I didn't have a need for Large, it would be a mid-size for me.
The very first thing I had to do was hanging some clothes in the back seat and wondered what idiot placed the hangers above the rear window that totally blocks your rear view. That foo-paw wasn't mitigated by the very thoughtful nooks and cranny's provided for all those things we seem to need at our finger tips. They even considered a spot for a cell phone if you happen to have one of those skinny ones which I don't. My Blackberry  that does everything with a large display 8830 wouldn't fit.
I just love the new vibrant colors, Chrysler in particular, paint their cars and trucks. This one was a bright yellow that people would easily mistake for days of "Bay Watch" (more commonly referred to as 'Babe' Watch) and if there were a couple of Orange rescue floats hanging over the side and babes clad in similarly colored life guard suits … ok, I'm day dreaming again… but the point is this is a great youthful truck with a color that gives it a special life of its own. If you want boring colors a move to China, where you'd disappear into the masses and be invisible. In high school my 55 Ford pick up truck was painted a stock Turquoise Blue. You gotta love those bold innovative days when cars had personalities. Thanks Chrysler for being brave with design to bring back a rainbow to cheer up our lives.
General Info:
Parts –  US/Canadian 77%. Mexico Engine; Transmission US.
Assembly – Warren, Michigan USA
Class:  – Standard Pickup
Cars: – Avenger, Caliber, Charger, Challenger, Dakota, Durango, Grand Caravan, Magnum, Nitro, Ram 15, 25 & 3500, Sprinter Van and Wagon & Viper.
Observation:
I had to transport an open container with liquid in it and it occurred to me that is a good lesson on how we should drive. You find yourself following at a safe distance, you approach turns more carefully and then you notice traffic doesn't really leave you in the dust anyway. You'll burn less fuel too – life is good!
Handling & Performance:
I tested the 4.7 liter 302 hp V8, but unless you have a need for 0-60 in just over 7 seconds go for the 4X2 3.7 liter 210 hpV6 that will get one mpg better at 15-19.
Styling:
Typical Dodge tough image which is basically true, but if you look at the Nissan or Toyota trucks they are beefy too. Why? Because Dodge is. The US sets the pace and other runners fall in behind and rarely take the exhausting lead in design. Copy cats save a lot of energy and money, so as usual we Americans do the tough work and others benefit from our multi-cultural amazing machine. We have been leading the way in how things look and feel and function for over 100 years.
Fit and Finish:
Typical Dodge bulky, large gaps but neatly symmetrical. More finely assembled German and Japanese trucks are not necessary in a truck because they are built for the four letter word, 'work'.
Cost:
The reason we cheerfully pay the price in this country without haggling is because we've been Americanized over the past few generations. And the reason isn't that we're more polite but rather I believe we're simply amazed and thankful that anyone could build anything as cheaply as we have since Henry Ford production line. Thank you Henry Ford for the vision. Sure it seems obvious now, but everything does AFTER someone else has thought of it. Remember the old saying, ""Ever notice how much people know when you tell them something, and how little they know when you ask them something"?
For most uses this is the perfect size and if you don't need a 4X4 the 4X2 with the 3.7 liter V6 will save you $3,000 on the initial purchase.
Conveniences and comfort:
If you want really back to basic, save money features you can even get crank / roll up windows that are rare in today's world. The utility rails in the box are really great and I wouldn't have a pick up without them.
Consumer Recommendation:
Lots to choose from but one has to wonder how long that will last. This class is perhaps the most profitable being made for all car companies and they have milked it to the hilt until someone decided to drive the price of oil up unnaturally. But this is a mid-size and that makes it a good option to a full size that is much more cumbersome. As soon as the people, we consumers, wise up and demand pumping domestically and cutting off mid east oil totally prices will drop quickly. Bottom line – don't panic. But we should all work to demand more fuel efficient vehicles by some date, say ten years from now. If we can put men on the moon and return them safely we can do the same with renewable and clean energy. Where is JFK when you need a great leader?
Recognized Competition:
Dodge Dakota $20-32,000, Chevrolet Colorado $15-27,000, Isuzu Truck $18-28,000, Mitsubishi Raider $20-28,000, GMC Canyon $15-25,000, Mazda Truck $16-27,000, Toyota Tacoma $14-26,000, Mitsubishi Eneavor $28-31,000, Isuzu Ascender $27-29,000, Ford Ranger $14-24,000, Ford Explorer Sport Trac $25-31,000, Nissan Frontier $17-28,000.
Good News:
Comfortable, convenient crew cab, serviceable bed liner and utility tie down system.
Bad News:
Poorly thought out clothes hangers.
Standard Equipment:
4.7 liter 302 hp V8 engine, multi speed OD auto transmission, dual front air bags, tire pressure monitoring system, front disc and rear drum ABS brakes, utility tie down rails, trailer tow wiring w/ 4-pin connector, cruise control, anti-spin 3.92 ratio rear axle, HD rear shocks, HD engine cooling, 4-wheel drive, fuel tank and transfer case skid plates, 750 amp maintenance free battery, tow hooks, power steering, remote keyless entry with theft deterrent key system and security alarm, stereo with in-dash CD/MP3 player, SIRIUS satellite radio w/ 1 year service included, air conditioning, power windows and locks, variable intermittent wipers, 6-way power driver seat w/ stain resistant fabric, stow-n-go under seat storage, rear sliding window, power mirrors, full size spare tire, fog lights and dual position tail gate.
Options:
Trailer tow group including: larger fold away mirrors, Class IV receiver, 7-pin wiring, Extra security including: side curtain air bags F&R, Upgrade audio: 6 in-dash CD player, remote start system, 6-alpine speakers, 275 watt amplifier, leather wrapped steering wheel w/ audio controls, elect. Full-time transfer case, heated front seats, multi media system with GPS navigation, SIRIUS Traffic system and under rail box bed liner. $5,390.
Gas Stats:
$4.33/ Gal avg. July 18, '08
for more information.
14 City and 19 Highway MPG
Pricing:
MSRP $29,745 – With options $35,825.
Your comments are welcomed. My e-mail is joe@autolove.com
Copyright © 2014 – An Automotive Love Affair.