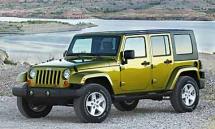 Overview:
This week we're looking at the 2008 Jeep Wrangler Unlimited Rubicon 4X4. Cars evoke images from the past and this Wrangler lights up a couple of those memories. I recall advertisements featuring a Pamela Anderson looking gal in a T-Shirt, rock climbing shorts and wind blown hair with that natural beauty and no make up. By the way I have news for the ladies – men don't like make up on the woman of their dreams. The second vision for me is the Mohawk Trail in North West Massachusetts where Ilona and I enjoyed the company of 100 plus enthusiastic Jeep owners and 18 folks from the press for a Jeep Jamboree.
Ok, so those aren't the only reasons to own a Jeep, but I can't think of better ones. Jeeps attract a kind of cult following of people with much in common. They are out of doors folks who like to brave the elements and live on the edge. These are really cool people and the range of ages is as wide as the rivers they cross in their beloved Jeeps. You can imagine them rock climbing, bungee jumping, flying a plane over the Rockies, surfing on a quiet beach at sun down not needing to impress others. These are self assured confident people and they include guys and gals that are likely professional suits during the week on Wall Street or down town LA or Seattle or anywhere USA.
I'll bet you have similar images that conjure up the concept of "Gusto" – "You only go around once" or a Nike ad suggesting – "Just do it". To me a car is transportation and a Jeep is an adventure. Not advertising hype but how I feel, and 'that's the truth' … Lily Tomlin.
The really good news is that you don't have to spend Rambo bucks for a Hummer to do the same things off road that the Jeep will do. Fact of the matter is you can go more places in a Jeep than you can in a Hum Vee, except Iraq I guess. On the Mohawk Trail there were places a Hummer was simply to wide to go through trees for example. Horse and buggies likely cut those trails hundreds of years ago. Hummers are more at home on Sahara Desert type venues.
If you are inclined to the rough and rugged life and decide to buy a Jeep you surely should attend a Jamboree. There are 26 venues and range from 1-10 in difficulty, 10 being the most difficult. That would be the Rubicon Trail in the Lake Tahoe, California area of America. The Jeep Rubicon and the massive boulders of the Rubicon Trail which you will climb are both made in America.
In the 1960s Japan named a city USA (Ooosa) so they could stamp products "Made in USA". Why that is important is the lengths to which offshore competition will go to gain acceptance in the huge US market. Made in Japan has a whole different meaning today. World market manufacturing like China for example labor costs are about a buck an hour. No wonder why so many things are made there.
The problem created is a huge balance of trade that puts the US in harms way. It has topped $900 billion annually. Otherwise there is no problem since it is simply the free market working as it should. If you don't agree, buy cars made in America.
General Info:
Parts – US/Canadian 69%, Mexico 15%
Assembly – Toledo, Ohio, USA.
Class:  –  Sport Utilities
Cars: – Commander, Compass, Grand Cherokee, Liberty, Patriot and Wrangler.
1941 Chrysler Thunderbolt
Jeep is a Classic Car they still make.
Handling & Performance:

Like most everything else except sex, cars are even better than the older models I joined on our trek over the Mohawk Trail. There were Jeeps from World War II to current day Jeeps. If you are a Jeep owner contact Jeep to attend one of 26 places to enjoy you Jeep and be amazed at what a Jeep can really do off road.
American car makers are slowly adopting European engine designs that get so much more horsepower per liter. The Jeep engine is a 3.8 liter V6 and only develops 202 horsepower. So you have less hp and burn more fuel than comparable European engines.
Styling:
The same yesterday, today and hopefully tomorrow.
Fit and Finish:
Basic, rugged and unfinished (by Lexus standards), but that's the way it is supposed to be.
Cost:
More than I thought they should be, but inflation and popularity has pushed the price up. And perhaps it has something to do with the professionals who buy them or simply a growing number of people returning to their pioneer roots.
Conveniences and comfort:
They used to have manually operated roll up windows but the power is ok and the radio and the air conditioning and the power steering… and, well you know what I mean.
Consumer Recommendation:
When you're not climbing Mt. Rainer or one of the many over 14,000 foot peaks in the Rockies you'll get a lot of youthful enjoyment from this or even the competition. But Jeep is the top of the heap – A #1.
Recognized Competition:
Jeep Wrangler $20-30,000, Toyota Rav-4 $22-27,000, Mitsubishi Outlander $20-25,000, Suzuki Grand Vitara $19-26,000, Kia Sportage $16-23,000, Subaru Forester $20-28,000,  Chevrolet Equinox $24-31,000, Ford Escape $20-27,000, Mazda Tribute $20-28,000, Saturn Vue $22-30,000, Honda CR-V $21-29,000, Nissan Rogue $20-23,000.
Good News:
It's a Jeep with a rich history and they still make them in America.
Bad News:

Poor fuel economy.
Standard Equipment:

3.8 liter 202 hp V6 engine, 4-speed automatic transmission, 4-wheel ABS brakes, traction control, electronic roll mitigation and front sway bar disconnect, transfer case and fuel tank skid plates, sentry key theft deterrent system, cruise control, tow hooks front and rear, variable intermittent wipers, 21.6 gal fuel tank, tire pressure monitoring system, air conditioning, reclining front seats, 60/40 split folding rear seat, stereo with in dash CD player MP3 capability, SIRIUS satellite radio w/ 1 year included, temperature and compass, tilt column, sport roll bar with padding, 12 V aux outlet, soft top, fog lights and matching full size spare.
Gas Stats:

$3.61/ Gal avg. September 23, '08
for more information.
15 City and 19 Highway MPG
Pricing:
MSRP $29,535.
Your comments are welcomed. My e-mail is joe@autolove.com
Copyright © 2014 – An Automotive Love Affair.