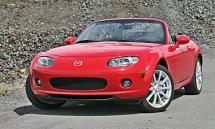 Overview:
This week we're looking at the 2008 Mazda MX-5 Miata that has grown up nicely over the past several years. It has always been one of my favorite little affordable sport cars. I always felt it to be a "chick" car and demographics tell us half of all Miata's are owned by women.
Consumers, generally, give it a high rating for style which I believe is because it is middle of the road and safe. More radical lines are typical of all the other competitors noted below.
General Info:

Parts – US/Canadian 0%, Japan 95%
Assembly – Hiroshima, Japan
Class:  – two seat sport car.
Cars: – CX-7, CX-9, Mazda 3, 5 & 6, Mazdaspeed3 & 6, MX-5 Miata, RX-8, Tribute, Tribute Hybrid & Truck.
Assembly – Hiroshima, Japan I stood at Ground Zero in 1960 where the first A-Bomb was dropped. It was a moving experience and you can't help but have compassion for these common folk irrespective of their governments attack on Pearl Harbor. No one wins in War … ok, so Japan won economically. Our tax dollars at work, eh?
Observation:

As gas prices rise you will see consumers avoiding travel to several stores to do their shopping and that is already apparent in the growth of Superstores where one stop shopping eliminates the need to jump from store to store. And since gas prices will NOT go down this trend will continue to be even more important. The only thing that can change this need to save on fuel will depend on some huge breakthroughs in new energy sources. Not likely in your lifetime. If you are inclined to bet ace's, straights and cinches you will look closely at fuel consumption in everything you buy – and miles per gallon will be the overwhelming factor in your automobile decision making process.
Handling & Performance:
Men usually want heavier and more powerful performers but this MX-5 is no slouch. More importantly the raw power of a big V8 Vette, for example, gains little in the handling experience. Taking the curves in the Miata is quite good and was totally impressive as it hugged a mountain road testing course I like to use. It is not geared as well as it could be to compensate for the smaller engine and you'll notice, as I did, that it runs at 3500 rpm more than it could.
If you want to cruise effortlessly at 1200 rpm quiet operation over those same mountain roads you'll want to look at the Vette. Of course that is if double the money doesn't bother you. If 4 second 0-60 performance is your thing, indeed the Vette is the answer and this MX-5 probably won't be for you.
Styling:

Miata has been styled consistently and identifiably over the years. Simple but good enough to be copied by the likes of BMW.
Fit and Finish:
Mazda Miata is better every time I drive it. Early on it was a bit tinny but that is no longer the case, surely never truer than with this 2008 model.
Cost:
Mazda is beginning to push the price limits for the Miata in my opinion, but demand pushes price as much or more than increased cost of upgrading quality and features. I would have to say it is more a factor of acceptance of the consumer. And Mazda made a conscious decision NOT to ramp up the car to be more like the BMW Z4 or even the Honda S2000.
Features and Conveniences:
Improved much over the years, but with that has come a marked increase in selling price. There is a small trunk that is good for such a small car because of the smart storage of the top apart from the trunk space.
You'll find limited convenient storage spaces which needs improvement to remove that frustration.
Consumer Recommendation:
Resource – www.safercar.gov
Some very interesting competitors that make this a tough decision, but the process is quite simple. Drive each if you're in the market for a small car. If price is a major factor you'll do well to limit your test driving to Miata, Sky, Solstice, Eclipse and New Beetle. All very nice. Sky and Solstice will be hard to beat and Beetle is separate and unique.
Recognized Competition:
Mazda MX-5 Miata $21-27,000, Audi TT $35-46,000, Nissan 350Z $29-41,000, Ford Mustang $20-32,000, Saturn Sky $26-31,000, Pontiac Solstice $22-32,000, MINI Cooper $18-25,000, Chrysler Crossfire $35-39,000, Mitsubishi Eclipse $20-28,000, Honda S2000 $34-37,000, Volkswagen New Beetle $17-26,000, Volkswagen Eos $29-38,000.
Good News:
Fun to drive.
Bad News:

A bit more pricy than I expected, pea-popper engine to some, road noisy enough to remove ability to use blue tooth hands free devices and loud running gear sounds.
Standard Equipment:

2.0 liter 166 horsepower I 4-cylinder engine, 6-speed manual transmission, rear wheel drive, 4-wheel anti-lock disc brakes, 17" aluminum alloy wheels, manual convertible top, glass rear window with defogger, fog lights, air conditioning, power windows and locks, heated leather seats, leather door trim and shift knob and steering wheel with tilt and audio controls, tire pressure monitoring system, anti theft alarm and engine immobilizer system, double wishbone suspension and rear multilink suspension, stabilizer bars, limited slip differential, power mirrors, Bose audio with 6 disc CD player, keyless entry, dual front and side airbags.
Gas Stats:

$3.84/ Gal avg. May 3, '08
for more information.
21 City and 28 Highway MPG   www.safercar.gov  or   888-327-4236
Pricing:
MSRP $26,590.
Your comments are welcomed. My e-mail is joe@autolove.com
Copyright © 2014 – An Automotive Love Affair.