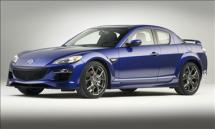 Overview:

This week we're looking at the 2008 Mazda RX-8. As the demand for economical cars heats up the more people want to know what their options are. Obviously every class from top to middle to large will downsize from the recent past that bigger was better somehow. Years ago while I was in Japan smaller, efficient and practical was simply a way of life. By necessity or choice small vehicles hauled amazing loads and of course roads didn't allow for large vehicles anyway. Well, it was their collective need and now it is becoming a need here in America as well.
The good news is that people tend to be emotionally closer when there is less abundance. In Japan I observed workers in a plant I visited playing softball and I thought how similar people were and I was angry at the leaders who let their hunger for power rule their lives. They were willing to sacrifice the common people to keep it. I was sad when I visited Hiroshima where this Mazda is built. I looked at the devastation and got angrier still.
Well as a result of the abundance from the spoils of war, the US people splurged after years of want from a depression and a long protracted war where sacrifice was the word of the day. Americans quickly became consumers while Germany and Japan were rebuilding with our money, of course. All World War II countries mentioned haven't stopped consuming and have wanted for nothing, generally, for 60 years. Retired Dallas Cowboys star quarterback and then NFL TV color man on Monday Night Football "Dandy" Don Meredith at this point in the game would begin singing "The party's over…".
This coming period of want, which I suspect we all expect, is unlikely to continue for very long. We weathered the extended recession of about 10 years in the 90's, and of course we came through the depression of the 1930's even better for the experience.
Small cars will return to energize the market and car companies will simply have to shift their production lines to accommodate the needed change. Toyota, for example, shut down some product lines to retool for Prius. People will not only accept smaller cars but embrace them for lots of reasons. Once again cars will serve us instead of us being slaves to them. Perhaps then we'll find spending less time making more money to pay for more and bigger will give way to spending more time with our families. Then we may rebuild family values and tell big government and big cars to take a hike.
General Info:
Parts – US/Canadian 0%, Japan 95%,
Assembly – Hiroshima, Japan
Class:  – Subcompact
Cars: – CX-7, CX-9, Mazda 3, 5 & 6, Mazdaspeed3 & 6, MX-5 Miata, RX-8, Tribute, Tribute Hybrid & Truck.
Handling & Performance:
Economics is changing the mood of people and their need for small cars is sure to improve their performance. And you'll see big cars begin to downsize as well.
The Mazda is zippy and agile… Zoom Zoom will impress you with its 232 hp rotary engine coupled with the 6-speed manual transmission that shifts perfectly. And its sporty look helps to make this a winner. I believe however it will appeal very little to drivers over 40.
Styling:

Sporty and even if not practical with a very small rear seat they did add a nice touch to make it more accessible by providing a small rear door. It really does remove the criticism for me. But I must say, because of the door design you have to slam them so they close completely. That was annoying.
In addition, they didn't spend enough time designing the seats for comfort. I'm not all that big but the cushions felt restrictive and thus uncomfortable. The fact that I was aware of the seat meant it was poorly designed.
Fit and Finish:
Good.
Cost:
More than I expected. But with today's value of the dollar, I don't know what I expected. Secondly it is up against some pretty expensive competition.
Features and Conveniences:

The list of features that are standard are extensive and that accounts for some of the pricey-ness noted above.
Consumer Recommendation:

Resource – www.safercar.gov
The competition is all very capable, but some are clearly out of the price point. However from a performance to cost comparison this RX-8 does very well.
Recognized Competition:
Mazda RX-8 $26-32,000, Audi TT $35-46,000, VW R32 $32,990, Nissan 350Z $37-43,000, BMW Z4 $37-43,000, BMW 1 – Series $29-39,000, Lotus Elise $46-55,000. 2009 – Ford Mustang $20-34,000, Mercedes Benz SLK $45-64,000, Dodge Challenger $21-39,000, Honda S2000 $35-38,000.
Good News:
Small, sport car handling and 232 hp performance and thus fun to drive and the much underrated Rotary engine.
Bad News:

A bit pricey in my opinion and fuel economy is a negative and rear doors must be closed hard and that was annoying.
Standard Equipment:

1.3 liter 232 hp rotary engine, 6-speed manual transmission, rear wheel drive, 19" forged Alloy wheels, 4-wheel power assist ventilated disc brakes, limited slip differential, sport tuned suspension, xenon headlights, fog lights, dual power mirrors, air conditioning stereo with 6-disc CD changer, aux. Input jack, power windows and locks, front Recaro sport seats, keyless entry, tilt leather wrapped steering wheel with audio and cruise controls, dual front airbags and side and side curtain airbags, alarm and engine immobilizer, front and rear stabilizer bars, rear wing spoiler, rear widow defogger and antenna, variable intermittent wipers, center console with power outlet, rear trunk pass through, passenger seat one-touch walk-in feature, blue tooth hands free, traction control, and tire pressure monitoring system.
Gas Stats:

$3.50/ Gal avg. October 1, '08
for more information.
16 City and 22 Highway MPG
www.safercar.gov  or   888-327-4236
Pricing:
MSRP $31,930.
Your comments are welcomed. My e-mail is joe@autolove.com
Copyright © 2014 – An Automotive Love Affair.