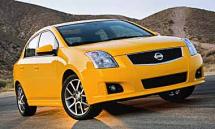 Overview:
This week we're looking at the 2008 Nissan Sentra Spec V. One has to wonder how any of the car makers listed below can put a very capable product on the market for under $20,000, but these are all impressive offerings.
I suspect this is much more suited to the younger crowd… young singles or even young married guys and gals and I think it would be good for up to a couple of kids. When I was first married we bought a Datsun station wagon that serviced our need well and the price was right then as it is today for the company who changed its name to Nissan brand.
With an announcement in fall of 1981, Datsun's parent Nissan Motor Company, Ltd. decided to change the name on cars sold in the United States and Canada from Datsun to Nissan. David Aaker, a noted Marketing guru in his 1991 book: "MANAGING BRAND EQUITY" presents interesting business world facts with the conclusion that the name change campaign over a 3-year period from 1982 to 1984 cost Nissan in excess of $500 million dollars.  When Japan became committed to the US car market in 1960 Aaker suggests corporate choice favored "Datsun" to distance the parent factory Nissan's association by Americans with Japanese WWII military manufacture
General Info:
Parts –  n/a
Assembly – Aguas, Mexico
Class:  –  Midsize Cars
Cars: – 350Z, Altima, Altima Hybrid, Armada, Frontier, GT-R, Maxima, Murano, Pathfinder, Quest, Rogue, Sentra, Titan, Versa and Xterra.
Handling & Performance:
Zippy and fun to drive.
Styling:
Utility simple while being a great looking commuter car.
Fit and Finish:
Good.
Cost:
Competitive in class.
Conveniences and comfort:
More than most of us need, but pretty usual stuff for this price point commuter.
Consumer Recommendation:
A huge low cost array of competitors that are all quite good. High profile cars like Toyota Corolla have been on the road for a good long time and are known for reliability, but I've tested all of these and find I'm just as impressed with the Sentra out of all cars in this price level. Nissan has been a good reliable car since its introduction to the American market back in the early 1960s. I owned one of the first Datsun imports back then and we liked it a lot.
Recognized Competition:
Nissan Sentra $16-20,000, Mini Cooper $18-25,000, Toyota Corolla $15-20,000, Suzuki Forenza $14-15,000, Kia Spectra $13-16,000, VW Jetta $17-24,000,  Chevrolet Cobalt $15-23,000, Mitsubishi Lancer $14-26,000, Hyundai Elantra $14-17,000, Mazda Speed3 $23-24,000, Saturn Ion $12-20,000, Pontiac G5 $16-20,000, Ford Focus $15-18,000, Scion tC $17,000, Mazda3 $14-21,000, Honda Civic $15-25,000, Subaru Impreza $17-35,000, Nissan Altima Hybrid $26,650.
Good News:
Decent fuel economy in class, comfortable and fun to drive.
Bad News:
I couldn't find anything to nit pick about but it will likely not be a good choice for the senior set. Low profile makes it more difficult for elder drivers getting in and out.
Standard Equipment:
2.5 liter 200 hp Inline 4-cylinder engine, 6-speed manual transmission, sport tuned suspension, ventilated front disc brakes, electric power steering, electronic brake force distribution, antilock brake system, 17" alloy wheels, rear spoiler, air conditioning, power windows and locks, aluminum pedal pads, audio with CD, sport bucket seats, 6-way adjustable driver seat, remote keyless entry, trip computer with temp and distance to empty, cruise control with steering wheel controls, variable intermittent wipers, tilt steering column, front and side and roof mounted side curtain air bags, vehicle security system and immobilizer system, child safety rear locks, LATCH (lower anchors and tethers for Children) and tire pressure monitoring system.
Gas Stats:
$3.71/ Gal avg. September 7, '08
for more information.
21 City and 29 Highway MPG
Pricing:
MSRP $20,180.
Your comments are welcomed. My e-mail is joe@autolove.com
Copyright © 2014 – An Automotive Love Affair.