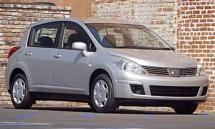 Overview:
This week we're looking at the 2008 Nissan Versa 1.8 SL HB (hatchback). Small but it even works for taller drivers with good head and leg room, but the non-telescoping wheel may require a less than perfect reach.
Overall I grew to like this car. The size is good and the rear seat is adequately roomy. My next test car – Honda Fit – on the other hand in the next size down (small wagons) is rather limiting and yet a similar price point. This Nissan is much more serviceable.
General Info:
Parts – n/a
Assembly – n/a
Class:  – Midsize
Cars: – 350Z, Altima, Altima Hybrid, Armada, Frontier, GT-R, Maxima, Murano, Pathfinder, Quest, Rogue, Sentra, Titan, Versa and Xterra.
Observation:
Well, it worked. Not so long ago the Highway 14, I-5, the 118 and the 210 freeways were closed because of fire. Then again November 15th they were closed again. I wrote in my column back then there were emergency numbers you should remember and put in your cell phones to be equipped to find alternate routes when that happens again. I had to get to Pasadena on that day and called the CHP number and "wa-la" I found the Crest was open and went with a crowd of folks doing the same thing. I was in time for the birthday party and was happy to have had another route open to get there.
Sand Canyon was also closed on that day, which is the only other escape route to and from the San Gabriel Valley and the Antelope Valley.
Once again for your information the numbers to call are: Cal Trans for automated road conditions and closures 800-427-7623 and the CHP emergency road number is 323-259-2010. Try the Cal Trans number now so you will be familiar with the automated system. It works pretty well.
Handling & Performance:
Fun to drive and easy to maneuver and park. On the road it rides smoothly and comfy on long commutes. Although you only get 122 horsepower it does 0-60 in an acceptable 9 seconds.
Styling:
Hatchback design will turn some off, but it is sporty and the hatchback is well concealed.
Fit and Finish:
Very good.
Cost:
Good value for the money, especially when you consider the cost of operating.
Features and Conveniences:
Medium sophistication level of tech stuff but lots of it. Well done.
Consumer Recommendation:
Resource – www.safercar.gov
Consider a 2008 model if you're in the market since you'll get the best buy since most car retailers are overstocked and happy to see you. Kind of like the stock market and housing. If you've got the cash or credit this is a great time to buy these kinds of assets. A dealer friend says he's experiencing up to 50% discounts on many cars.
Recognized Competition:
Nissan Versa $13-16,000, Volkswagen Rabbit $16-18,000, Kia Spectra 5 $15,995, Kia Rio5 $13-14,000, Suzuki Forenza Wagon $15-16,000, Suzuki Reno $14,000, Toyota Matrix $16-22,000, Pontiac Vibe $16-21,000, Chevrolet Aveo5 $12-15,000, Scion xB $15,750, Chevrolet HHR $19-25,000, Scion xD $14,650, Hyundai Accent $11-15,000, Ford Focus $15-18,000, Saturn Astra $17-20,000, Dodge Caliber $16-25,000, Chrysler PT Cruiser $18-24,000, Honda Fit $15-19,000, Toyota Yaris $12-16,000,Suzuki SX4 Sport $13-17,000.
Good News:
Well priced, great fuel economy, fun to drive and ease of parking, good storage cubby holes, molded in door water bottle slots and decent size trunk. You'll never find a better time to buy if you are able to.
Bad News:
The economy sucks.
Standard Equipment:
1.8 liter 122 hp 4-cylinder engine, continuously variable auto transmission, stabilizer bars front and rear, power assisted front disc rear drum brakes, power steering, 15" alloy wheels, halogen lights, air conditioning, 6-way driver adjustable seat, audio with 6- in dash CD player, tilt steering column, variable intermittent washer/wipers front and rear, cruise control with steering wheel controls, power windows and locks with remote keyless entry, 60/40 split fold down rear seat, cloth seats. Front and side and side curtain airbag system, tire pressure monitor, rear door child safety locks anchors and tethers and vehicle security and immobilizer system.
Options: XM Satellite radio $150; Convenience Pkg – intelligent keyless entry and ignition, Bluetooth, leather wrapped wheel – $650; Audio package upgrade – $300; Moon roof package includes power sliding glass moon roof with tilt and dual Illuminated visors – $600; Kick plate pkg – $130; Sport Package including roof spoiler, fog lights, body extensions and facias – $700; anti lock braking system, Electronic brake force distribution – $250.
Gas Stats:
$2.27/ Gal avg. November 15, '08
for more information.
27 City and 33 Highway MPG
www.safercar.gov  or    888-327-4236
Pricing:
MSRP $15,650 – With options $18,430.
Your comments are welcomed. My e-mail is joe@autolove.com
Copyright © 2014 – An Automotive Love Affair.