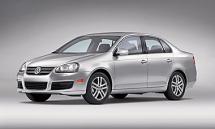 Overview:
This week we're looking at the 2008 Volkswagen Jetta SE 2.5 which is a substantial little compact that borders on being a luxury car relative to the competition. The Audi and Acura, although listed as competition, are over priced and cost to benefit suffers. However some people are more concerned with looking rich than concerned about cost per mile they pay to chug around in traffic with absolutely no opportunity to show off their high performance automobile.
Jetta gives you a better feeling for driving a more fuel efficient, lower cost buy in commuter. Fact is the last time I tested an Audi on the highway it turned out to be an expensive experience when pushing the limits resulted in a speeding ticket. I had the same problem in Austria testing a Mercedes Benz on the wide open road where motorcycle cops are just as devious as they are here in America. But there you pay on the spot. I have always wondered if the fine ever made it from his pocket to his employer. More importantly, was he really a police officer? Why not just forget the ticket and call it a tip.
I should know better than to drive that way on a public highway anyway. Since I test drive most all cars on the race track I shouldn't have to do any of that foolish stuff on the highway. Shame on me. Quite frankly I'm more ticked off that I got caught. Let's be honest here.
General Info:
Parts – US/Canadian 13%, Germany 40%, Mexico 35%
Assembly – Puebla, Mexico
Class:  – Compact Cars
Cars: – Eos, GTI, Jetta, New Beetle, Passat, Passat Wagon, R32, Rabbit and Touareg 2.
Observation:
Remember discussing fuel economy and world price of gas? Well consider that in Europe where fuel per gallon is about $8.00 Europeans are more conscious of driving clean diesel fuel efficient cars that get at least twice the fuel economy as do American cars. Thus they pay the same per mile as do American drivers. My question to you who are in the know about the auto and oil companies is – why haven't we adopted that driving philosophy in America? Write me and provide credentials and I will publish your answer.
Handling & Performance:
The average fuel economy for the compact class in the US is 29 mpg and this US version of the Jetta is below average at 24 mpg.
Styling:
This Jetta reminds me of the ever popular BMW and Acura which I always enjoy driving. But I have found many people go for "ugly", by most standards, such as the Scion from Toyota or the Element from Honda (I've come to like the Element). I think the popularity of such cars is because we like to be different from the crowd. So in the scheme of things this Jetta is pretty conventional in design even if many simply say it is too much the same as the majority of cars on the road and thus boring and uninteresting. I call those "Cookie Cutter" cars, but Jetta is a rather sporty commuter and well done in my opinion.
Fit and Finish:
Jetta is thoughtfully put together and overall quite nice. I favor the bulky and solid built feeling you get from cars like this Jetta and tend to shy away from the dainty cars like Jaguar for example, which explains why Jag is a "Chick" car.
Cost:
Pricing is slightly over the average of the competition.
Features and Conveniences:
Wow … for the MSRP pricing this puppy is pretty well endowed. But I have to tell you standard or optional I find some things are not only unnecessary luxuries they can be down right nuisances and worse. The anti theft locks on the wheels sound good but that's what we have insurance for. Just get a flat, when you're in a hurry, and can't find that special key to unlock the lugs… know what I mean?
Consumer Recommendation:
Resource – www.safercar.gov
If you want the sportier, well equipped, well assembled, this is a good choice and less money than the higher priced near luxury competition.
Recognized Competition:
Volkswagen Jetta $17-24,000, Audi A4 $29-48,000, Ford Focus $14-17,000, Chevrolet Cobalt $14-22,000, Hyundai Elantra $14-16,000, Mazda 3 $14-20,000, Honda Civic $15-25,000, Subaru Impreza $17-35,000, Saturn Ion $12-20,000, Chevrolet Malibu $20-27,000, Honda Civic Hybrid $23-24,000, Nissan Sentra $16-20,000, Kia Spectra $13-16,000, Suzuki Forenza $14-15,000, Toyota Corolla $15-20,000, Mitsubishi Lancer $14-18,000, Acura TSX $29-32,000, Scion tC $17,000.
Good News:
Nice to drive and well equipped and good utility of engine and design.
Bad News:
Plain styling, only fair fuel economy for this class and I read about reliability and good dealership service issues.
Standard Equipment:
2.5 liter 170 hp inline 5 cylinder engine, 6-speed automatic trans with paddle shifter, front wheel drive, variable assist electro-mechanical steering, 4-wheel anti-lock disc brake system, with engine braking assist, stability program, differential lock, front and side airbags and side curtain head airbags front and rear, child LATCH system and child safety rear door locks, daytime running lights, tire pressure monitoring system, climate control, power heated mirrors, intermittent front wipers with heated washers, cruise control, 60/40 split rear seat, tilt and telescoping steering column, remote keyless entry system, power central locking system, power windows, heated, height and lumbar adjusted front seats, rear seat armrest with storage and pass through, anti theft alarm with immobilizer theft deterrent system, 6-in dash CD changer with MP3 format, Sirius Satellite radio (3 mos included), power glass sunroof with tilt and slide, 16" alloy wheels with anti-theft locks.
Options: Tiptronic shifter for auto transmission and I Pod adapter. $1,274.
Gas Stats:
$4.50/ Gal avg. June 11, '08
for more information.
21 City and 29 Highway MPG
www.safercar.gov  or   888-327-4236
Pricing:
MSRP $19,760 – with options $21,674.
Your comments are welcomed. My e-mail is joe@autolove.com
Copyright © 2014 – An Automotive Love Affair.