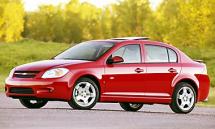 Overview:
This week we're looking at the 2009 Chevrolet Cobalt SS Turbo Sedan. As gas prices go through the roof small cars come out of the woodwork. I will test the XFE model that is a high mileage version and will comment on that if it is significantly different from this SS.
You gotta just love the change in consumer attitude but does it point to more responsible cars or buyers. Is it a sign of impending doom for the hedonists who simply want more powerful, bigger and arguably better cars along with everything else our consuming society wants? Is the fixation with consumption to the max a thing of the past forever?
Have we been marketed to the point of stupidity? It surely is a wake up call to find new and better ways to have what we all seem to want – bigger, more powerful, more exciting and yes arguably better cars and everything else.
Consider that because oil is more dear and that we're running out of it is all true, then human imagination will create better energy sources. Perhaps we'll find teeny weenie nuclear power plants for our cars, houses etc. The human spirit won't give up. That you can take to the bank. An old boss I once had used to encourage me as he wisely stated the fact that people just won't accept defeat. They will always find a way around any problem. They always have and they always will. He was so positive and thus very successful.
Auto engineer friend and associate Merkel has been impressed with small cars for as long as I've known him. Especially European cars that get much more performance than typical American made cars. He has a stable of Fiat's old and older. But what I see at Car Night for he and like minded car nerds is a gathering of passionate car nuts that truly have a love affair with cars. Not just because they are flashy or bigger or prettier – they are devoted to the magic of performance and redeeming qualities beyond the aesthetic value.
That reminds me I've always thought that is a good rule for selecting a mate as well. Practicality and function over form. Yes, I know, we all tend toward the form but the girl next door is the salt of the earth and the best in the long run and for the long haul… know what I mean.
Back to this Turbo powered pea popper. You can be practical as well as excited by just pressing the gas pedal to kick in the turbo and imagine you're in a BMW. But the good news is you'll do it for half the money you'd pay for the badges of any upscale car. This past week I was reminded how we need to keep things in perspective. It was Track Day for the Press. The race track gives you a sense of balance in the driving experience. The speedway road courses show how small a difference there is between cars like this Cobalt and the likes of Audi R8, Mercedes Benz SLR's and other high performance cars. Taking hot laps in all cars with professional race drivers like Jeff Bodnar, Dave Murray, Hurley Haywood and partner Price Cobb is a humbling experience. And if most of us saddled up in the rocket cars and lined up against the pros in this Cobalt we'd be hard pressed to keep up. I guess that's why we like raw power – because it makes us feel better than we are.
General Info:
Parts – US/Canadian 71%, Mexico 15%,
Assembly – Lordstown, OH, USA.
Class:  – Sub Compact
Cars: – Cobalt, Avalanche, Aveo, Aveo5,  Colorado, Corvette, Equinox, Express, Express Cargo Van, HHR, Impala, Malibu, Malibu Hybrid, Malibu Maxx, Monte Carlo, Silverado 1500, 2500, 3500 and Hybrid, Suburban, Tahoe & Hybrid, Trail Blazer and Uplander.
Handling & Performance:
Today cars are beginning to approach the fuel economy of motorcycles. Small cars still occupy twice as much road as a bike but half that of the Gas guzzling Trucks and SUV's that have rapidly gone out of style in the first decade of the 21st Century. In fact Track Day 2008 saw very few high performance cars, trucks and SUV's than I've seen in the past 16 years. Most on the list below were all that were being tested because they are news and what is of interest to most of us now that the cost to operate our cars is going up faster than our pay checks.
The inclusion of Turbo power is a great option to consider in small cars since the highways demand the ability to get out of harms way quickly. The 2.2 liter non-turbo in the LS and LT models develops 155 hp and the turbo charged 2.0 liter standard in the SS model coupe and sedan develops 260 hp. Big difference in performance.
Styling:
The sedan is pretty ordinary but if you don't need the 4 doors the coupe is very attractive.
Fit and Finish:
Average.
Cost:
Cost is another thing altogether in considering which model to choose. The SS will cost at least $4,000 more than the LT2 and about $7,000 more than the LS, for example.
Features and Conveniences:
If you like OnStar and decide to keep it ask about the Turn-by-turn navigation upgrade. It is really cool and has got me out of trouble on occasion. Otherwise the standard features list is extensive.
Consumer Recommendation:
Resource – www.safercar.gov
Since 2005 all cars in class have increased on average $2,000. I wouldn't have guessed that initially, but considering that money doubles every 10 years at 7% it puts into perspective that consumers are ahead of the game. The rate of climb in price is far less than that rule of thumb. So the car you're buying in this class is a pretty good buy relative to many other consumer products.
Recognized Competition:
Chevrolet Cobalt $16-23,000, Ford Focus $15-18,000, Dodge Caliber $16-24,000, Toyota Corolla $15-20,000, Acura TSX $29-32,000, Pontiac G5 $17-20,000, Subaru Impreza $17-28,000, Hyundai Elantra $14-17,000, Honda Civic $15-25,000, Jeep Compass $18-24,000, Mini Clubman $20-31,000, Mini Cooper $19-29,000, Saturn Astra $ n/a, Nissan Sentra $16-20,000, Volkswagen Rabbit $16-18,000, Volkswagen GTI $23,000, Volkswagen Jetta $17-23,000, Mitsubishi Lancer $14-26,000, Suzuki SX4 Sport $13-17,000, Suzuki SX4 Crossover $15-18,000, Mazda 3 $14-21,000, Mazda Speed 3 $23-24,000 and Kia Spectra $13-16,000
Good News:
Good performance, fun to drive, great features.
Bad News:
Plain ordinary styling.
Standard Equipment:
2.0 liter 260 horsepower inline 4-cylinder Turbo powered engine, 5-speed manual transmission, speed sensitive electric power steering, 4-wheel ABS disc brakes with Brembo 4-piston front calipers, dual air bags with curtain side bags, theft deterrent, LATCH system, stability and traction control, OnStar with 1 year provided, tire pressure monitor, 18" aluminum wheels, power mirrors, rear spoiler, fog lights, intermittent wipers, air, stereo with CD player, XM Satellite radio 3 month fee included, Bluetooth for phone, sport bucket seating, split folding rear seat, tilt leather wrapped wheel with audio controls, Cruise control, power windows and locks and remote keyless entry.
Gas Stats:
$3.05/ Gal avg. October 29, '08
for more information.
22 City and 30 Highway MPG
www.safercar.gov  or   888-327-4236
Pricing:
MSRP $22,775, with options $23,445
Your comments are welcomed. My e-mail is joe@autolove.com
Copyright © 2014 – An Automotive Love Affair.