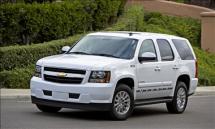 Overview:
This week we're looking at the 2009 Chevrolet Tahoe Hybrid. Hybrid – what a great idea. But is all of this too little – too late? One can't help but wonder why manufacturers didn't see what the general public seems to have felt all along. Main street people were hoodwinked to think they were wrong – after all car companies kept cranking out big cars like there was nothing to worry about. Surely they must know! Surely they are much smarter than we are! Boy, how wrong we were to allow ourselves to be manipulated by a bunch of Bozo's. High paid Bozo's, but Bozo's none the less.
Can it be the industry will melt down even further? Well – the American people are pretty resilient and I doubt they'll continue to listen to the self proclaimed experts. We're pretty trusting people generally. But when we learn we've been betrayed we take the bull by the horns and tough up to the task ahead. Historically we always have, so why would that be any different now. I suspect people will be more cynical about advertising in general as well. So from the ashes of the Phoenix a new sensitivity will emerge.
In 2000 we all anticipated a crash of sorts and everyone went out and bought "Survival Supplies". I had a friend who moved to the Pacific Northwest, built a bunker, and stocked it with several months of supplies reminiscent of the 1950's when lots of people built bomb shelters. My friend bought a full section of land with a 40 acre lake. I knew exactly where I would go if the prognosticators were correct. But would I get locked out like the depiction by Rod Serling's production of the Twilight Zone episode dealing with such craziness of the world bent on Atomic Self Destruction.
Well – as each prophetic doom and gloom disaster came and went the average citizens life went on as before. I suspect it will again.
General Info:
Parts – n/a
Assembly – Arlington, TX, USA.
Class:  – SUV
Cars: – Cobalt, Avalanche, Aveo, Aveo5,  Colorado, Corvette, Equinox, Express, Express Cargo Van, HHR, Impala, Malibu, Malibu Hybrid, Malibu Maxx, Monte Carlo, Silverado 1500, 2500, 3500 and Hybrid, Suburban, Tahoe & Hybrid, Trail Blazer and Uplander.
Observation:
Driving up the 14 freeway early in the morning I observed a caravan of Jeeps heading into the sunrise that was fighting to peek through threatening cloud formations sure to block out the sun all day. I wondered if America would be reduced to a shell of a once great nation. Would an economic melt down be our undoing or just another gloom and doom scenario pontificated by those same "Prophets" of past disasters.
I reflected on the movie Mad Max as those rugged Jeeps traveled single file up the highway anticipating some off road venue where they would prove they could survive beyond the city limits. What it meant to me was the realization that Americans posses that indomitable spirit of hearty ruggedness predominant just a generation ago. I believe we would quickly recapture the individual independence of the folks who made this country great and unsinkable. To me that Caravan symbolizes the spirit of 'self reliance' and the desire for a rebirth of a Nation that will collectively reject the failed policies of a corrupt and broken body politic.
Handling & Performance:
Then I reflected back on the fact I too was driving an off road vehicle. I thought about the Chevy Blazer that pulled me out of mud up to the running boards of the $101,000 Hummer I was testing off road.
I recalled the good old days when GM Ford and Chrysler were the only car companies. They were and are capable of making the best cars and trucks and SUVs in the world. This Tahoe Hybrid is every bit as good as the competition, I thought. It has the power needed for a vehicle of this type and purpose. It rides smoothly and for a big V8 the Hybrid technology allows 20 mpg in the city or on the highway – on and off road.  Then I got mad at the Bozo's who have run the companies over the past half century as the fat cats mismanaged our auto industry while the more hungry Japanese were number 4 behind the big three and simply tried harder.
Fuel economy in this class is better than all the competition and similar SUVs that are not Hybrid the difference is consistently 20 mpg versus 13 for the others.
Styling:
"See the USA in your Chevrolet styling".
Fit and Finish:
Excellent.
Cost:
Competitive in class.
Consumer Recommendation:
Resource – www.safercar.gov
If you, like me, want to support American products you should include them in your search for your next car. Or will Ford, once again, be the king of the car makers as they were at the beginning of the 20th century. They are the only one of the three who said they didn't need bail out money.
Recognized Competition:
Chevrolet Tahoe Hybrid $50-53,000, GMC Yukon Hybrid $51-54,000, Dodge Durango Hybrid $45,040, Chrysler Aspen Hybrid $45,270, Cadillac Escalade Hybrid $71-73,000, Toyota Highlander Hybrid $35-41,000, Mazda Tribute Hybrid $29-33,000.
Good News:
Big if you need big with decent fuel performance and better than most of the other big guys (nearly 3 ton vehicle with 332 hp engine).
Bad News:
Toyota (27 vs 21 for Tahoe) and Mazda (34 vs. 21) are far better in fuel economy numbers (consider Toyota is 209 hp and Mazda is 153 hp).
Standard Equipment:
6.0 liter 332 hp V8 engine, continuous electric ration hybrid 4-gear auto transmission, all leather seats, front heated, rear camera, Bose stereo, Nav system, front, side and side curtain air bags, OnStar with one year service with hands free calling, air conditioning, power windows, locks and mirrors, cruise control 18" aluminum wheels.
Gas Stats:
$1.59/ Gal avg. Dec. 12, '08
for more information.
20 City and 20 Highway MPG
www.safercar.gov   or    888-327-4236
Pricing:
MSRP $50,490.
Your comments are welcomed. My e-mail is joe@autolove.com
Copyright © 2014 – An Automotive Love Affair.