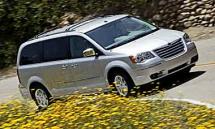 Overview:
This week we're looking at the 2009 Chrysler Town & Country Touring at about $30 K and is in the middle of the LX at about $26 K and the Limited at about $37 K
Well, ordinarily I would "See the USA in my Chevrolet", but that is just a slogan of the past and this week found this Town & Country would take a couple of friends and me from Acton, CA to do our duty to God and country. Yep, we marched on Washington after we parked this delightful companion Town & Country.
Ok, in spite of the great transportation, we did more walking than I like but we all know that's how vacations can go. We saw many of the sights in and around DC. We stayed in Virginia and drove to wonderful must see historic sights like the Luray Caverns with breathtaking Stalactites (grow down) and Stalagmites (build from the bottom up), Monticello (home of Thomas Jefferson), Mount Vernon (home of George Washington), Arlington National Cemetery, the Lincoln Memorial, the Veterans Memorials for Vietnam and Korea; We visited museums and of course the Capitol. We had called our representative in Washington DC – a guy you may know – Buck McKeon, and he was kind enough to take a few minutes out of his busy day to see us. His office is at the Rayburn Building, across from the Capitol, and he gave us a copy of the Constitution and passes to get into the House of Representatives Gallery to watch our US Congress in action. I concluded "It's a dirty job but someone has to do it" – don't you agree?
Ultimately I hope many of you will take up the challenge and run for office like Buck did over 16 years ago. Thanks to him for his efforts shoveling "Sand" against the tide and thanks to the 1.7 million people in DC with us to protest the direction this country has been going for the past 50 years. That direction would be downhill. God help us. If you were there, email me.
That was all great but the unsung hero was this wonderful van that took us everywhere in comfort and style and not one complaint, unlike my other companions.
General Info:
Parts –  US/Canadian 71%, Engine & Trans made in US
Assembly – Windsor, Ontario, Canada.
Class:  – Special Purpose Minivan
Cars: – Caliber, Challenger, Charger, Dakota, Durango, Durango Hybrid, Grand Caravan, Journey, Magnum, Nitro, Ram 15-25-3500, Sprinter, Sprinter Wagon & Viper.
Opinion:
Fuel cost: Well when we got off the plane from LAX to Wash/Dulles in DC we didn't check out the prices of gas until we got close to needing it. When we filled up in Virginia the price of gas in LA was $3 Bucks a gallon and now we were paying $2.36.
Can someone tell me why? Last time I checked the refineries are right down the way in LA.
Handling & Performance:
A great ride is what you get from this Chrysler product. I was amazed how much power they get out of 197 horsepower without a turbocharger. I also like the handling of these vans because the lower center of gravity gives a more confident feel on the road at freeway speeds.
Styling:
You can't help but appreciate a Mini-Van when you're traveling. . . Flashback – Kids, soccer, football, baseball, the beach, skiing in between hot buttered rums around the fire in Mammoth and Park City Utah, etc., etc., etc.
And you can't help but appreciate all the neat nooks, crannies, power outlets, entertainment systems and so much more that is available to make this mini van basic or a small scale motor home. And you gotta love what they've done with this van over the years in beauty and functionality. Great job Chrysler. And finally thanks to Lee Iacocca for saving this Icon of the American Auto industry. Why doesn't a current day lion like Lee come forward to save GM?
Fit and Finish:
Very good.
Cost:
Competition is all good but Kia is the toughest because it is still the new kid on the block in pricing and can't be ignored.
Conveniences and comfort:
Town & Country never fails to pamper you with options like an entertainment system to keep passengers from being bored. The power side doors and the rear hatch is activated from the key fob as well and if you've never driven vehicles with these conveniences you must consider these options if it's in the budget. The only thing I would add is a cooler console for those long hot summers and the Stow 'n Go seating is really a neat option.
All the ups and extras are nice but the basic configuration has to be considered because it can save $9,000. However if you are a family on the go at that children part of your life the Swivel 'n Go seating is great for $495. For safety I was impressed with the "Blind Spot" detection system worth the cost of about a grand which includes parking sensors and power mirrors. If you need all the electronics like the entertainment system etc., it can push the cost up by about $5,000. There is a lot to choose from.
Recognized Competition:
Chrysler Town & Country $26-37,000, Hyundai Entourage n/a, Toyota Sienna $25-38,000, Dodge Grand Caravan $24-29,000, Volkswagen Routan $25-39,000, Nissan Quest $26-36,000, Kia Sedona $21-28,000, (2010) Honda Odyssey $27-41,000.
Good News:
Highly versatile vehicle, great for families, super useful options – I wish they had vans like this when my kids were small because the next best thing was called a "Station Wagon", acceptable fuel economy for this class vehicle.
Bad News:
Only fair fuel economy, all are a little pricey.
Standard Equipment:
3.8 liter 197 hp V6 engine (the limited version has a 4.0 liter 251 hp V6), 6-speed automatic transmission, front air bags and side curtain all rows, latch child seat anchor system, electronic stability program, power adjustable pedals, auto headlights, dual side sliding power doors, tire pressure monitor system, power liftgate, remote keyless entry and engine immobilizer, cruise control, rear intermittent wiper washer and anti lock brakes.
Gas Stats:
2.36/ Gal avg. September 15, '09
for more information.
16 City and 23 Highway MPG
Pricing:
MSRP $29,395.
Your comments are welcomed. My e-mail is joe@autolove.com
Copyright © 2014 – An Automotive Love Affair.