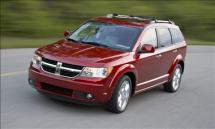 Overview:
This week we're looking at the 2009 Dodge Journey R/T SUV. August pretty much marks the time when new model years hit the fleet and shortly after, the show rooms. As far back as I can remember that was always a big deal and exciting to go look at what was new… kinda like Springtime in the Fall. Re-birth and fresh and interesting new stuff to be amazed about.
But that was more then, when there was no Disneyland or Six Flags and in fact no freeways to get to those places or the adventurous trip to the beach. A Sunday drive in the family car was a thing to do. Not so today I fear since we're jaded by all the truly amazing accomplishments the world has made beyond my childhood imagination. Today we're in limbo or a holding pattern in the auto industry awaiting the launch of cars that are truly innovative and exciting. In fact we're still waiting for the cars of the future that were unveiled at the LA Auto Show in the 1950s when I was a little guy.
Several years back I tested a car powered by Hydrogen. I've tested all electric car technology but not an air powered vehicle yet, but everything new has awakened visions of those early Auto Shows that really tickled the imagination. I surely didn't think we'd have to wait this long.
On the other hand, Boston University's Andrew Bacevich says in his book "The limits of Power"- an end of American Exceptionalism", that we need to change our attitude of expectation. I interpret that to mean that he's saying we need to acknowledge that our demand for material consumerism is part of our problem and that which is bankrupting our country. Our balance of trade is way out of whack and so it is important to consider supporting products made in the US no matter what they are. We've been warned over the past few decades and now it has come home to roost that we're suffering because our demand for cheaper material goods is pushing their production to China among other exotic places. It is predicted that in a decade or so China will be manufacturing more cars than USA production. Wow.
Green is the buzz word now and Al Gore is an icon of the concept of melting ice. I have news for Al who's made a quick fortune of $100 million since he left office when his net worth was $3.5 million. Brokering fear has indeed been profitable especially since too many experts disagree with his contention this warming trend is anything but normal cyclical changes of earth's history. Al baby can't save us no matter how much we buy into his game. But it does give him lots of money to pay for his private plane, big mansion and fleet of fuel inefficient cars, trucks, boats and all the trappings of wealth and power.
Staying informed about what the REAL people are doing is a good idea. One current topical source is the Green Car Journal. If you are not already subscribing to this periodical go to www.gcjusa.com and for $20 a year you can stay tuned to new technology. One of the interesting companies can be reached at UQM.com. Good stuff.
General Info:
Parts –  US/Canadian 35%. Mexico 54%, Engine and Transmission USA.
Assembly – Toluca, Mexico
Class:  – SUV
Cars: – Avenger, Caliber, Charger, Challenger, Dakota, Durango, Grand Caravan, Journey, Magnum, Nitro, Ram 15, 25 & 3500, Sprinter Van and Wagon & Viper.
Observation:
Green Car Journal Summer 2008 outlined 5 ways to cut your gas bill. Briefly the are: 1. less driving. 2. Slow down… significant savings is achieved by keeping speed around 60 mph rather than the current average speed of 80 mph in California, for example. 3. Avoid Jack Rabbit starts. 4. Use Regular instead of Premium grades. It is very unlikely you'll notice major differences in performance, and I hate to mention this one but here goes: 5. Check your tire pressure and be sure they are properly inflated. The news is talking about this a lot and giggling about it but it's no big deal. Under inflated tires wear faster and you'll see the results in uneven wear as the outside of the tire will wear faster. If you over inflate those tires the abnormal wear will be in the center. It is most likely your tires are already properly inflated according to manufacturer's specifications.
Handling & Performance:
Comfortable as expected from a car in this class, but not as lush as its big brother – Durango. Even so this smaller version still has lots of power when needed from a 235 hp V6 engine. It will do better on fuel as well.
Styling:
You'll notice it looks a great deal like a minivan rather than an SUV, and if you put sliding doors on the sides the transformation would be complete. Smaller is getting better every day and accepted more as time passes and oil prices continue to make more efficient cars acceptable no matter how unattractive they become.
Fit and Finish:
Very good.
Cost:
Closely priced competition and with an average of $25,000 there is a lot of value in today's world. One has to wonder how much of the good pricing can be attributable to its assembly in Mexico, and how much cheaper it will be when made in China.
Conveniences and comfort:
You'll notice some innovative stuff like under-seat storage and built in adjustment that provides raised child seating areas. Third row seating easily folds down for expansion of cargo area.
Consumer Recommendation:
A number of competitors in class is a good thing but that means your work is cut out for you in making a buying decision. I've tested them all and I don't have any real favorites and it's interesting that all have city mpg of 15-17, unless you're interested in the Hybrid listed that gets double that fuel economy.
Recognized Competition:
Dodge Journey $20-29,000, Chevrolet Trail Blazer $ n/a, Cheverlot Traverse $28-41,000, Saturn Vue $22-30,000, Saturn Outlook $29-35,000, GMC Acadia $31-40,000, Subaru Tribeca $30-34,000, Toyota Highlander $28-34,000, Hyundai Santa Fe $21-30,000, Mitsubishi Eneavor $28-31,000, Honda Pilot $28-40,000, Mercury Mariner Hybrid $29-31,000, Mercury Mariner $22-27,000, Mercury Mountaineer $ n/a, Suzuki XL7 $21-29,000, Ford Edge $26-33,000, Jeep Grand Cherokee $29-43,000, Hummer H3 $32-42,000, Mazda CX-7 $24-28,000, Nissan Murano $27-36,000, VW Touareg 2 $39-68,000.
Good News:
Great size with good seating, small enough to be more economical, comfy and competitive enough to buy American.
Bad News:
I'm waiting "Impatiently" for the real technological breakthroughs promised over half a century ago.
Standard Equipment:
3.5 liter 235 hp V6 engine, 6-speed automatic transmission, multi stage front air bags, supplemental side curtain and front seat air bags, LATCH system, brake assist 4-wheel ABS disc brakes, Elect. Stability program, traction control, remote start system, performance steering and suspension, cruise control, keyless entry, theft deterrent system, security alarm, tire pressure monitor system, heated front seats with 6-way power driver seat, 2nd row 60/40 split fold flat seats w/ in floor storage bins, power windows, stereo w/ 6-in dash DVD / MP3 player, SIRIUS  satellite radio, climate control air conditioning, flip – n – stow front passenger storage, tilt and telescoping leather wrapped steering wheel with audio controls, leather wrapped shift knob, trip computer with temp and compass displays, dual glove boxes with upper chill zone.
Options:
Many options are available such as Sunroof, 19" chrome wheels, multimedia Entertainment center with video, 3rd row 50/50 seats and trailer tow group. This and more can run the price up by over $6,500.
Gas Stats:
$3.95/ Gal avg. August 25, '08
for more information.
16 City and 23 Highway MPG
Pricing:
MSRP $25,920 – With options $32,265.
Your comments are welcomed. My e-mail is joe@autolove.com
Copyright © 2014 – An Automotive Love Affair.