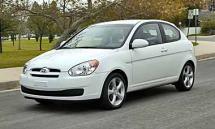 Overview:
This week we're looking at the 2009 Hyundai Accent GS 3 Door coupe. And you must have noticed how this "South" Korean made car is one of many models so much so it's beginning to look like a GM line up. That's not necessarily good news, and particularly for the Japanese who have a healthy respect for what Korea has to offer. The two countries have historically been at odds philosophically and now Korea is an economic competitive threat in the car market.
Pea popper would be a good start to describe this tiny commuter. Ok, so not as small as the Smart for about the same money. Mercedes Benz has put much more money into the unique development of the mechanical component of the Smart. At the far end of the basic spectrum are cars like this Accent GS which is the base model compact but does have a decent rear seat for a compact. The SE is the top for Accent and even has Air, power windows and a radio standard… but the price jumps up to $15,000.
For many on a tight budget this is an ideal solution to saving on cost to buy and cost to operate. Of course it is the base model but so is the pricing at $10,000. It reminds me of the GM run at economy with the Geo line that I tested in South Texas when it first came out.
General Info:
Parts –  US/Canadian 1%; Korea 99%.
Assembly – Ulsan, Korea
Class:  – Compact
Cars: – Accent, Azera, Elantra,Entourage, Genesis, Santa Fe, Sonata, Tiburon, Tucson and Veracruz.
Opinion:
Staggered work hours as a solution to traffic congestion. Consider employers who start employees at intervals of every half hour, say 6:30AM, 7, 7:30, 8, 8:30 which puts 25% of the work force on the road in rotation to reduce the number of cars on the highway at one time. Considerate it for your company.
Handling & Performance:
Amazing. When you don't expect much little cars like this Accent will impress you. The mountain curves and climb over the Crest to La Canada was no problem for this car. It took no back seat to any car I have encountered or tested on the Crest at twice the money. And it did it at 30 plus miles per gallon of gas. Let's keep all this in perspective.
Styling:
Basic, but not homely or frumpy.
Fit and Finish:
Basic but good for the money.
Cost:
Very good and a perfect commuter.
Conveniences and comfort:
Well, basic doesn't cover it. My Ford model A had as much … no, just kidding, but the thought did occur to me. But you know what, one has to wonder if all that stuff in our cars is all that necessary. What with iPods, cell phones with nav systems built in duplicating all of this stuff in our commuter cars may become obsolete – like the home phone. Me I use mine just for faxing and that too may go away with faxes going to my PC. I found myself enjoying the silence and the absence of Noise Pollution became golden and appreciated.
The one thing I missed the most was the absence of "Cruise Control".
Consumer Recommendation:
I just got out of the Toyota Yaris and must say that would have to be one to look closely at along with this Korean offering. In any case, frugal and inexpensive will find growing popularity as "things" become less important and people in our lives once again find favor with us all.
Recognized Competition:
Hyundai Accent $11-15,000, Pontiac G3 $14,000, Toyota Yaris $12-16,000, Suzuki Reno $14,000, Ford Focus $16-18,000, Dodge Caliber $16-25,000, Scion xD $15,000, VW Rabbit $16-19,000, Suzuki SX4 Crossover $16-19,000, Kia Rio $11-14,000, Nissan Versa $10-16,000, Honda Fit $15-19,000, Honda Civic $15-25,000, Smart fortwo $12-17,000, Chevrolet Aveo5 $12-15,000, Mazda 3 $15-22,000.
Good News:
Economical class that makes great commuters with best numbers for fuel economy.
Bad News:
Light weight, basic no frills.
Standard Equipment:
1.6 liter 110 hp 4-cylinder engine, 5-speed manual transmission, power steering, rear spoiler, Radio prep with 4 speakers, child LATCH, tire pressure monitoring system, intermittent wiper, front – side and side curtain airbags, split folding rear seat, remote fuel filler door release.
Gas Stats:
$2.29/ Gal avg. April 18, '09
for more information.
27 City and 33 Highway MPG
Pricing:
MSRP $9,970.
Your comments are welcomed. My e-mail is joe@autolove.com
Copyright © 2014 – An Automotive Love Affair.