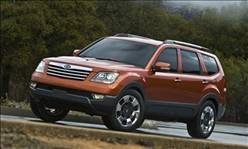 Overview: 
This week we're looking at the 2009 Kia Borego that is brand new right off the boat. It is made in South Korea and 86% of the parts are from there and 4% are from US/Canada.
You can't help but be impressed with such a new car company in such a relatively new free economic society. I wonder what they are making in NORTH Korea beside poverty. Chop sticks perhaps because they have all those trees. Have you ever seen pictures of the stark difference of the country from Google Earth? North is all trees and south is a bustling mass of development. Ok, so I must admit the quality of life may be better north of the border, but it's not "south of the border down Mexico way" kind of development in South Korea.
Observation:
Remember not so long ago anything made in Japan was Junk? Then China and now Korea and India. Well, the globe is shrinking and Nationalism is giving way to Global-ism. Some Japanese car companies are "Outsourcing" to Korea and elsewhere. Soon the next cheap labor markets promise to be Mexico and likely Africa. Eventually we'll see a truly Global Economy emerge from all the outsourcing.
The more affluent countries become the less their labor markets are able to compete. They move to higher tech industries, develop a higher level of labor force and change the product and service mix of the country… just like America went through and is still going through.
Handling & Performance:
Good power and the ride is consistent with most of the competition in class and particularly in price range.
Styling:
Common place styling for the class. The Koreans have learned well from the west on how to appeal to America's automotive senses. If you don't look at the badge you could be driving a Ford, Mercury, Chevy or you name it.
Fit and Finish:
Average.
Cost:
If you can't tell the difference in appearance and the price is the same I'm wondering why folks would risk unknown company products. This will be a tough sell for Kia to overcome for that reason. All things being equal I believe the consumer in the US will lean to those more Tried and True for the money. I'd say it would ordinarily take a 20-25% price differential to make most buyers take that leap of faith into a new product. However the list of standard equipment on this Kia Borego is impressive and all good stuff. That signals a lesser discount – say 10-15% would be in order. They're the new kid on the block and will have to earn the price point they are suggesting.
Conveniences and comfort:
The conveniences are there – and very competitive with the best listed.
Consumer Recommendation:
No question I would suggest you test drive the Borego and see for yourself. Outwardly you will be impressed. If you can strike a great deal in price reductions and have long extended warranties thrown in along with added options I suspect it would be worth the gamble. Time will tell if the Korean products hold up. I'd be interested in your experience over time if you have one or know someone who does. Simply put Kia is relatively new.
Conversely the US auto industry is over 100 years old and you know what you're getting from them and most thoughtful buyers will err on the side of caution. The devil you know is better than the devil you don't know. Know what I mean!
Also keep in mind the soft market condition right now for autos and don't be shy about asking for a deep discount.
Recognized Competition:
 Kia Borego $26-33,000, Buick Enclave $35-39,000, GMC Acadia $32-40,000, Cadillac SRX $40-47,000, Subaru Tribeca $30-34,000, Saturn Outlook $30-36,000, Mercury Mountaineer $29-35,000, Toyota Highlander $26-35,000, Hyundai Vericruz $ n/a, Chevrolet TrailBlazer $29-39,000, Chevrolet Traverse $28-41,000, Mazda CX-9 $30-35,000, Toyota 4Runner $29-39,000, Suzuki XL7 $26-30,000, Toyota Venza $26-29,000, Honda Pilot $28-40,000, Ford Taurus X $28-34,000, Lincoln MKX $38-40,000, Dodge Durango $28-40,000, Chrysler Aspen $35-37,000, Jeep Grand Cherokee $30-45,000, Ford Explorer $28-39,000.
Good News:
Overall it is similar to all SUVs on the market and I suspect they will be dealing.
Bad News:
Pricey for a little known product, up against tough competition, not different enough in performance & fuel economy for buyers to take a leap of faith.
Standard Equipment:
3.8 liter 276 hp V6 engine, 5-speed auto trans, 4-wheel drive, 4-wheel ABS power disc brakes, front and side and side curtain airbags with rollover sensor, electronic stability control, traction control, tire pressure monitoring system, hill assist and downhill brake control, back up warning system, LATCH child system, dual zone climate control, power windows locks and mirrors, audio with CD, MP3 and 6 speakers, SIRIUS satellite radio with 3 mos incl., 8-way power driver seat, 4-way power passenger seat, 60/40 split folding 2nd row seats, 50/50 split folding 3rd row seats, remote keyless entry with alarm, leather steering with w/ audio and cruise controls, 3 12 volt outlets, trip computer, auto light control, under floor storage, privacy glass, roof rails, fog lights and windshield de-icer.
Note options can add up quickly. My test vehicle added a sun roof, Infinity audio upgrade rear AC, running boards, alloy wheels, navigation, heated leather seats and other power steering column and memory for a jump of $5,550.
Gas Stats:
$1.99/ Gal avg. Jan 15, '09
for more information.
16 City and 21 Highway MPG
Pricing:
MSRP $29,995; with options $35,500
Your comments are welcomed. My e-mail is joe@autolove.com
Copyright © 2009 – An Automotive Love Affair
Your comments are welcomed. My e-mail is joe@autolove.com
Copyright © 2014 – An Automotive Love Affair.