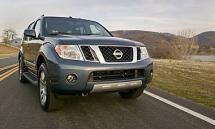 Overview:
This week we're looking at the 2009 Nissan Pathfinder SE 4X4 SUV. Obviously these large vehicles are not dead yet in spite of the fact that gas promises to go back up to the world price. Temporarily it is below $2.00 at this writing, but the conditions would point simply to a lull before the storm and we'll see $5.00 fuel prices again.
I suspect Uncle Sam has loosed a bunch of reserve US oil to depress the world market and since we're the largest consumer of fossil fuels at this point OPEC has to sell for less or they'll be stuck with a lot of black gooey stuff and less money for bombs. But that won't last long and with the rising demand by China and India that will drive prices back up. The solution – drill baby drill – right here at home. With arguably 200 years of oil in the US and new technologies just around the corner it makes sense to use what we have, keep the price here at home low and step up development of all those other energy methods.
Another consideration is the lousy job our congress has done in fiscal and monetary policy. Apparently our representatives in congress didn't know what the average citizen knew. Why didn't they know the real estate market bubble would not grow indefinitely, and why did they demand banks to give sub-prime, no interest or low teaser interest loans when the banks didn't want to. B of A didn't because they couldn't be convinced they should do the wrong thing just because congress said they should. They and other responsible banks are still in business and congress showed us how stupid they all are.
This explains why "We the People" give congress a far lower approval rating than even an unpopular president. I think they know it is congress that makes the laws and spends our money.
The car companies here at home continue to open their mouths and allow their brains to fall out just like the corrupt congress. Will we see collusion between these fat cats? From what I'm hearing, taxpayers are revolting and don't want to bail out any of the bums miss-managing their companies. And something the mainstream media won't tell you is that over 54% of "foreign" cars are made right here in the US by American workers. And, if one or more of the big 3 goes under more cars will be sold by these American based foreign car makers using US workers. So what's the big deal? The big 3 US car makers cost of labor is $78 per hour (thanks to strong Unions and weak management) and other car makers have kept cost of labor south of $45 per hour. Well, daaaa – is it so hard to understand why the big three can't compete? No! Of course not – The common man in the street does but apparently it is beyond the agenda of that gang of thieves in Washington.
General Info:
Parts – n/a
Assembly – Smyrna, Tennessee, USA
Class:  – SUV
Cars: – 350Z, Altima, Altima Hybrid, Armada, Frontier, GT-R, Maxima, Murano, Pathfinder, Quest, Rogue, Sentra, Titan, Versa and Xterra.
Observation:
You can always spot good drivers. They are considerate, not self appointed cops, they pay attention to what they're doing, they use hands free cell phones, they don't text while driving, they are sensitive to what's happening on the road around them and they don't tailgate.
A very important few specific things to remember while driving are: Maintain a constant speed that approximates the average speed of the flow of traffic. Leave a reasonable amount of space between you and the car in front. And third, if you are not passing traffic in the lane to your right that's the lane you should be driving in. There will always be other drivers who will drive faster than you and that is a good thing – they're the ones who will get the tickets. And you will arrive 5 minutes later than them if they don't get stopped.
Handling & Performance:
Very good ride. Smooth and powerful.
Styling:
Functional but not as pretty as some of the competition.
Fit and Finish:
Very good.
Cost:
This is a pricey class and Pathfinder is comparably priced.
Features and Conveniences:
High end features for comfortable and safe SUV operation.
Consumer Recommendation:
Resource – www.safercar.gov
Although the Honda CRV is not in this class I'd look back at the new CR-V. Very impressive comparison even in this class. Secondly if your budget doesn't allow these prices, you will want to consider moving up in class by buying a year or two older model. Either way whatever your budget there isn't a better time to buy. Prices are depressed and "Soft" whether new or used.
Recognized Competition:
Nissan Pathfinder $27-40,000, Volkswagen Touareg 2 $39-68,000, Mitsubishi Endeavor $28-31,000, Land Rover LR3 $49-54,000, GMC Acadia $32-40,000, Jeep Grand Cherokee $30-45,000, Subaru Tribeca $30-34,000, Acura MDX $41-49,000, Toyota 4Runner $29-39,000, Ford Explorer $27-38,000, Chevrolet Traverse $28-41,000, Hyundai Veracruz $ n/a, Volvo XC90 $37-51,000, Saturn Outlook $30-36,000, Dodge Durango $28-40,000, Chrysler Aspen $35-37,000, Honda Pilot $28-40,000, Suzuki XL7  $ n/a.
Good News:
Powerful 4-WD SUV.
Bad News:
POOR fuel economy, Pricey.
Standard Equipment:
4.0 liter V6 266 hp engine, 5-speed automatic transmission, front & rear independent suspension and stabilizer bars, 6,000 lb towing, 4-wheel ABS with electronic brake force distribution and active limited slip, switch operated shift on the fly 4-wheel drive system, 17" alloy wheels, fog lights, front tow hook, side running boards, tilt steering column with leather wrapped steering wheel audio and cruise controls, audio with 6-disc CD w/ MP3 CD and 6-speakers, 7" multi information color display, remote keyless entry, power windows and locks, power adjustable pedals, lighted vanity mirrors, 40/20/40 split fold flat reclining 2nd row seats, 50/50 fold flat 3rd row seat, climate control, speed sensitive wipers, front & side airbags, rear child safety locks, LATCH child system, vehicle dynamic control, immobilizer system and tire pressure monitoring system.
Options: Journey Pkg including auto lights, machine finished allow wheels, rearview monitor and roof rails and cross bars – $1,300, Premium Pkg including BOSE upgrade audio, XM satellite radio, Bluetooth hands free phone system and intelligent key – $1,750, Leather Pkg including heated leather seats, heated power mirrors and 4-way power passenger seat – $1,850.
Gas Stats:
$1.72/ Gal avg. Dec. 5, '08
for more information.
14 City and 20 Highway MPG
www.safercar.gov   or    888-327-4236
Pricing:
MSRP $32,510 – with options $37,565.
Your comments are welcomed. My e-mail is joe@autolove.com
Copyright © 2014 – An Automotive Love Affair.