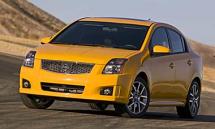 Overview:
This week we're looking at the 2009 Nissan Sentra 2.0 SL. Ok, so I take Mark to the airport and he says he likes it and I get to the office and Merkel says he hates it. Me – I like it and figure Merkel was having his usual bad hair day. And after driving it for several hundred miles it became my friend. The ride is comfortably smooth and it is easy on fuel as well. And fuel economy continues to be increasingly important in today's world because as we speak it is going up up up.
I think you know we can't get complacent and figure gas prices will magically go down.  So you would be wise to own at least one that gets over 30 mpg. My 1985 Chevrolet pick up truck gets a frightening 10-12 mpg. You gotta love the progress made in fuel economy over the years and it isn't too late to take advantage of owning a car like this Nissan Sentra that claims 33 mpg. I traveled over 400 miles on a tank of gas.
General Info:
Parts –
Assembly – Agus, Mexico
Class:  – Midsize
Cars: – Altima, Armada, cube, Frontier, GT-R, Maxima, Murano, Pathfinder, Quest, Rogue, Sentra, Titan, Versa, Xterra & Z.
Opinion:
Car companies on the verge of bankruptcy is a sad thing for all of us. The ripple effect touches everyone. But you know what – the number of cars purchased and thus manufactured won't change when all is said and done. Richard always tells me that "When all is said and done, much is said and little is done".
The important thing to note is that the cars sold here in America will for the most part be made by US auto workers because Toyota and other off shore companies either build cars here already or will do so in the future as consumers demand it. Then those auto workers displaced by one failing company will likely find a job with the surviving companies (by the way that is true in any industry).
That's Capitalism and a free market economy at work as it has from the beginning of our democratic republic in all industries. That's what America is all about – Freedom to fail and freedom to succeed. And Adam Smith's free market invisible hand calls for non-government intervention. Let's keep it that way and trust the greatest economy on earth to pull us out of the mess the "So Called" geniuses in government got us into. At the end of the day it has always been the American worker who does the real work.
Another note is that while GM and Chrysler are struggling to stay alive by spending billions of bail out money from the good old workers most of those taxpayers are employed by "Small" businesses that make up 80% of the work force. Those small companies are the ones without corporate jets and lavish expense accounts? Bailing out those companies in the 20% is curious indeed. Stacey tells me "you can't fix 'Stupid', but you can vote them out of office."
It's evident from the polls that the majority of Americans hate our congress men and women and other leaders who think they are as good as Hollywood actors. Oh, silly me, they are as good and make as much money for the same talent… they memorize their lines – that is, those who can't afford "Teleprompters".
Handling & Performance:
This is a very capable car and handled the Crest Test with ease. But I am always aware that it must do it on less gas than has been the norm over the years. When gas was $.20 a gallon it didn't matter that my 57 Chevrolet only got 7 miles per gallon. But it does matter a lot today. The price of gas is more that 10 times as much today as it was then but we don't get 70 mpg from today's cars. So fuel performance is important to us all.
Styling:
Merkel I don't agree with you that this car is ugly. I like it. The trunk is a little small but Buddy reminded me that we got 3 large golf bags in that trunk plus shoes and bottles of water to survive the long hot day at Rancho Vista Golf Course in Palmdale, CA. The truth of the matter is that this Sentra is a better car than we are golfers.
Fit and Finish:
Very good – It's assembled in Mexico as many cars are these days. . . which by the way is the best way to control the borders between the US and Mexico. Toyota also built a large plant just over the border in Tecate. (now if we can only get rid of the Unions in the US we can be competitive again as well).
Cost:
Just about right and competitive with the field.
Conveniences and comfort:
Everything you need and more that explains the step up in price from the more basic cars I have reviewed lately. I have to tell you it's pretty easy to get used to "basic". We all clamor for power seats for example and then once you set them it is unlikely you'll do that again. Climate control is nice but once you figure what settings you like you seldom change them. Power windows I like and a remote keyless entry system is good for me. I can live without a lot of the other fluff too. Navigation systems are great and I wouldn't be without one, but portable versions can save thousands of bucks and cell phone based Nav costs me $10 a month.
Consumer Recommendation:
This is a great line up of competition and well priced cars. I tested them all and if Japanese cars are your thing the Sentra is a good choice. Which ever you lean toward consider cutting out the fluff and you'll have a great commuter that will double as a cost effective family sedan.
Recognized Competition:
Nissan Sentra $17-21,000, Mitsubishi Lancer $14-26,000, Toyota Corolla $15-20,000, Suzuki SX4 Sport $13-18,000, Ford Focus $16-18,000, Dodge Caliber $16-25,000, Scion tC $17-18,000, Pontiac G5 $17-20,000, Saturn Aura $23-27,000, VW Rabbit $16-19,000, $16-19,000, Kia Spectra $14-16,000, Nissan Versa $10-16,000, Hyundai Elantra $14-17,000, Honda Civic $15-25,000, Chevrolet Cobalt $15-23,000, Mazda 3 $15-22,000.
Good News:
Comfy, capable, cost efficient.
Bad News:
Small trunk.
Standard Equipment:
2.0 liter 140 hp 4-cylinder engine, Xtronic CVT (continuously variable transmission), torsion beam rear suspension with stabilizer bar, independent front suspension with stabilizer bar, electric assisted power steering, ABS with electronic brake force distribution front disc and rear drum brakes, 16" allow wheels, power mirrors, leather seats steering wheel, air, power windows and locks with auto locking feature, 6-speaker audio with CD/MP3 and XM satellite, speed sensitive audio volume, Bluetooth phone system, child LATCH and rear door safety locks, tire pressure monitoring system, tilt column, 6-way adjustable driver seat, trip computer w/ o/s Temp etc., illuminated steering wheel controls for audio Bluetooth and cruise controls, 2 – 12 Volt power outlets, front – side and side curtain airbags, 60/40 split folding rear seat and vehicle immobilizer.
Gas Stats:
$2.29/ Gal avg. April 18, '09
for more information.
25 City and 33 Highway MPG
Pricing:
MSRP $19,660.
Your comments are welcomed. My e-mail is joe@autolove.com
Copyright © 2014 – An Automotive Love Affair.