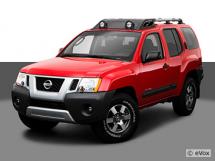 Overview:
This week we're looking at the 2009 Nissan Xterra OR-V6 4X4 SUV. I reviewed the first North American import Model year 2000 and it was Motor Trends SUV of the year. I wasn't surprised then and I continue to rank it in my top 3 SUVs that I would own for Off-Road use. Jeep is at the top and I put Hummer at #3.
General Info:
Parts – n/a
Assembly – Smyrna, Tennessee, USA
Class: – SUV
Cars: – 350Z, Altima, Altima Hybrid, Armada, Frontier, GT-R, Maxima, Murano, Pathfinder, Quest, Rogue, Sentra, Titan, Versa and Xterra.
Observation:
For people traveling from the Antelope Valley to the San Gabriel Valley you may be a part of the traffic I contend with on Angeles Crest Highway where I make the trek at least once a week to test the vehicles for my column. I have to tell you that I'm impressed with how well folks handle the 30 mile journey over the rugged mountain trail. They are, by and large the best drivers on the highway. They display cooperation and sensitivity as they keep the flow moving by pulling over to allow faster traffic to pass. There are only 2 lanes for the majority of the drive so courtesy is important.
The drive can be stressful with several hundred turns and curves to test your driving skill. In good weather the drive is an alternative to State Highway 14 that tends to jam up at peak travel hours. But you will have to overcome the fear of the possible perils of narrow places along the way with no guard rails and 1,000 foot drops only a few feet off the road.
Handling & Performance:
Xterra is a very capable off-road option to other 4X4's and is properly priced but the fuel numbers are disappointing and are virtually the same as the 2000 year model that was a 3.3 liter 170 hp V6. I guess in a sense it is an improvement in fuel economy because the 2009 model sports a more powerful 261 hp V6. Still disappointing they couldn't do better on economy. I guess they didn't see the higher fuel prices coming! (but if all the car makers didn't see oil as a diminishing quantity problem could it be all the shortage story is a deception pulled off on the consumer? Some say there is a 200 year supply in North America alone!)
Styling:
Xterra has maintained the distinctive look from the beginning of its introduction to North America in 2000.
Fit and Finish:
Very good.
Cost:
Excellent. Even though it is much improved since 2000 when introduced in North America MSRP was $26,000. How's that for maintaining the price of ownership?
Features and Conveniences:
Outstanding for the price if you are an off-road enthusiast.
Consumer Recommendation:
Resource – www.safercar.gov
If you are an off-road kind-a guy or gal, look at the competition beginning with this Xterra, the Jeep and then the Hummer. If you aren't convinced by then I'd be surprised.
Recognized Competition:
Nissan Xterra $22-29,000, Volkswagen Touareg 2 $39-68,000, Mitsubishi Outlander $20-25,000, Land Rover LR2 $34-35,000, Hummer H3 $33-43,000, Jeep Grand Cherokee $30-45,000, Jeep Wrangler $20-32,000, Subaru Tribeca $30-36,000, Mazda CX-7 $24-28,000, Toyota FJ Cruiser $23-25,000, Toyota  4Runner $29-39,000, Ford Explorer $28-39,000, Chevrolet TrailBlazer $29-39,000, Dodge Durango $28-40,000, Dodge Nitro $22-29,000.
Good News:
Great off-road vehicle and impressive standard equipment, priced well and distinctive.
Bad News:
Disappointing fuel performance,
Standard Equipment:
4.0 liter V6 261 hp engine, continuous variable valve timing, 5-speed automatic transmission, front independent dbl wishbone suspension w/coil springs, front & rear stabilizer bars, 4-wheel ABS brakes with elect brake force distribution, 4-wheel limited slip, engine speed sensitive rack and pinion power steering, hill decent control and start assist, electronic locking rear differential, 16" allow off road wheels, high performance Bilstein shocks, skid plates for oil pan, fuel tank and transfer case, rear side bumper steps, roof rack rails, folding side view power mirrors, tinted rear glass, front tow hook, splash guards, roof mounted off road lights, gear basket, fog lights, 8-way driver seat with lumbar support, 60/40 split fold flat 2nd row seats, fold flat front pass. seat, tilt steering column, leather wrapped steering wheel w/ audio and cruise controls, audio with CD player, remote keyless entry, power windows and locks, air conditioning, front & side airbags, rear child safety locks, LATCH child system, vehicle dynamic control, immobilizer system and tire pressure monitoring system.
Gas Stats:
$1.72/ Gal avg. Dec. 26, '08
for more information.
15 City and 20 Highway MPG
www.safercar.gov  or   888-327-4236
Pricing:
MSRP $29,340.
Your comments are welcomed. My e-mail is joe@autolove.com
Copyright © 2014 – An Automotive Love Affair.