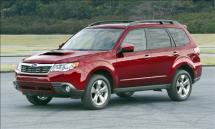 Overview:
This week we're looking at the 2009 Subaru Forester – the little brother of the upscale Tribeca. Don't get me wrong, I enjoy luxury as much as the other guy but for a $10,000 price difference the Forester is pretty tempting. And fuel economy is 25% better.
The Crest Test is a great place to evaluate the total handling characteristics of any car or truck. And this SUV passed the test with flying colors. It is pretty awesome primarily because of the signature All-Wheel-Drive feature of Subaru. And I found it to have plenty of power because of the 5-speed manual transmission. Overall – this is a nice midsize SUV.
General Info:
Parts – Japan 100%.
Assembly – Japan
Class:  – SUV
Cars: – Forester, Impreza, Legacy, Outback & Tribeca
Opinion:
You know what, for a kinder and gentler country we have less compassion with our citizens and more sense of need to tax them where ever we can. And the CHP – California Highway Patrol is the modern day tax collector. Let's face it they only add to the aggravation we must endure with the mess of congestion on our highways. It's like a double teaming of the CHP and Cal Trans to make our lives miserable.
As if stress of everyday life were not enough you get nailed for $300 fines and that is "Criminal". So who are the good guys and who are the bad guys? The difference becomes very blurred, doesn't it?
My suggestion is for "We the people" to push for permanently mounted radar speed indicators everywhere you find a black and white today. Flash the speed we're traveling up on a screen and guess what, people slow down. Generally we speed because we have memory lapses or are simply distracted by the rigors of the day and our foot gets heavy. A gentle reminder is all we need to "do the right thing".
Secondly we should make it mandatory that all cars be equipped with Cruise / Speed control. It reduces stress when you set the speed at what the flow of traffic is and you'll get to your destination more relaxed and in the same amount of time. Try it, you'll like it.
And as for the tax revenue lost we'll make it up by not needing all those CHP guys and gals and that's a lot more money than permanent "Robo-Cops".
Handling & Performance:
AWD is great for handling and in this Forester the fuel performance is improved by 25%. Fuel cost is sure to go back up in the near future so this SUV option from Subaru is a very compelling argument to drive a more basic, yet attractive SUV. The more basic means you'll have to put up with much more road, engine and drive line noises.
Styling:
Subaru is distinct in appearance but it is the AWD that really defines the car.
Fit and Finish:
Much improved over the years across the brand and the Forester is quite good for the money – especially when you consider AWD is standard on all their products.
Cost:
Not as pricey as its sibling Tribeca by a big chunk of dough. If more basic is ok with you it is at the top of the list in class for me.
Conveniences and comfort:
Competitive complement of creature comforts. Good size transformer cargo area and just the right size for most uses. Son Mike with 4 kids would be a stretch to go to the beach or mountains or out to see dad in the desert. The roof rails for extra gear is fine for a longer trip, but for the short ones it is inconvenient.
Consumer Recommendation:
If a luxury ride is not important you can save a bundle in this class and Subaru is a serious player. But there is no question this is a very capable field of SUVs. Like a menu with too much good stuff to eat or come to think about it the Sports Illustrated Swim Suit edition where it's tough to decide which is best.
Here's the kicker – New cars are not selling so used car prices are through the roof right now. For the 90% of you who ARE employed, this is a great time to buy a new car, because new car dealers are "Deal'n".
Recognized Competition:
Subaru Forester $20-28,000, Pontiac Torrent $25-31,000, Jeep Patriot $18-24,000, Jeep Liberty $23-28,000, Mitsubishi Outlander $20-26,000, Chevrolet Equinox $24-31,000, Hyundai Tucson $18-26,000, Kia Rondo $17-22,000, Kia Sportage $17-23,000, Nissan Rogue $20-23,000, Acura RDX $34-37,000, Honda CR-V $21-29,000, Honda Element $20-26,000, Ford Escape $20-28,000, Ford Escape Hybrid $30-34,000, Mercury Mariner $23-28,000,  Suzuki Grand Vitara $18-26,000, Saturn Vue $23-31,000, Mazda CX-7 $24-28,000, Mazda Tribute $20-28,000, Toyota RAV4 $22-28,000, Volkswagen Tiguan $23-31,000.
Good News:
Sweet mountain driving experience, nice styling, very competitive pricing in class, All- wheel drive advantage and decent fuel economy to boot.
Bad News:
Road and engine noise is more noticeable than it needs to be – after all how much more does good insulation cost. Stuff the damn thing with rags… something.
Standard Equipment:
2.5 liter horizontally opposed 4-cylinder 170 hp engine, security system with engine immobilizer, 5-speed manual trans, symmetrical All-wheel drive, 4-wheel independent suspension, 4-wheel power ABS disc brakes with electronic brake force distribution, dual front & side seat and side curtain air bags with roll over sensor, daytime running lights, tire pressure monitoring system, vehicle dynamic control, air conditioning with filtration system, AM/ FM with single CD changer, cruise control, variable intermittent wipers with rear wiper washer and de-icer, power windows & locks, dual power mirrors, rear 60/40 split fold down seat and 12 V outlets in Dash, console and Cargo area.
Gas Stats:
$2.23/ Gal avg. Feb 28, '09
for more information.
20 City and 25 Highway MPG
Pricing:
MSRP $22,695.
Your comments are welcomed. My e-mail is joe@autolove.com
Copyright © 2014 – An Automotive Love Affair.