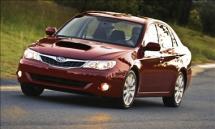 Overview:
This week we're looking at the 2009 Subaru Impreza 2.5i Premium 4-door sedan. Significantly less money than the very popular WRX it shares nearly everything. The WRX Premium we looked at recently is a serious performance car with tuned suspension and turbo charged power of 265 horsepower. It comes only with a 5 speed manual transmission while the other WRX models have a 4-speed auto trans with the 265 hp power plant.
This Impreza 2.5i Premium has a 170 hp engine and while a 5-speed manual is standard a 4-speed automatic is optional. And of course this model gets better fuel economy at 20 / 27 mpg vs 18 / 25 mpg numbers for the WRX turbo. Another important difference is the purchase cost of a whopping $10,000 more for the WRX Premium.
General Info:
Parts –  Japan 100%
Assembly – Ota Gunma, Japan.
Class:  – Compact
Cars: – Forester, Impreza, Impreza WRX, Legacy, Outback and Tribeca.
Handling & Performance:
Excellent. An enjoyable ride.
Styling:
Common place in today's world.
Fit and Finish:
Good
Cost:
Very competitive when you factor in the All Wheel Drive standard on all Subaru's. But it will cost you in reduced fuel economy relative to other non-AWD vehicles.
Conveniences and comfort:
Usual to competition and in class.
Consumer Recommendation:
There are a lot of great cars listed here and I suspect your general leanings will be as important to you being satisfied. My top 5 picks are VW Jetta, Pontiac Vibe, Toyota Matrix, Honda Civic and Nissan Sentra similarly priced but I wouldn't leave the Kia line out of the mix for even greater price advantage. Be aware that most of the close competition get much better fuel economy. That will surely be important down the highway of time.
Recognized Competition:
Subaru Impreza $17-35,000, Audi A3 $27-37,000, BMW 1-series $29,40,000, Chevrolet Cobalt $ n/a, Honda Civic $15-25,000, Mitsubishi Lancer $15-27,000, Volkswagen Jetta $18-23,000, Volkswagen GTI $23-24,000, Volkswagen New Beetle $18-27,000Pontiac G5 $17-20,000, Dodge Caliber $16-25,000, MINI Clubman $20-31,000, MINI Cooper $19-34,000, Suzuki SX4 Sport $13-18,000, Suzuki SX4 Crossover $19-19,000, Kia Spectra $14-16,000, Nissan Sentra $15-21,000, Hyundai Elantra $14-17,000, 2010 Models – Pontiac Vibe $16-21,000, Mazda3 $15-22,000, Toyota Corolla $15-20,000, Toyota Matrix $17-22,000, Kia Forte $14-17,000, Scion tC $17-18,000, Acura TSX $29-38,000, Ford Focus $16-18,000, Chevrolet HHR $19-26,000.
Good News:
Lots of competitors to chose from, all wheel drive safety and at the top of the list in value for price.
Bad News:
Common place styling, only expected fuel economy.
Standard Equipment:
2.5 liter 170 hp horizontally opposed engine, 4- wheel fully independent all wheel drive, 5-speed manual transmission, dynamic control, front- side – and side curtain air bags, 4-wheel ABS brakes with brake force distribution, tire pressure monitoring, security system with engine immobilizer, safety pedal system, Audio with CD player, Satellite radio 'capable', air conditioning, cruise control, tilt steering column, power windows & locks and mirrors, 60/40 Split fold down rear seat, remote keyless entry. Option for the 2.5i Premium package: add power moonroof, alloy wheels, fog lights, stereo with 6-CD changer, 10 speakers, leather steering wheel with audio controls.
Gas Stats:
$2.85/ Gal avg. August 22, '09
for more information.
20 City and 27 Highway MPG
Pricing:
MSRP $17,995 and with 2.5i options $19,495.
Your comments are welcomed. My e-mail is joe@autolove.com
Copyright © 2014 – An Automotive Love Affair.