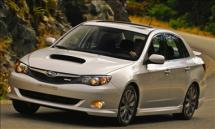 Overview:
This week we're looking at the 2009 Subaru Impreza WRX with a moon roof. The moon roof isn't important except it strikes me as a bit old fashioned – moon roofs were the in thing that everyone had to have and now seem to be passé – like Angora dice hanging from the rear view mirror or Naugahyde Vinyl tarps. Remember when you'd see them on pick up truck beds or over the rear seat that were often embellished with "Tuck and Roll". Fads are funny things eh? Well, today if they threw it in I would consider it. Otherwise it isn't worth the added cost for me. I can't remember opening one for a long time. Of course I haven't been a passenger for a long time. Perhaps moon roofs are more for the others in the car and in any case the driver seldom needs to look in that direction while driving. Not a good idea… and I don't smoke any longer so … well you know what I mean.
General Info:
Parts –  Japan 100%
Assembly – Ota Gunma, Japan.
Class:  – Compact
Cars: – Forester, Impreza, Impreza WRX, Legacy, Outback and Tribeca.
Opinion:
This last week I had to be out of town and no press vehicles were available so I did a rent-a-car thingeeee. Well I have a suggestion for the Quality Control folks at auto manufacturers. Go to see your car after it has been out on rental for a while. If it ain't broke don't fix it but if it is broke change the design to stand up to the abuse. I'm not suggesting that drivers of these rental cars break things on purpose but when they go to use a feature and the knob falls off in their hand it is a better test than a robot doing the same thing thousands of times. People must do it differently.
My case in point is the Pontiac G6 I rented had broken A/C vents. The plastic just couldn't stand up to the use.
Handling & Performance:
Personally I would like to see more insulation for the exhaust noise from the cabin. Performance is always better with less back pressure on the engine but insulation would solve the problem of having to hear it from inside the car. Now the "Boom Box" crowd would like it – but for my money it resembles the same annoying noise as having to listen to other people's music at a bazillion decibels.
Gearing could also be better. Transmission really could use a 6th gear.
It is a smooth cruiser, however, and not what I expected from this "kids car" more apparent when compared to prior year models. But it isn't only for kids any longer with the new larger redesign which includes easier entry and exit. I like it much better than earlier versions.
And of course the turbo charger makes this a rocket and combined with the all wheel drive and low center of gravity it is a hoot to hit the curves of the Crest or other less traveled road courses.
Styling:
Approaching a sedan look and feel but with all the performance characteristics we all like.
Fit and Finish:
Very good.
Cost:
Ok in class and quite good when you consider performance and quality.
Conveniences and comfort:
Well you know by now I am a big supported of Nav systems but I don't like this one. If I can't set it for my next destination doing 100 mph it isn't intuitive enough. No – I don't text while driving but then I don't do it in a theatre or restaurant either. People who think they can multi-task like that are kidding themselves. So I was exaggerating by requiring the Nav system to be set up while doing 100 mph… 50 or even less would be ok, but I don't like stopping to set a revised destination. I promise I'll have the passenger input the information.
Consumer Recommendation:
If you enjoy the sporty driving experience this all wheel drive (as are all Subaru's) is the real deal if you don't mind looking like an old "teeny bopper". It will definitely provide you with an exciting "E" ride. Is there anyone that doesn't know what an "E" ride is?
Recognized Competition:
Subaru Impreza WRX $25-35,000, Audi A3 $27-37,000, BMW 1-series $29,40,000, Chevrolet $28-36,000, Chevrolet Cobalt $ n/a, Honda Civic $15-25,000, Mazda Speed3 $23,195, Mitsubishi Lancer Evolution $33-38,000, Volkswagen GTI $23-24,000.
Good News:
Fun to drive, fast turbo, larger redesign, easier to get in and out, comfortable cruiser.
Bad News:
Exhaust noise in the cabin is excessive, fast turbo is sure to get you into trouble with the speed police.
Standard Equipment:
2.5 liter 265 hp intercooled turbocharged engine, 5-speed manual transmission, power moon roof, symmetrical all wheel drive, dynamic control, front- side – and side curtain air bags, 4-wheel ABS brakes with brake force distribution, tire pressure monitoring, security system with engine immobilizer, safety pedal system, climate control, stereo, tilt / telescopic leather wrapped steering wheel with audio controls, cruise control, 60/40 split fold down rear seat, power windows & locks and mirrors, remote keyless entry, heated front seats.
Gas Stats:
$2.65/ Gal avg. August 15, '09
for more information.
18 City and 25 Highway MPG
Pricing:
MSRP $29,495.
Your comments are welcomed. My e-mail is joe@autolove.com
Copyright © 2014 – An Automotive Love Affair.