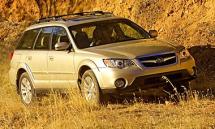 Overview:
This week we're looking at the 2009 Subaru Outback AWD 2.5i Limited (Wagon). It really is in between an SUV (as classed) and the traditional Station Wagon of years past. In today's terminology it is a Crossover.
Subaru doesn't have as popular a badge but it is every bit as capable a car for much less money than others in class. It is my top pick.
General Info:
Parts –  US/Canadian 55%, Japan 35%
Assembly – Lafayette, IN, USA
Class:  – SUV AWD
Cars: – Forester, Impreza, Legacy, Outback and Tribeca.
Observation:
Over the past 17 years reviewing cars for the Country Journal, LA Times and several others here in America I have spent increasingly more time with cars from other countries. I didn't think that much about it, but the events of today remind me the laws of economics have been at work all along. We out-source lots of jobs because it is more profitable to do so, so why would we expect the auto industry should be any different. After all, car companies have become increasingly woven together and the lines between them are blurred. Mercedes / Chrysler; Ford / Jaguar; GM / Opel and on and on, and then half of all auto workers in the US work for foreign car makers building their cars here in America.
A free and open economy has made this country great and it has always been the consumer who wins from the competition. But because America has dominated the auto industry for most of the last century guys in particular have grown up with it and have had a love affair with the car. For most of us it has been the most important romance of our youth. But after college we became more worldly and cosmopolitan and gave up our high school sweethearts for those foreign jobs. I wonder if it was worth it. I wonder if the girl next door wasn't better after all and we were simply seduced by those fancy sophisticated German and Japanese brands.
Was it a mistake to embrace them? Will we ever know?  What do you think?
Handling & Performance:
AWD sure footed driving has been the signature of Subaru and it adds confidence on or off road. No slipping or lost traction that you get from front or rear drive wheels alone.
Styling:
My last test of the Outback was in 2001 and it was the L.L. Bean special edition. This '09 model is not much different than that car which is a good thing. When you have a good design you are foolish to change it. The VW Beetle is a great example of that principle.
Fit and Finish:
Subaru has always delivered a high level of attention to detail so typical and expected of Japanese products. I see no difference, however, from those assembled in Japan and those, like this Outback, assembled in the US.
Cost:
I'm impressed that the price is virtually the same for 2009 as it was in 2001.
Conveniences and comfort:
Once again some conveniences can be misleading which is the case with the tire pressure monitor. And irrespective of the brand, I find them equally erroneous at times. My experience is that in cold weather the sensors are inaccurate until the tires warm up.
Consumer Recommendation:
I think it is the best buy for the money in this class.
Recognized Competition:
Subaru Outback $20-32,000, Volkswagen Passat Wagon $29,690, Hyundai Tucson $18-26,000, Chevrolet Equinox $24-31,000, Mazda CX-7 $24-28,000, Saab 9-3 Sport Combi $32-45,000, Volvo V50 $30-36,000, Toyota Venza $26-29,000, Honda CR-V $21-29,000, Ford Escape $20-28,000, Nissan Rogue $20-23,000, Audi A4 Avant $34,500, BMW 3-Series Sports Wagon $35-37,000.
Good News:
Simply the best in company, good fuel economy, well equipped and also priced well.
Bad News:
None.
Standard Equipment:
2.5 liter horizontally opposed 170 hp engine, 4-speed auto trans, symmetrical all wheel drive, dynamic control, limited slip rear differential, 4-wheel ABS brake system, front and side curtain airbags, anti-theft alarm and immobilizer, tire pressure monitoring system, roof rails, intermittent wipers front and rear with front de-icer, air conditioning, heated front seats, heated mirrors, Harmon Kardon stereo with 9 speakers and 6-in dash CD player, trip computer, cruise control, tilt/telescopic steering wheel, power windows, locks and mirrors, leather trimmed upholstery, power front seats, rear 60/40 split fold down seats.
Gas Stats:
$1.93/ Gal avg. Jan, '09
for more information.
20 City and 26 Highway MPG
Pricing:
MSRP $30,495
Your comments are welcomed. My e-mail is joe@autolove.com
Copyright © 2014 – An Automotive Love Affair.