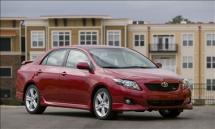 Overview:
This week we're looking at yet another Toyota in a series of one of the survivors of this world wide economic melt down – the new 2009 Toyota Corolla XLE 4-door Sedan. The 2010 model year is just around the corner but as for the Corolla there is little change. If you are in the market for a compact sedan with great fuel economy this is a very good "non-hybrid" option. The major objection to hybrid engineering is the potential maintenance nightmares down the road. If you are concerned about the uncertainties of hybrids but want similar fuel numbers this conventional drive train Corolla is one of better choices.
Ilona drove back to back Corolla's for over 12 years and never a problem with either one. But changing needs dictated a change in the kind of car to satisfy that need so she opted for a Honda Element. After all that time in a small compact she seemed out of her "element" in the Element. Well, you know what I mean.
General Info:
Parts – n/a
Assembly – USA and Canada
Class: – Compact
Cars: – 4Runner, Avalon, Camry, Camry Hybrid, Camry Solara, Corolla, FJ Cruiser, Highlander, Highlander Hybrid, Land Cruiser, Matrix Prius, RAV4, Sequoia, Sienna, Tacoma, Tundra, Venza and Yaris.
2010 Toyota Corolla
Handling & Performance:
A characteristic of compact cars that I never get comfortable with is the 'squirly feeling you get at higher speeds. Commutes for most folks are made at slow speed so it likely isn't a major concern. But if you travel on the highway over 50 mph you will miss the heavy, solid feel of larger cars, trucks and SUVs.
I also felt the 1.8 liter 132 hp strained more than I like and would consider the 2.4 liter 158 hp engine. But fuel performance is hugely affected with a cost of 5 mpg less. I'd have to think hard about that difference and at gas prices pushing up over $3 bucks a gallon I would be able to live with the strain and avoid some of the stress.
Fit and Finish:
Good.
Cost:
Economical.
Conveniences and comfort:
Well here are some of my pet peeves about basic cars. I can live without auto up and down power windows but I can't do without cruise control. Visors that don't extend really irritate me, but I can adjust the air conditioning without an auto temperature feature. I can also function with manual seat settings because once you set them you rarely need to adjust them again. Nice to have power seats but not a must. Lastly a tilt steering wheel adjustment is low cost and that too can be set once.
Consumer Recommendation:
This Corolla is larger than prior year models and in fact is more like the original Camry. This is a great performer and commuter that fits most any budget.
Recognized Competition:
Toyota Corolla $15-20,000, Mitsubishi Lancer $15-27,000, Scion tC $17-18,000, Pontiac G5 $17-20,000, Volkswagen Jetta $18-23,000, Saturn Astra $17-20,000, Jeep Compass $18-25,000, MINI Clubman $20-31,000, MINI Cooper $19-34,000, Mazda3 $15-22,000, Kia Spectra $14-16,000, Nissan Sentra $15-21,000, Hyundai Elantra $14-17,000, Honda Civic $15-25,000, Suzuki SX4 Sport $13-18,000, Ford Focus $16-18,000, Dodge Caliber $16-25,000, Subaru Impreza $18-35,000.
Good News:
Outstanding fuel economy, roomy and priced well.
Bad News:
A bit underpowered.
Standard Equipment:
1.8 liter 4-cylinder 132 hp engine, 4-speed auto transmission, Front Wheel Drive, electric power steering, ABS front disc and rear drum brakes with brake force distribution and brake assist, 16" steel wheels, front and side and side curtain front and rear air bags, LATCH anchor and child tether system and safety rear door locks, tire pressure monitoring system, engine immobilizer, halogen headlights, audio with CD WMA/MP3 player with 6 speakers, air conditioning, 60/40 split rear seat, tilt and telescopic steering wheel, power windows and remote keyless entry.
Gas Stats:
$2.97/ Gal avg. June 27, '09
www.fueleconomy.gov
for more information.
27 City and 35 Highway MPG
Pricing:
MSRP $17,550.
Your comments are welcomed. My e-mail is joe@autolove.com
Copyright © 2014 – An Automotive Love Affair.