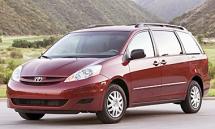 Overview:
This week we're looking at the Toyota Sienna XLE Front Wheel Drive 7 passenger LTD Minivan. What a nice van. I've tested it in years past and haven't changed my opinion. It's still a great van and at the top of my buy list.
I always encourage cruise control because it is on my must have list for me and highly recommended. But the Smart Cruise is a whole 'nuther dimension and the cat's meow for me. I appreciate it more every time I use one. I wouldn't be surprised if they used this technology to dock the shuttle to the space station at NASA.
If you haven't used one it is the technology that senses the car in front of you and will apply the brake even before you if you day dream a little. And when traffic speeds up the cruise will keep up all by it's self. Great feature and indicates further capability to come not so far down the road – namely the car that drives itself. How exciting will that be.
General Info:
Parts – n/a
Assembly – USA
Class:  – Minivan
Cars: – 4Runner, Avalon, Camry, Camry Hybrid, Camry Solara, Corolla, FJ Cruiser, Highlander, Highlander Hybrid, Land Cruiser, Matrix Prius, RAV4, Sequoia, Sienna, Tacoma, Tundra, Venza and Yaris.
Opinion:
With all the talk about the demise of GM and Chrysler's problems looming on the horizon according to the mainstream media – CBS, NBC and ABC it is clear the disaster is more about talk than it is about a real disaster. They don't report the news they "Make" the news.
In Chryslers case they have failed and survived. We musan't panic like our politicians who would have us believe the sky is falling – Chicken Little –"The sky is falling," has passed into the English language as a common idiom indicating a hysterical mistaken belief that disaster is imminent. But me thinks they protest too much, blaming everyone but their own corruption. Friend Norm says there are no honest or good politicians but I have to disagree. There are lots of good people in the world and we just need to seek them out and get them in office to replace the bad guys like Chris Dodd, Nancy Pelosi, Barney Frank and many others you could add to this list.
I bring this up is because of a press release I just received titled "Dodge Viper SRT10 Will Live On". If folks indeed will buy this thirsty 10-cylinder gas guzzling sports car it may be we're in less trouble than we're told. I was sure the US was sinking and all hands would go down with the ship – The USS Panic!
How soon we forget the lessons of TWO K nearly a decade ago promising doom January 1, 2000. Computers would crash and the Sky would fall, but it didn't happen because it was "Much a-do about nothing".
I started thinking again and said daahh they're just trying to pull a fast one on us. Sure unemployment is up but guess what 90% are working and we're spending too much time listening to "News Makers" who would have you think 90% are UNEMPLOYED. My suggestion is to cancel your newspaper subscription and turn the TV news off until the defeated media gets back to reporting the news. Let them bark to a deff audience for a while. "After all is said and done, much is said and little is done", Richard always tells me. The less we listen and the more we do by getting up each morning and simply put one foot in front of the other as we walk through this mess the better off we will be. Winston Churchill said of WWII… "when you are going through hell . . . just keep going."
Handling & Performance:
Nothing special and all brands are very good.
Styling:
Attractive.
Fit and Finish:
Typically excellent Japanese workmanship.
Cost:
Not cheap but competitive with the field.
Conveniences and comfort:
For the money you get a Nav system with backup camera (not convinced this is anything more than a gimmick), and on a cold day the seat warmers are nice. Another favorite feature for me is the sliding side doors and power lift gate. Not a must but convenient.
Consumer Recommendation:
My all time favorite family car for kid toting at every age. Easy to get the car seat age in and buckled up and bus like for the bigger kids.
Recognized Competition:
Toyota Sienna $25-38,000, Dodge Grand Caravan $24-29,000, Hyundai Entourage $ n/a , Chrysler Town & Country $26-37,000, Honda Odyssey $26-41,000, Kia Sedona $21-28,000, Volkswagen Routan $25-39,000.
Good News:
Good (not great) fuel economy, great family car.
Bad News:
?
Standard Equipment:
3.5 liter 266 hp V6 engine, 5-speed automatic transmission, power rack & pinion steering, 4-wheel ABS disc brakes with brake assist and electronic brake force distribution, 17" alloy wheels, front, side and side curtain front and rear air bags, child safety tether anchors, tire pressure monitoring, front and rear parking assist, anti theft system with engine immobilizer, climate control, audio with 8 CD changer & 10 speakers, satellite radio and MP3/WMA capable, 60/40 split & stow 3rd row seat, 2nd row captains chairs, wood grain & leather tilt & telescopic steering wheel with audio and Bluetooth controls, power windows & locks, fog lights, leather trimmed 8-way power heated driver seat w/ lumbar support, 4-way passenger power heated seat, power sliding and rear power back door, power tilt / slide moonroof and cruise control.
Gas Stats:
$2.75/ Gal avg. July 17, '09
for more information.
17 City and 23 Highway MPG
Pricing:
MSRP $35,665.
Your comments are welcomed. My e-mail is joe@autolove.com
Copyright © 2014 – An Automotive Love Affair.