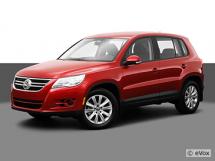 Overview:
This week we're looking at the 2009 Volkswagen Tiguan S SUV. I took this on a road trip for a thorough testing and found it to be worthy of my trust. Highway as well as dirt roads, but I did not give it an off road test because it is not a 4-wheel drive.
For the road it is impressive with the "Turbocharger" for 200 horsepower from a 2 liter engine. Getting a 100 hp per liter has not typically been a characteristic of American cars, but is more typical of European cars.
For an extensive look at Tiguan go to this link. Very interesting.
http://en.wikipedia.org/wiki/Volkswagen_Tiguan
General Info:
Parts –  US/Canadian 1%; Germany 70%; Engine – Hungary; Transmission – Japan.
Assembly – Wolfsburg, Germany
Class:  – Compact SUV
Cars: – CC, Eos, GLI, GTI, Jetta, New Beatle, Passat, R32, Rabbit, Routan, Tiguan & Touareg.
Opinion:
Well, Chrysler has now filed for Chapter 11 reorganization as you probably know, but what you may not know is that the taxpayers will fork over several billion to Fiat to manage it. Not a dime out of their pocket. Time will tell if we get any of that money back but I fear if it does come back the taxpayers will never see it.
However there is some hope. Fiat is a master builder of smaller cars. When in Poland for example I think at least every other car was a Fiat. They routinely get fuel economy up to 50 mpg. Poland has emerged as a capitalist success story ever since they abandoned their Socialist Communist system back 17 years ago. I suspect in the future you'll see more luxury cars but the point is when food and housing is more important than the car you drive you find more inexpensive forms of transportation.
Handling & Performance:
Turbochargers make the driving experience exciting for performance lovers which is the best way to excite smaller displacement engines when the power is needed. Fuel numbers are good and the head jerking acceleration is really impressive.
Styling:
A good utility vehicle with nice lines.
Fit and Finish:
VW Quality that is always good.
Cost:
A little pricey, but fair in class. Look for softer prices in the new car market but used inventory is at the top of the Kelly Blue Book.
Conveniences and comfort:
Well appointed and very comfortable for the 1500 mile trip I put this friendly traveler to the test with me for the week. Never a complaint – from either of us… me or the car.
Consumer Recommendation:
Competitively priced with great safety features included. Choosing among the competition will come down to personal preference of style but you won't do any better in the area of comfort and performance in my opinion. It's at the top of the list for me. For an SUV it is classed as a compact but it feels more mid size but would not be a good fit for larger families. Son Mike with 4 kids would not do well in this size SUV because of 3 child car seats. His choice was a Chevy Tahoe because of the need. We need to keep 'Want' out of the equation and 'Need' foremost when making a buying decision.
Test driving is an obvious, but I suggest you consider renting ones of interest for the next several week end outings.
Recognized Competition:
VW Tiguan $23-31,000, BMW X3 $39,700, Mitsubishi Outlander $21-26,000, Toyota RAV4 $22-28,000, Mazda CX-7 $24-28,000, Mazda Tribute $20-28,000, Dodge Nitro $22-29,000, Ford Escape $20-28,000, Jeep Compass $18-25,000, Jeep Patriot $18-24,000, Lexus RX 350 $37-38,000, Mercury Mariner $23-28,000, Pontiac Torrent  $25-31,000, Saturn Vue $23-31,000, Kia Sportage $17-23,000, Nissan Rogue $20-23,000, Hyundai Tucson $18-26,000, Honda CR-V $21-29,000, Chevrolet Equinox $24-31,000, Subaru Forester $20-28,000, Suzuki Grand Vitara$18-26,000.
Good News:
Not a lot to complain about, comfortable ride and a good road car as well as around town.
Bad News:
Only fair fuel economy because you can get as good fuel performance out of a large Chrysler Aspen hybrid for example.
Standard Equipment:
2.0 liter inline turbocharged 200 hp engine, 6-speed auto trans, power steering, front strut and rear independent suspension, electronic stability program, anti slip, electronic differential lock, electronic brake force distribution with anti lock braking system, front, side and side curtain air bags, LATCH anchors and tethers and child safety locks, tire pressure monitoring system, climate control, in dash CD player, 8-way driver and passenger seat adjustment with driver lumbar, 60/40 split folding and reclining rear seat, anti theft system, remote keyless entry, power windows, power heated mirrors and trailer hitch preparation.
Gas Stats:
$2.29/ Gal avg. April 18, '09
for more information.
18 City and 24 Highway MPG
Pricing:
MSRP $24,300.
Your comments are welcomed. My e-mail is joe@autolove.com
Copyright © 2014 – An Automotive Love Affair.