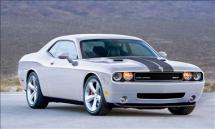 Overview:
This week we're looking at the 2010 Dodge Challenger SE 2-door coupe that is super popular. It simply looks great and although the V6 won't burn up the road you can opt for the R/T with a 5.7 liter 372 horsepower V8 engine or the SRT8 with a 6.1 liter 425 horsepower V8 engine.
General Info:
Parts –  US/Canadian – 70% – Mexico 16%
Assembly – Brampton, Ontario, Canada
Class:  – Compact Cars
Cars: – Avenger, Caliber, Challenger, Charger, Dakota, Durango, Durango Hybrid, Grand Caravan, Journey, Nitro, Ram 15,25 & 3500, Sprinter Van & Wagon and Viper.
Opinion:
If you drive CA-14 as I do I'll bet you find the need to dodge potholes. It's very distracting and dangerous. I have a suggestion for our friends in government. Cut county jobs by 10% and Cal Trans could fill all the potholes from here to the moon. Cut State jobs by 10% and we could balance the budget and fill all the potholes to Mars.
What's more insulting is that recent reports show that we pay salaries to those employed in government jobs one and a half times those salaries paid to those in productive jobs. You know, the ones that produce real GNP.
Meanwhile, in spite of the imbalance of salaries, we still have the potholes.
Handling & Performance:
Nothing special but all good.
Styling:
Retro and nearly perfect. It is perhaps my favorite of the Chrysler flashback cars that I never owned. My favorite of favorites back then was the 1957 Chevrolet 2-door hardtop but driving this Challenger brings back lots of good memories. It must also do the same for lots of other folks because it always gets the looks. It is simply a timeless styling standout.
Fit and Finish:
Chrysler quality is an obvious and the best transformation from old to present day production for this car maker. Good job guys. And that observation is from me and I was not a supporter in years past. Mom owned Chrysler car so they couldn't be all that bad I guess.
Cost:
Chrysler cars and trucks are generally very good values. Competition is very close in class grouping.
Conveniences and comfort:
Everything you need, but if you want to upgrade and add Nav, upgrade in paint, leather, special wheels and upgraded audio you'll need to pop for about $9,000 more.
Recognized Competition:
Dodge Challenger $23-41,000, Chevrolet Camaro $23-34,000, Ford Mustang $22-38,000, Ford Shelby GT500 $49-54,000, Hyundai Genesis Coupe $36-40,000, Infiniti G Convertible $44-47,000, Infiniti G Coupe Mazda RX8 $27-32,000, Nissan Z $30-41,000, Pontiac G6 $19-32,000.
Good News:
Special retro styling, value pricing.
Bad News:
Only fair fuel economy that is little better than the big V8 models.
Standard Equipment:
3.5 liter 250 horsepower V6 engine, 5-speed automatic transmission, front side and side curtain airbags, Electronic Stability program, traction control, 4-wheel ABS disc brakes, touring suspension, remote keyless entry and sentry key theft deterrent system cruise control, tire pressure monitoring, speed sensitive power door locks, air conditioning, tilt and telescopic steering wheel, power windows, power 8-way driver seat, 60/40 folding rear seat, audio with CD/MP3 4 speakers and fold away power mirrors.
Gas Stats:
$3.03/ Gal avg. May 11 '10
for more information.
17 City and 25 Highway MPG
Pricing:
MSRP $22,735 (with options on test vehicle – $31,400).
Your comments are welcomed. My e-mail is joe@autolove.com
Copyright © 2014 – An Automotive Love Affair.