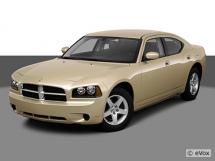 Overview:
This week we're looking at the 2010 Dodge Charger RT Rear Wheel Drive 4-door sedan. Dick reminded me how 4-door cars are not like the 4-doors of the distant past where they just weren't 'cool' looking. Remember those days? That was when only your parents would buy a 4-door. Well, that isn't true today. In fact although in my youth I always bought two door cars, today I'm finding little resistance from young buyers to today's 4-door models. Two door designs are just too limiting and add little to 'cool'.
The next most common comment I get is "oh that's one of those muscle cars"! But not said negatively. No, it is always meant as a good thing. People simply have a reverence for the sound and symbol of 'raw muscle'. It's easy for a guy to fall in love with the iconic 'muscle' look because it adds to his macho image. Kinda like a chick in a Jeep Wrangler with the wind blowing her long blonde locks. It is clearly a turn on 'image' of excitement in living. It paints a picture of active living people you'd like to know.
I can't say enough about the all too brief ownership and influence Daimler – Benz had on Chrysler products. I haven't noticed a change from the many improvements built into this product since the new owners took over. I trust they will maintain the improved quality evident from years past when quality wasn't all that good at Chrysler.
General Info:
Parts –  US/Canadian – 79%; Engine – Mexico; Transmission – US.
Assembly – Brampton, Ontario, Canada
Class:  – Large Cars
Cars: – Avenger, Caliber, Challenger, Charger, Dakota, Durango, Durango Hybrid, Grand Caravan, Journey, Nitro, Ram 15,25 & 3500, Sprinter Van & Wagon and Viper.
Opinion:
Will these guys ever get the message? I pass by a CHP office every day to and from the office and on a recent day I happened to notice a huge blue sign with yellow lettering "NOW HIRING" and phone number, etc… you gotta wonder! While companies are laying off productive workers the IRS and CHP are hiring. What's that all about? Do we have money to "BURN" in California? Don't they realize we've already burned through everything and we are broke by most accounts. Get it yet?
Handling & Performance:
The base model comes with a 2.7 liter 178 hp V6 engine then it moves to a 3.5 liter 250 hp V6 to this RT with the 5.7 liter 368 hp V8 and finally the SRT8 is the 6.1 liter 425 hp V8.
In addition to power, another important design feature includes the Touring Suspension that makes this car handle well while delivering comfort for the long road trips. It reminds me of the days I watched newspaper partner and international race driver, Price Cobb, do his magic on the race track. I watched him test the track performance and give adjustments to the mechanics to fine tune the suspension settings on Steve Saleen and Tim Allen Mustangs used in their race team. It makes a big difference in handling and will determine winners from losers in high performance operation.
Somewhere in the middle of comfort and performance is where most passengers should be. This Charger has been pretty well fine tuned.
The result is an instant feel of a solid ride and a confident driving experience. It means less drift and therefore is less tiring on those commutes home from the office after a hard day. I enjoyed the ride.
Styling:
Retro and as Kramer would say, "I'm lov'n it". For me the Challenger is a notch up in Retro design and it is my favorite, but Charger is very nice.
It is important to me and I believe it is important to many others that designers are thoughtful and consider how people actually use their car. Example: Visors. I am instantly turned off when the visor doesn't include an extension feature. Either a pull out or that the whole visor moves to block the whole side window from glaring sunlight. Well, that doesn't seem like a big thing but you shouldn't have to pay luxury car prices to get that convenience.
Fit and Finish:
Since the Daimler Benz days the quality continues to impress me and I hope they don't lose the touch they were given by those days of ownership. I haven't seen any difference yet and you have to admire the spunk Chrysler has had as it fought for its life beginning with the "Real Bailout" engineered by Lee Iacocca.
Cost:
Competitive or better than all in class.
Conveniences and comfort:
If you want to be reminded about how efficiently you are driving Dodge has included an ECO gauge to signal you with a subtle 'fuel saver indicator' light. This technology has been around a long time but has become more popular in direct proportion with the price of gas.
Recognized Competition:
Dodge Charger $24-38,000, Acura TL $35-43,000, Buick Lucerne $29-43,000, Cadillac CTS $35-61,000, Chevrolet Malibu $22-27,000, Chrysler 300 $27-45,000, Ford Taurus $25-38,000, Honda Accord $21-31,000, Hyundai Azera $25-30,000, Mazda 6 $19-29,000, Nissan Maxima $30-33,000, Pontiac G8 $28-38,000, Toyota Camry $20-29,000.
Good News:
Well built, comfortable solid ride, decent fuel economy in class.
Bad News:
Nothing I can think of!
Standard Equipment:
5.7 liter 368 horsepower HEMI V8 engine, 5-speed automatic transmission, front side and side curtain airbags, child upper seat tether anchors, rear door child safety locks, power rack and pinion steering, dual exhaust, touring suspension, 4-wheel ABS performance disc brakes, traction control, electronic stability control, speed sensitive power door locks, Sentry Key theft deterrent system, keyless entry, power adjustable pedals, air filtering, tire pressure monitoring, dual zone climate control, tilt and telescopic steering wheel, power windows, heated front seats, 60/40 folding rear seat, audio with CD/MP3 & SIRIUS satellite service (1-year included) and 6-Boston acoustics speakers.
Gas Stats:
$3.01/ Gal avg. May 1 '10
for more information.
16 City and 25 Highway MPG
Pricing:
MSRP $31,370 (with preferred options on test vehicle – $39,995).
Your comments are welcomed. My e-mail is joe@autolove.com
Copyright © 2014 – An Automotive Love Affair.